NASCAR Betting Picks: AAA 400 Odds and Predictions
by Christopher G. Shepard - 9/30/2011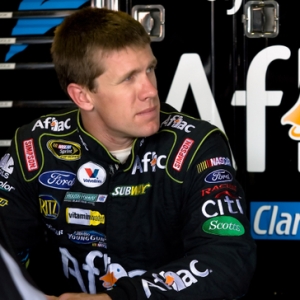 Tony Stewart made up for a winless regular season by winning the first two Sprint Cup Chase races, while five-time Sprint Cup Champion Jimmie Johnson is in 10th place, 29 points behind 'Smoke' as NASCAR heads to Dover International Speedway on Sunday, Oct. 2, for the AAA 400, the third race of the 10-race Chase for the Sprint Cup.

NASCAR gamblers looking for an edge at the 'Monster Mile' should know that Jimmie Johnson leads all active drivers with six victories while Hendrick Motorsports has the most Sprint Cup series wins at Dover (12). Fifty of 83 races at Dover have been won from a Top-5 starting position; 15 races have been won from starting positions 6-9 and 18 races have been won from a starting position outside the Top 10.

Only 13 drivers have won at Dover from the pole. Johnson was the last driver to accomplish this in last season's September race. Johnson is the current two-time defending race winner at Dover.

NASCAR Betting Picks: Who will win the AAA 400?
Stewart has been a pleasant surprise to start the Chase, but his nice run of wins will likely come to an end this week at Delaware. The oft-maligned Stewart defended his position of making the Chase after having a winless season, saying that his Stewart-Haas Racing team was ready for the Chase. And apparently Stewart was correct. Crew Chief Darian Grubb is as much responsible for the two wins as Stewart since both wins came thanks to fuel mileage. However, this week it might be more difficult stretching out the gas on the concrete track of Dover. Stewart swept the 2000 season at Dover, but he hasn't done much other than a second place in 2009. He finished 21st and 29th in his last two races at Delaware, so this is the race to jump off Smoke's bandwagon.

Be careful of jumping from Smoke to Johnson this week. Johnson is the undisputed king of Dover with six wins, but after two races, Johnson and Crew Chief Chad Knaus have looked pedestrian in this edition of the Chase. Johnson finished 10th at Chicagoland and had an awful race at New Hampshire where he was lucky to finish 18th. Thanks to a poor start to the Chase, Johnson fell two positions to 10th place. This week, however, could be the race that makes or breaks Johnson's quest to win a sixth consecutive Sprint Cup. Granted, Johnson's numbers are obscene at the 'Monster Mile.' He has eight Top-5 and 13 Top-10 finishes in 19 races, but until I see Johnson racing better I am going to lay off the No. 48 car.
The driver for who I am waiting to make some noise in the Chase is Carl Edwards. He had a consistent season as the Chase points leader for several months. Edwards dropped a spot in the standings to fourth place and is currently 14 points out of first place. He finished in eighth place in New Hampshire last week and in fourth at Chicago. Edwards has a super opportunity to close the gap on the leader board this week. Consider that 'Concrete Carl' has finished in the Top 10 every race at Dover since 2006 other than one race in 2006 when he finished 11th. I wouldn't be surprised to see Edwards' signature dismount after the race on Sunday.

Pick! Carl Edwards, No. 99, +875
AAA 400 Lucky Dog Long Odds

Brad Keselowski moved up three spots in the Sprint Cup standings to third place thanks to a second-place finish at New Hampshire Motor Speedway last weekend. Apparently, Las Vegas still doesn't believe that Keselowski is a legitimate threat to win every time he gets behind the wheel of the 'Blue Deuce.' I have notched several wins this season backing Keselowski at odds greater than 10/1. Keselowski is now 11 points out of first place and is looking for his first Top 10 finish at Dover. He finished the May race 13th and last September finished 22nd. Keselowski is a much-improved driver over the last year and even from earlier this year. None of the pundits could have imagined what a breakthrough season Brad would have this year. Now he is a legitimate contender to dethrone Johnson as Sprint Cup Champion. What better place than Dover to get his first Chase for the Sprint Cup win?

Pick! Brad Keselowski, No. 2, +1500
AAA 400 – Odds to win
Dover International Speedway – Oct. 2, 2011
Jimmie Johnson +600
Carl Edwards +875
Kyle Busch +700
Denny Hamlin +2200
Jeff Gordon +975
Kevin Harvick +1300
Tony Stewart +975
Matt Kenseth +1100
Kurt Busch +1700
Dale Earnhardt Jr +3200
Clint Bowyer +2300
Mark Martin +2700
Jeff Burton +3850
Greg Biffle +1900
Joey Logano +4500
Juan Pablo Montoya +1500
Jamie McMurray +1500
Ryan Newman +3300
Kasey Kahne +3300
David Reutimann +1500
Martin Truex Jr +3850
Brian Vickers +1500
David Ragan +1500
Brad Keselowski +1500
AJ Allmendinger +3000
Field +3000
*Odds courtesy of 5dimes.com