NASCAR Betting: Wonderful Pistachios 400 Odds and Predictions
by Christopher G. Shepard - 9/9/2011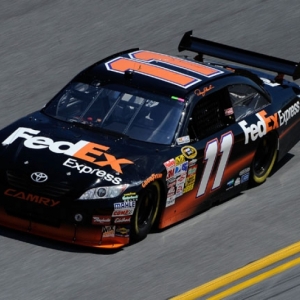 Jimmie Johnson took a 21-point lead over Kyle Busch thanks to finishing second at Atlanta on Tuesday and with one race and one Wild Card spot left before the Chase for the Sprint Cup, NASCAR fans will focus on Richmond International Raceway this Saturday night at 7:43 for the Wonderful Pistachios 400.
Auto sports enthusiasts should keep in mind that team owner Petty Enterprises has won 15 races at Richmond, the most of any other NASCAR team. Dale Earnhardt Jr., Tony Stewart, Kyle Busch, Terry Labonte, and Jimmie Johnson lead all active drivers with three wins each at Richmond. It has been 11 races since Ford won at Richmond. Meanwhile, 22 of 110 races have been won from the pole, with Kyle Busch the last driver to accomplish this (2010). Despite this only three of the last 38 races have been won from the pole at Richmond. The last two races at Richmond have featured the pole-sitter finishing 29th (Juan Pablo Montoya spring '11) and 10th (Carl Edwards fall 2010), respectively. The winners of both of those races started outside the Top 10. Finally, you may not have to look any farther than teammates Kyle Busch and Denny Hamlin, who have traded wins in the last five races at Richmond. Busch won the spring race while the defending race winner, Hamlin, has won this race twice ('09, '10).

Who will win the Wonderful Pistachios 400?

It took two days for the Atlanta Race to start, but by Tuesday morning it had finally cleared up and the race was won by Jeff Gordon, and Johnson finished second. Hendrick Motorsports dominated the race and most likely will have three of their four drivers set to make the Chase. Currently, Johnson is No.1, Gordon is No.5 and Dale Earnhardt, Jr. is No. 9. Junior has the most to lose this weekend as he is 25 points ahead of Brad Keselowski in 11th place, and Keselowski has three wins to Junior's none. Junior should be amped for the race and he looks to add to his three wins at Richmond, so don't be surprised if Junior makes a conservative run rather than go for the all-out win. Junior wants to avoid wrecking and dropping out of the Chase on the last race of the regular season. All Junior needs to do is finish 20th or better and he is in.
While there are many scenarios for different drivers on the cusp of making the Chase, the Chase is basically already set. While there might be a surprise or two after Richmond, I think that Richmond might actually be a bit of a letdown after the most exciting NASCAR season in years. A few things to watch for during the race: if Paul Menard wins he makes the Chase, Tony Stewart needs to finish 18th or better to make the Chase. Greg Biffle, AJ Almendinger, and Martin Truex, Jr. still have and outside shot if they win and move ahead of Hamlin in the standings.
Hamlin has owned Richmond over the course of the past few years, but this year he has been a different driver than he was last year. There is a huge amount of pressure on Hamlin to win on Saturday night, but in the past he has risen to the occasion when at "home." Hamlin has two wins and six Top-3 finishes in 11 starts. The question is will three times be a charm?
Pick! Denny Hamlin, No. 11, (+450)
Wonderful Pistachios 400 Lucky Dog Long Odds

Clint Bowyer will have to win this weekend if he hopes to make the Chase for the Sprint Cup. Last week Bowyer started from the two-hole. Bowyer had a very fast car that ran in the Top 5 until he wrecked and had to finish the race with his entire front end exposed so he could pick-up as many points as possible. Despite this Bowyer dropped two points to 14th in the standings and he is now 54 points out of the Top 10. More importantly, Bowyer trails Hamlin by 12 points (and a win) for the second Wild Card spot. This puts a win at a premium for Richard Childress Racings, who at this point are not sure of Bowyer's return to RCR next year. Bowyer has finished sixth at Richmond in the last two races. The objective is simple for Bowyer; a win at Richmond combined with a really poor finish for Hamlin and Bowyer's in. It is easy as that.

Pick! Clint Bowyer, No. 33, (+2000)
Wonderful Pistachios 400 Top 3 Finish

Chances are very good that you can't go wrong backing either Kyle Busch at -110, Denny Hamlin at +125, or Johnson at +250. If you back one of these guys for this prop, expect to cash your ticket after the race. The three drivers have combined to win eight races since 2007. However, I am looking at Kasey Kahne for this weekend's Top 3 selection. Kahne finished in third place at Richmond in spring and his team brings a solid package for the Richmond race. Kahne can actually make the Chase this year if he wins, moves ahead of Hamlin in the standings and Hamlin has an awful race. Hamlin also has 42 points on Kahne. That is a lot of "ifs," especially when you consider Hamlin's recent success at his "home-track." Kahne has notched one-win (2005) and six Top-10 finishes in 15 starts at Richmond.

Pick! Kasey Kahne, No. 4, (+900)
Wonderful Pistachios 400 – Odds to finish Top 3
Richmond International Raceway – Richmond, VA, 9/10/11
150 AJ Allmendinger +1500
151 Bobby Labonte +3000
152 Brad Keselowski +450
153 Brian Vickers +2000
154 Carl Edwards +300
155 Clint Bowyer +600
156 Dale Earnhardt Jr +900
157 David Ragan +1800
158 David Reutimann +2000
159 Denny Hamlin +125
160 Greg Biffle +900
161 Jamie McMurray +1800
162 Jeff Burton +1500
163 Jeff Gordon +250
164 Jimmie Johnson +250
165 Joey Logano +1200
166 Juan Pablo Montoya +1500
167 Kasey Kahne +900
168 Kevin Harvick +450
169 Kurt Busch +600
170 Kyle Busch -110
171 Marcos Ambrose +3000
172 Mark Martin +1200
173 Martin Truex Jr +1200
174 Matt Kenseth +600
175 Paul Menard +1500
176 Regan Smith +3000
177 Ryan Newman +900
178 Tony Stewart +350
179 Field (Any Other Driver) +3000
Wonderful Pistachios 400 – Odds to win
Richmond International Raceway – Richmond, VA, 9/10/11
101 AJ Allmendinger +5000
102 Bobby Labonte +8000
103 Brad Keselowski +1500
104 Brian Vickers +7500
105 Carl Edwards +1000
106 Clint Bowyer +2000
107 Dale Earnhardt Jr +3000
108 David Ragan +6000
109 David Reutimann +7500
110 Denny Hamlin +450
111 Greg Biffle +3000
112 Jamie McMurray +6000
113 Jeff Burton +5000
114 Jeff Gordon +800
115 Jimmie Johnson +800
116 Joey Logano +4000
117 Juan Pablo Montoya +5000
118 Kasey Kahne +3000
119 Kevin Harvick +1500
120 Kurt Busch +2000
121 Kyle Busch +300
122 Marcos Ambrose +8000
123 Mark Martin +4000
124 Martin Truex Jr +4000
125 Matt Kenseth +2000
126 Paul Menard +5000
127 Regan Smith +8000
128 Ryan Newman +3000
129 Tony Stewart +1200
130 Field (Any Other Driver) +8000