NASCAR: Irwin Tools Night Race Odds and Predictions
by Christopher G. Shepard - 8/26/2011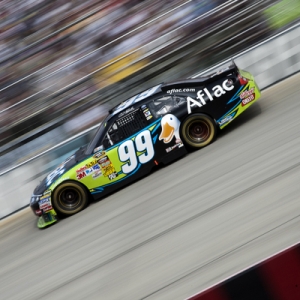 Live from Bristol, Tennessee, its Saturday Night!
Kyle Busch moved into sole possession of first place in the Sprint Cup and will look to extend his ten-point advantage over Jimmie Johnson as NASCAR travels to historic Bristol Motor Speedway on Saturday Aug. 27 at 7:43 p.m. for the Irwin Tools Night Race.
Gamblers looking to invest in the outcome of Saturday Night's race at BMS shouldn't look much past the Busch brothers. Kyle and Kurt each have five wins here, as does Jeff Gordon, the most wins of all active drivers at BMS. Eighty of 101 races have been won from a Top-10 starting position on the grid. Just more than half of all races (52) at BMS have been won from the Top 4 spots on the starting grid. The pole-sitter has won 22 times, but the last driver to win from the pole was Carl Edwards in 2008. Mark Martin has won the most poles (nine) and swept the poles at Bristol in 2009.
Who will win the Irwin Tools Night Race?

It's a good thing for Kyle Busch that NASCAR doesn't require a valid driver's license to race. Busch just settled that 128 MPH speeding ticket in North Carolina's Iredell County back in May. Busch pled guilty and got 30-day suspended sentence and was given one year unsupervised probation. He also lost his license for 45 days. However, Kyle should be comfortable knowing that he goes into the Irwin Tools Night Race on Saturday having won four of the last five races at Bristol. Kyle will bring his Chassis No. 277 this weekend. This is significant because Busch has notched three Top-5 finishes in the last four races it was run. Moreover, Chassis No. 277 won the Jeff Byrd in March at Bristol after starting 12th on the grid. Kyle Busch definitely has the pedigree to win on Saturday night, but given his rough week in court I am going to lay off my son's favorite driver.

Things aren't getting any better for Denny Hamlin, who dropped two spots to 14th place last week. Hamlin's has a tenuous hold onto the second and final Wild Card spot for the Chase (unless, of course, either Clint Bowyer (11th), Greg Biffle (13th) or AJ Alimendinger (15th) win a race before Hamlin wins another race). Hamlin won eight races last year and has struggled to find his groove, and it is not likely that this will be found at Bristol despite recording 10 Top-10 finishes in his last 11 races.
No sooner had Carl Edwards began the Pure Michigan 400 when the No.99 Ford started making a noise that nobody in his pit crew liked, so the car backed up and went into the garage, virtually ending Edwards' race. Thanks to the engine problems Edwards dropped out of a tie for first with Kyle Busch and fell two spots to fourth place and 39 points behind the leader. Compounding matters for Edwards was that Busch won the race! Now before Kyle went on his obscene winning tear at BMS it was Edwards who had won this race twice in a row (2007, '08). Despite having a bad day last Sunday, I really like Edwards to put the race behind him and race for all the marbles on Saturday night!



Pick! Carl Edwards, (No. 99) +800

Irwin Tools Night Race - Lucky Dog Special

The hottest driver in NASCAR right now not named Kyle Busch has got to be Brad Keselowski. Keselowski has finished 1-2-3 respectively in his last three races, which has put him at the front of the line for a a Wild Card slot in the Chase (so far) with only three races to go. Keselowski is 52 points out of the Top 10 and sits in 12th place in the Chase. Keselowski hasn't done great at Bristol with finishes of 13, 19, and 18, but he has won at Bristol on the Nationwide circuit. If you are looking for a long odds selection that is driving as well as Busch, Edwards, and Johnson, then look no further than the "Blue Deuce" on Saturday night.
Pick! Brad Keselowski, No.2, +2500
Irwin Tools Night Race – Top 3 Finish
Last week not only did I hit with Kyle Busch in this category at +250, but also advised a look at Brad Keselowski at +750 to finish in the Top 3. Both drivers obliged with Busch winning the race and Keselowski finishing third behind Johnson. This week I still like a Busch, but I am going to back the elder Busch, Kurt and his Steve Addington-led Penske Racing "Double-Deuce." Addington has decided to bring Chassis No. PRS-738 to Bristol this summer. The last time Busch had this ride was in June at Pocono where he started the race as the pole-sitter and finished the race in second place. Busch has had two bad races where he has finished not better than 34th place and is now 77 points from the lead. Busch finished the Jeff Byrd in seventh place after starting from 20th in March, so I figure the five-time winner will be able to rally on Saturday night and break the spell of bad luck.
Pick! Kurt Busch, No.22, +300

Odds to finish Top-Three – Irwin Tools Night Race
Bristol Motor Speedway, TN

150 AJ Allmendinger +3000
151 Bobby Labonte +3000
152 Brad Keselowski +750
153 Brian Vickers +3000
154 Carl Edwards +250
155 Clint Bowyer +900
156 Dale Earnhardt Jr +900
157 David Ragan +1500
158 David Reutimann +1500
159 Denny Hamlin +350
160 Greg Biffle +550
161 Jamie McMurray +3000
162 Jeff Burton +1500
163 Jeff Gordon +350
164 Jimmie Johnson +150
165 Joey Logano +1200
166 Juan Pablo Montoya +1800
167 Kasey Kahne +750
168 Kevin Harvick +350
169 Kurt Busch +300
170 Kyle Busch -175
171 Marcos Ambrose +3000
172 Mark Martin +900
173 Martin Truex Jr +1500
174 Matt Kenseth +450
175 Paul Menard +1500
176 Regan Smith +3000
177 Ryan Newman +900
178 Tony Stewart +550
179 Field (Any Other Driver) +3000

Odds to win – Irwin Tools Night Race
Bristol Motor Speedway, TN

101 AJ Allmendinger +8000
102 Bobby Labonte +8000
103 Brad Keselowski +2500
104 Brian Vickers +8000
105 Carl Edwards +800
106 Clint Bowyer +3000
107 Dale Earnhardt Jr +3000
108 David Ragan +5000
109 David Reutimann +5000
110 Denny Hamlin +1200
111 Greg Biffle +1800
112 Jamie McMurray +8000
113 Jeff Burton +5000
114 Jeff Gordon +1200
115 Jimmie Johnson +500
116 Joey Logano +4000
117 Juan Pablo Montoya +6000
118 Kasey Kahne +2500
119 Kevin Harvick +1200
120 Kurt Busch +1000
121 Kyle Busch +250
122 Marcos Ambrose +8000
123 Mark Martin +3000
124 Martin Truex Jr +5000
125 Matt Kenseth +1500
126 Paul Menard +5000
127 Regan Smith +8000
128 Ryan Newman +3000
129 Tony Stewart +1800
130 Field (Any Other Driver) +8000