NASCAR Odds: Quaker State 400 Picks and Predictions
by Christopher G. Shepard - 7/8/2011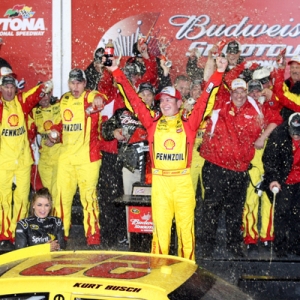 NASCAR visits the 1.5-mile Kentucky Speedway, a new track for Sprint Cup, for the first time in ten years on Saturday night as the good folks of the Bluegrass State experience the first-ever Sprint Cup race on Saturday, July 9 at 7:46 p.m. EST for the Quaker State 400.
Auto sport investors would do well to keep in mind that in Testing at Kentucky Session 2, Kyle Busch was three seconds faster than Jimmie Johnson, who was the fastest in Session 1. Jeff Gordon has won four times on inaugural tracks while Kevin Harvick is bringing the same car he won with at Michigan last season. Joey Logano leads all active drivers with three Nationwide wins at Kentucky.

NASCAR Odds: Who will win the Quaker State 400?

Kentucky Speedway is sold out for its Sprint Cup debut on Saturday night. About 107,000 die-hard NASCAR fans will be there to witness a spectacle that is the culmination of years of dirt-track and pavement racing in the tri-state area. It will be worth watching this race because most fans aren't familiar with Kentcuky Speedway, and it is a new track to become familiar with.
A new track makes handicapping the race difficult since the data is sparse and there are no clear-cut trends on how the Speedway will behave at night versus day, and so forth. One method is to compare a track like Kentucky to a track like Kansas due to the 'cookie-cutter' similarity of the two tracks. Therefore, if you ran well at Kansas then chances are good that you'll run well at Kentucky. This must be great news for Brad Keselowski and Kurt Busch. Keselowski won at Kansas while Busch won the pole there earlier this year. I am not so sure I buy this logic, but if you throw in some more information it might not be the worst idea to back Keselowski again at +5000 just for fun.

Speaking of Kurt Busch, he followed up three consecutive poles with a win, and during this time there have been a lot of 'ones' showing up. While I am not a numerologist, I'm sure this means something: On June 19 Busch started first and finished 11th then in his next race on June 26th Busch started 11th and finished first. Of course, this weird series of 'ones' was shattered last week when Bush started 25th and finished 14th. Busch held his seventh-place position in the Sprint Cup standings, but is only 16 points behind new points leader Harvick.

Meanwhile, Carl Edwards has lost his hold on first place and falls to second place, a scant five points behind Harvick. Kyle Busch leapfrogged two spots over his brother to third place and is now 10 points behind the leader. Dale Earnhardt, Jr., who had come on so strong early in the season, has faded in his last three races, finishing no better than 19th place, and it looks as if his confidence is shaken. Let's hope Junior stops this slide before it really gets going.

Pick! Kurt Busch, No. 16, +750
Quaker State 400 Lucky Dog Long Odds

Joe Gibbs Racing's Joey Logano is in his third year of Sprint Cup and is still looking for a breakthrough win. A win could come this weekend at Kentucky since Logano has notched three Nationwide wins in three starts at the track where NASCAR will be racing on Saturday night. Logano has not achieved the sort of success that most fans were expecting this season. It appeared that he was turning the corner after Sonoma where he won the pole and finished sixth on the road course. The last week at Daytona he won the Nationwide race and managed to finish third the next day at the 400, which puts huge expectations on the No. 20 car this week in Kentucky. Logano seems to be turning his season around, but is it enough to overcome a poor start to the season? Unfortunately, at the Daytona 500 he finished 23 rd and then the following week at Phoenix his engine blew up. Logano is currently 20th in the standings and he has built some serious momentum in his past two races. If he wants to make the Chase this year he still needs to shave off eight spots, and winning at Kentucky is a good place for the young lad to start.

Pick! Joey Logano, No. 20, +2000
Quaker State 400 Top-Three Finish

While Kentucky Speedway is like a used car -- it's been around and been driven hard – it's still new to you. Kentucky is a regular stop on the Nationwide tour and Harvick has raced at Kentucky Speedway since 2001. Like a lot of drivers, Harvick is very familiar with the track. Harvick won the 2001 Nationwide race there, but finished sixth in 2006, the last time he raced at the Speedway. However, now that Harvick is in first place, the pressure is on to keep racing well. Harvick can handle pressure and he seems to thrive on two things: pressure and opportunity. Now that he's been given the opportunity I fully expect him to kick open the Sprint Cup door.
Pick! Kevin Harvick, No. 29, +300
Quaker State 400 – Odds to finish Top-Three
Kentucky Speedway – July 9, 2011 7:46 p.m.
601 AJ Allmendinger +2000
602 Bobby Labonte +3000
603 Brad Keselowski +1800
604 Brian Vickers +1000
605 Carl Edwards +200
606 Clint Bowyer +550
607 Dale Earnhardt Jr +450
608 David Ragan +1500
609 David Reutimann +1600
610 Denny Hamlin +300
611 Greg Biffle +300
612 Jamie McMurray +1800
613 Jeff Burton +1000
614 Jeff Gordon +300
615 Jimmie Johnson +200
616 Joey Logano +650
617 Juan Pablo Montoya +1000
618 Kasey Kahne +700
619 Kevin Harvick +300
620 Kurt Busch +200
621 Kyle Busch +200
622 Marcos Ambrose +2000
623 Mark Martin +1200
624 Martin Truex Jr +1200
625 Matt Kenseth +350
626 Paul Menard +2000
627 Regan Smith +3000
628 Ryan Newman +900
629 Tony Stewart +300
630 Field +1500

Quaker State 400 – Odds to win
Kentucky Speedway – July 9, 2011 7:46 p.m.
501 AJ Allmendinger +7000
502 Bobby Labonte +9000
503 Brad Keselowski +5000
504 Brian Vickers +4000
505 Carl Edwards +700
506 Clint Bowyer +2000
507 Dale Earnhardt Jr +1400
508 David Ragan +5000
509 David Reutimann +5000
510 Denny Hamlin +1000
511 Greg Biffle +1200
512 Jamie McMurray +5000
513 Jeff Burton +4000
514 Jeff Gordon +1000
515 Jimmie Johnson +800
516 Joey Logano +2000
517 Juan Pablo Montoya +4000
518 Kasey Kahne +2000
519 Kevin Harvick +1000
520 Kurt Busch +700
521 Kyle Busch +750
522 Marcos Ambrose +5000
523 Mark Martin +4000
524 Martin Truex Jr +4000
525 Matt Kenseth +1200
526 Paul Menard +7000
527 Regan Smith +9000
528 Ryan Newman +2500
529 Tony Stewart +1000
530 Field +4000