NASCAR Picks: Samsung Mobile 500 Odds and Predictions
by Christopher G. Shepard - 4/9/2011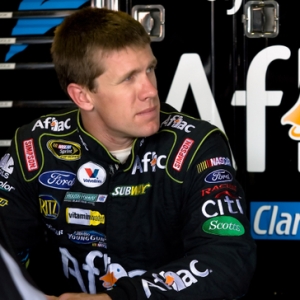 Dave Ragan is the pole-sitter for the Samsung Mobile 500, but Kyle Busch is atop the Sprint Cup leaderboard due to his third straight top-five finish last week as NASCAR heads to Texas Motor Speedway racing under the lights on April 9, at 7:46 p.m.
Gamblers should note that only one driver at Texas Motor Speedway has won from the pole; Kasey Kahne in 2006. However, 14 of 20 races have been won from the top-10 starting position. Pole position has been anything but lucrative. Take Tony Stewart, for instance: he won the pole in 2010 but finished 32nd. Meanwhile, Carl Edwards leads all drivers with three wins at Fort Worth. Denny Hamlin is the defending race winner and swept both Texas races last year. Hamlin, who also finished second in September of 2009, will start the race from the 23rd spot.
NASCAR Picks: Who will win the Samsung Mobile 500?

Saturday night's alright for racing, and for the first time at Texas Motor Speedway let there be racing under the lights. This will affect the tires, most likely, and without proper vigilance tire management might cost a driver the race since the cooler track at night will behave differently than daytime tests at the 1.5-mile track.

There are a handful of drivers that have a good chance of winning on Saturday night. Both Busch brothers, Kyle and Kurt, appear formidable and finished third and fourth, respectively, in the spring race last year. Currently Kyle owns first place and is 14 points ahead of Kurt, who is in fourth place in the Sprint Cup standings. Kyle's third-place, however, was his only top-10 finish at Texas in four starts and Kurt has won once in 2003, but hasn't won since.

Then there is Clint Bowyer, who has raced in the top of the pack in the past few races and proves that he is the wild-card whenever he gets behind the wheel. Bowyer will be starting behind Ragan third on the grid, and if his car cooperates he could contend for the win. but he'll have to get by Edwards for that to happen.

Watch out for Jimmie Johnson, starting sixth, and Matt Kenseth, who'll be starting in the four-hole. Both drivers have the potential to win anytime they get behind the wheel, but Johnson finished second last April, but that was in the daytime. He'll have to get used to a whole new TMS after-dark if he hopes to win.

My pick, however, already won the Nationwide Race (again) last night at Texas, so night racing won't come as too much of a shock for Cuzzin' Carl. Edwards, who led for 169-200 laps and beat Kyle Busch for his second consecutive Nationwide race at TMS. In fact, Edwards loves racing at Texas and has three Sprint Cup wins to prove it. Ugh, make that four. Cue the backflip.

Pick! Carl Edwards, No. 99, +350
Samsung Mobile 500 Lucky Dog Long Odds Pick!

Don't look now, but guess who is jumping tall standings four spots at a time? Yep, it is Junior, and coming into Texas Junior is still smarting from losing the lead at Martinsville to Kevin Harvick on the last lap of the race and then having to fight off Kyle Busch for second place. While Junior didn't break his 96-race winless streak, he's moved up to eighth place in the standings and is bringing life into a lifeless Junior Nation. More impressive than his second-place finish was that Junior did it from the 26th spot on the starting grid at the Paperclip. Junior is now only 20 points out of the lead as he returns to the site of his first Sprint Cup win (2000).

Pick! Dale Earnhardt, Jt. No. 88. +2200

Who will finish in the Top-Three Samsung Mobile 500?

Greg Biffle holds the most laps-led at TMS out of any driver, but every time I pick Biffle to win at Texas he doesn't, so I've learned my lesson. Biffle is looking for his sixth straight top-10 finish or better, but has only won at Texas once, in April, 2005. Unfortunately for Biffle, last year he led for more than 200 laps and finished fifth because of faulty tranny. There is no question Biffle knows how to lead for most of the race at Texas, but the question is can he win again? Even if he can't, you know he'll be at the front of the pack for most of the race and a top-three finish on Saturday night makes sound fiduciary sense.

Pick! Greg Biffle, No. 16, +350

Odds to Finish the Top Three - Samsung Mobile 500*
Texas Motor Speedway – April 9, 2011
Carl Edwards even
Jimmie Johnson +180
Matt Kenseth +250
Kyle Busch +250
Denny Hamlin +300
Tony Stewart +300
Kevin Harvick +350
Greg Biffle +350
Clint Bowyer +450
Kurt Busch +600
Jeff Gordon +600
Dale Earnhardt Jr +600
Ryan Newman +900
Jamie McMurray +900
Juan Pablo Montoya +900
Jeff Burton +900
Joey Logano +900
Mark Martin +900
Kasey Kahne +900
David Ragan +900
David Reutimann +1500
Brian Vickers +1500
Martin Truex Jr +1800
Paul Menard +2200
AJ Allmendinger +3000
Marcos Ambrose +3000
Brad Keselowski +6000
Regan Smith +6000
Bobby Labonte +15000
Trevor Bayne +15000
zx Field (Any Other Driver) +15000
David Gilliland +30000

Odds to Win the Samsung Mobile 500*
Texas Motor Speedway – April 9, 2011

Carl Edwards +350
Jimmie Johnson +600
Matt Kenseth +800
Kyle Busch +800
Denny Hamlin +1000
Tony Stewart +1000
Kevin Harvick +1200
Greg Biffle +1200
Clint Bowyer +1500
Kurt Busch +2000
Jeff Gordon +2000
Dale Earnhardt Jr +2000
Ryan Newman +3000
Jamie McMurray +3000
Juan Pablo Montoya +3000
Jeff Burton +3000
Joey Logano +3000
Mark Martin +3000
Kasey Kahne +3000
David Ragan +3000
David Reutimann +5000
Brian Vickers +5000
Martin Truex Jr +6000
Paul Menard +7500
AJ Allmendinger +10000
Marcos Ambrose +10000
Brad Keselowski +20000
Regan Smith +20000
Bobby Labonte +50000
Trevor Bayne +50000
zx Field (Any Other Driver) +50000
David Gilliland +100000