NASCAR Predictions: Jeff Byrd 500 Odds and Picks
by Christopher G. Shepard - 3/18/2011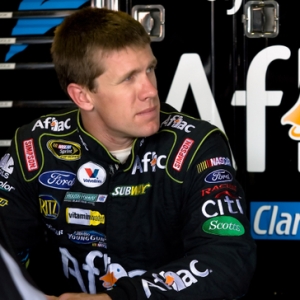 Tony Stewart is tied with Kurt Busch for first place with 113 points in the Sprint Cup, but Carl Edwards has won the pole for the Jeff Byrd 500 at Bristol Motor Speedway for some exciting short-track racing on Sunday, March 20 at 1:15 p.m. EST.
Those looking for an alternative to March Madness can invest in the outcome at BetUS, but keep in mind that the pole-sitter has won this race 22 times, 54 races have been won from the top-four spots, and 80 of 100 races have been won from a Top-10 starting position, so make sure you check the qualifying results and speeds before investing in the outcome of this race.

NASCAR Predictions: Who will win the Jeff Byrd 500?
"Second sucks!" Stewart uttered after his loss to Carl Edwards at Las Vegas two weeks ago. Who can blame Stewart for being a sore loser since he dominated the race, leading for 163 of the 267 laps. Stewart even battled back to the lead after being sent to the back of the pack for dragging his hose on pit-road (apparently that is a penalty in NASCAR).
Edwards' is arguably the Sprint Cup's hottest driver. The No. 99 car served as Edwards' launching pad for his signature back-flip three times in the last five races, including last year. What has made Edwards so good is that crew chief Bob Osborne is making good decisions. Just like in Vegas where he gambled on two tires and while Stewart and others took four. The gamble paid off and Edwards won. The win moved Edwards up to third place in the standings with 106 points; seven points behind the leader.
Kyle Busch, meanwhile, wants some answers about his team's engine's blowing up. It isn't clear what is happening with Joe Gibbs Racings' engines, but it is clear that JGR's engines have fallen off pace with the competition and team JGR will need to catch up in their engine development before I think about investing in a driver in the JGR stable. Stay tuned for developments.
Don't get fooled by Jimmie Johnson's disappearing act at Las Vegas. Yes, that was the No. 48 Chevrolet getting lapped late in the race. According to Johnson that is because Hendrick Motorsports is still developing their technology. Bristol is a whole different race and that technology won't be as much of a factor as it is at the larger, wide-open tracks like Las Vegas. Johnson is the defending champion of this race, so he should know whether or not you need new technology or old, right?
I don't know how you can ignore the guy with the hot back-flip, however.
Pick! Carl Edwards, No. 99, +500
Jeff Byrd 500 - Lucky Dog Long Odds Special
It's only three races into the season and Dale Junior fans have a lot to cheer about. It is a pivotal year for the No.88 driver after finishing last year out of the Chase. Junior is back (so far) inside the Top 10 in points for the first time since February of last year and has seemed to mesh with his new crew chief Steve Latarte, Junior's 91-points put him in a tie with Mark Martin. The good news is that Junior is only 22 points from first, and that has got to have Junior Nation fist-pumping. Earnhardt, Jr., who is working on a 96-race losing streak, has finished in the Top 10 in his last two races at Bristol. Make that three!
Pick! Dale Earnhardt, Jr, (+2500)
Jeff Byrd 500 – Odds for Top 3 Finish
As of deadline odds had still not been posted due to pending qualifiers. However, that won't stop me from picking a driver to finish in the Top 3. Then when the odds come out you are loaded and ready to lock in to a position on this event.
Kurt Busch is tied with Stewart for first place in the standings with113 points. Busch is in second due to the fact that Stewart finished higher than Busch in the last race. But that won't stop Busch from attempting his sixth win at BMS. He last won this race in 2006 and finished third last March. Busch has finished in the Top 10 the past three races and I wouldn't be surprised to see this short-track specialist contend for the win.
Pick! Kurt Busch, No. 22
Jeff Byrd 500 – Odds* to Win
Bristol Motor Speedway, March 20, 2011
501 AJ Allmendinger +7000
502 Bobby Labonte +8000
503 Brad Keselowski +8000
504 Brian Vickers +7000
505 Carl Edwards +500
506 Clint Bowyer +1500
507 Dale Earnhardt Jr +2500
508 David Gilliland +8000
509 David Ragan +8000
510 David Reutimann +2500
511 Denny Hamlin +700
512 Greg Biffle +1200
513 Jamie McMurray +2500
514 Jeff Burton +3000
515 Jeff Gordon +1000
516 Jimmie Johnson +700
517 Joey Logano +2500
518 Juan Pablo Montoya +2500
519 Kasey Kahne +3000
520 Kevin Harvick +1000
521 Kurt Busch +1000
522 Kyle Busch +300
523 Marcos Ambrose +8000
524 Mark Martin +2500
525 Martin Truex Jr +4000
526 Matt Kenseth +1200
527 Paul Menard +8000
528 Regan Smith +8000
529 Ryan Newman +2000
530 Tony Stewart +800
531 Trevor Bayne +7000
532 Field (Any Other Driver) +4000
*odds courtesy of BetUS.