NASCAR Predictions: Sprint Cup Futures Odds
by Christopher G. Shepard - 2/10/2011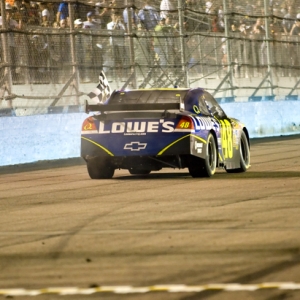 Sports investment powerhouse Bodog has posted futures odds for the 2011 NASCAR Sprint Cup season. What should come as no surprise to fans is that five-time Sprint Cup winner Jimmie Johnson is set as the 3/1 favorite to hoist the Sprint Cup at Homestead, Florida on Nov. 20.
Gamblers investing in the outcome of the 2011 Sprint Cup should know that this year Johnson will attempt to win his sixth consecutive Sprint Cup. However, like a phoenix rising from the ashes, Carl Edwards, set at 7/1, won the last two races of 2010 and he should quickly be a factor in 2011. Denny Hamlin came within a 100 laps of winning the Sprint Cup last season and is set as the second favorite at 11/2. I see the new points system as a speed bump on the road to the 2011 Sprint Cup for Double-J. Yeah, right.
NASCAR Predictions: Who will win the 2011 Sprint Cup?
NASCAR has mandated a simpler points system for 2011 and has added a "choose your championship" component for drivers while also featuring a change in Chase for the Sprint Cup format. Rather than earning an arbitrary 190 points for a win like last year, NASCAR has seemingly modeled the new points system after MarioKart. This year where a driver finishes determines how many points the driver will earn. The car that wins the race earns 43 points while the 43-place car earns one point. First, second, and third would earn 43, 42, 41 points, respectively.
"Choose your Championship" will affect drivers that drive for both NASCAR and the Nationwide series. Drivers will have to declare before the season begins which series they'll be collecting points in. This is a change that was designed to showcase upcoming talent rather than having known commodities like Kyle Busch winning and collecting points on both Saturdays and Sundays. Under the new rule in 2011 Busch will have to tell officials he'll be racing for points in NASCAR or Nationwide, but not both. Busch will still be able to race in both series, but collect points in one.
As for the Chase for the Sprint Cup, this year only the Top 10 in points will lock in spots in the Chase, while 11th and 12th place will be taken from the driver with the most wins in the pool of 11th through 20th place. This was implemented to ensure that top-notch drivers like Jamie McMurray, who won three races in 2010, won't be snubbed.
Another change that could affect the starting grid is the qualifiers rain-out policy. Practice speeds will now determine starting order rather than points. If practices are rained out then, well, NASCAR will revert to the points leaders. The changes to the scoring should simplify things for fans and perhaps generate more interest as the Chase approaches by keeping the margin between drivers in single and double digits rather than the ridiculous 600-900 points that have been seen after the last points overhaul.
These changes, however, do nothing to address the restrictor plate issue that a majority of fans see as being elitist and giving only the top-tiered NASCAR teams hopes of winning at those race tracks. Perhaps Jamie McMurray busted the mold last year, but we'll see in two weeks.

Among the highlights of "NASCAR realignment" are that Kentucky gets a NASCAR race at the expense of Atlanta Motor Speedway's spring race. Meanwhile, Kansas will gain a second race to Auto Club Speedway, which will lose one. This is not a surprise considering the dreadful attendance at recent events and this might also affect Johnson, who is typically good in California.

Jimmie Johnson (3/1) He can't win another Sprint Cup, can he? When do you start calling Johnson and Hendrick Motorsports a dynasty, or have you already? No matter what NASCAR has thrown at Double-J he's managed to overcome. The latest obstacle, a change in the spoiler on the CoT mid-season, almost derailed his bid for a fifth Sprint Cup, but Chad Knaus figured it out in time. The new points overhaul might throw a spanner in the works, but Johnson and Knaus have proven their critics wrong time and again. If you are investing in NASCAR futures Johnson is your mandatory blue-chip hedge investment for your other long odds NASCAR futures investments.
Denny Hamlin (11/2) He will have to fight off the bitter disappointment of what could have been at Homestead in 2010. Despite that, Hamlin has a lot to build on as comes off eight wins last year. The last guy who did that and lost to Johnson in the Chase was Carl Edwards, and it took him almost two years to win another race. Let's hope Hamlin doesn't suffer from the same sophomore slump.
Carl Edwards (7/1) He finished fourth in points last year, but really brought it on the last half of the season thanks to Roush Racing and Bob Osborne's decisions as crew chief. Edwards won the last two races of 2010, and it is obvious he is completely excited to be back in the position of most likely to break Johnson's apparent stranglehold on the Sprint Cup. Ford's weren't awesome for most of 2010, but perhaps Ford has finally turned the corner.
Kyle Busch (10/1) Now that he can't beat up on the little kids of the Nationwide series (I assume he'll choose NASCAR to collect points), look for the luster of racing three races a weekend dull significantly. This could be miraculous for Busch, who could use the renewed focus and dedication to NASCAR that obviously waned toward the end of last year. Perhaps that had something to do with getting married during the offseason. Whatever the reason, Busch won three times last year and finished eighth in the Chase. There is no doubt he'll bring it in 2011.
Jamie McMurray (26/1) was the best driver not to make the Chase. McMurray won three times for Earnhardt Ganassi Racing at the Daytona 500; the Brickyard 400, and in Charlotte in October. McMurray showed flashes of brilliance last year, but his problem was consistency. With another year under his belt don't be surprised to see McMurray in the Chase in 2011.
Pick! Kyle Busch, 10/1
Sprint Cup Series – Odds* to Win
2011 NASCAR Sprint Cup Championship
Odds to win 2011 Sprint Cup Championship
A.J. Allmendinger 80/1
Brian Vickers 50/1
Carl Edwards 7/1
Clint Bowyer 20/1
Dale Earnhardt Jr. 35/1
David Reutimann 50/1
Denny Hamlin 11/2
Greg Biffle 15/1
Jamie McMurray 26/1
Jeff Burton 33/1
Jeff Gordon 11/1
Jimmie Johnson 3/1
Joey Logano 33/1
Juan Pablo Montoya 35/1
Kasey Kahne 35/1
Kevin Harvick 9/1
Kurt Busch 18/1
Kyle Busch 10/1
Marcos Ambrose 80/1
Mark Martin 22/1
Martin Truex Jr. 70/1
Matt Kenseth 16/1
Ryan Newman 50/1
Tony Stewart 11/1
Field (Any Other Driver) 50/1
*Odds Courtesy of Bodog