NASCAR: Pure Michigan 400 Odds and Predictions
by Christopher G. Shepard - 8/19/2011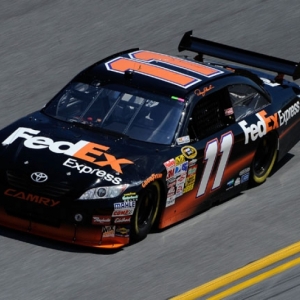 With four races left until the Chase is set Kyle Busch moved into a tie with Carl Edwards for first place in the Sprint Cup this week as NASCAR heads to the "Irish Hills" and Michigan International Speedway on Sunday, Aug.21 at 1:15 p.m. for the Pure Michigan 400.

This is the second race at Michigan this season, so before investing in this race make sure that you remember that the last time there was a season sweep at Michigan was when Bobby Labonte did it in 1995; Denny Hamlin won at Michigan eight weeks ago if you want to play this angle. The winner of this race has come from pole-position 16 times. Brian Vickers (2009) was the last driver to win from the pole. Kurt Busch has won the pole the last two races at MIS, but he has not won from that position. However, 65 of 84 races have been won from the Top-10 starting position, while 46 of those wins have come from the first four spots on the grid. The Wood Brothers and Roush Fenway Racing have the most victories at MIS with 11 and the last win for Dale Earnhardt, Jr, at MIS came three years ago.
Who will win the Pure Michigan 400?
I think the winner on Sunday will come from one of the three drivers who have better than a Top-10 average finish at MIS -- Denny Hamlin (10.0), Matt Kenseth (9.5), and Carl Edwards (6.2) all have two victories at Michigan. The difference between Edwards and Kenseth and Hamlin is that Edwards doesn't need to win on Sunday, he just needs to avoid a DNF and finish mid-pack and he will still be No. 1 in the standings.
Roush Racing's Kenseth is currently in fifth place in the Sprint Cup and moved up one position after Watkins Glen. Kenseth has raced well at Michigan, and along with his two wins he sports 11 Top-5 and 15 Top-10 finishes in 24 starts. Last year Kenseth finished fifth in this race and he won this race in 2006. Kenseth has the ability and the team to win this week at MIS, and at +1200 for your investment he is worth a good look in win-market betting.

Edwards last won at MIS in 2008. He is currently tied in points with Kyle Busch for first, but Busch has won three races to Edwards' one this year, so Busch is techincally ahead of Edwards on the leaderboard. At Michigan Edwards has posted two wins, nine Top-5, and 12 Top-10 finishes in 14 starts. Edwards finished this race third last year and he has posted eight Top-10 finishes in the last nine starts at MIS. Keep in mind that last year Edwards was leading toward the end of the race and then lost on the restart.

Hamlin, despite his 10.0 average finish at MIS, is probably one of the best active drivers at this track. Hamlin's numbers are reminiscent of his dominance at Martinsville. He won this race in June. After starting the race from 10th place he steadily improved over the course of the race. Hamlin has not finished out of the Top-5 in the last five races at MIS. In his last three races at MIS Hamlin has finished first, second, and first. Considering that in his last five races Hamlin has averaged a 3.4 finish, I will overlook the fact that Hamlin has only one Top-10 finish in the past two months.

Pick! Denny Hamlin, No.11, +800

Pure Michigan 400 - Lucky Dog Long Odds Special
In 17 races at MIS Greg Biffle has recorded two wins, seven Top-5s and 10 Top-10 finishes. Biffle has had a terrible season and hasn't won this race since 2004. He will need this experience on Sunday to put him in position to get a much-needed win. If Biffle can win then he'll have a shot at the one remaining Wild Card spot for the Chase. Biffle is currently 13th in the Sprint Cup standings and 49 points out of the Top-10. With only a handful or races left before the Chase, Biffle's chances of making the Chase are slim at best if he doesn't win at one of his favorite tracks on the circuit.
Pick! Greg Biffle, No. 16, +2000
Pure Michigan 400 – Odds for Top 3 Finish

Joe Gibbs Racing has come on strong as they head into one of their strongest performing tracks; the two-mile D-oval of Michigan. Busch had to weather a bit of disappointment last week as he actually lost to Ambrose on restart late in the race at Watkins Glen and ended up finishing the race third behind Brad Keselowski. Busch had led for most of the race and it looked like he'd notch his fourth win of the season until the caution. It has been Kyle Busch, however, who has been the most consistent Spring Cup driver overall. In June Busch managed to finish at MIS in third place. While he has had a good record at MIS, this hasn't necessarily translated into wins for Kyle. Busch moved up two spots this week and is tied with Edward for first. Busch has two Top-5 and four Top-10 finishes in three starts, but Busch did have an 18th-place finish in this race last year. Busch seems to have weathered his mid-summer swoon the last two weeks of July. He will look to continue a super August with a third consecutive Top-3 finish. A side note -- the only person driving better than Busch during the last two weeks is Keselowski, who finished 1-2 in his last two races. If you think Keselowski can continue his run you can get +750 backing Brad to finish in the Top-3.

Pick! Kyle Busch, No. 18, +250
Pure Michigan 400 – Odds for Top 3 Finish
Michigan International Speedway, August 21, 2011

150 AJ Allmendinger +1800
151 Brad Keselowski +750
152 Brian Vickers +1500
153 Carl Edwards +200
154 Clint Bowyer +900
155 Dale Earnhardt Jr +750
156 David Ragan +1200
157 David Reutimann +1500
158 Denny Hamlin +250
159 Greg Biffle +600
160 Jamie McMurray +1500
161 Jeff Burton +1500
162 Jeff Gordon +250
163 Jimmie Johnson +200
164 Joey Logano +900
165 Juan Pablo Montoya +1200
166 Kasey Kahne +900
167 Kevin Harvick +350
168 Kurt Busch +250
169 Kyle Busch +250
170 Marcos Ambrose +3000
171 Mark Martin +1500
172 Martin Truex Jr +1200
173 Matt Kenseth +350
174 Paul Menard +1500
175 Regan Smith +3000
176 Ryan Newman +900
177 Tony Stewart +350
178 Trevor Bayne +3000
179 Field (Any Other Driver) +3000
Pure Michigan 400 – Odds to Win
Michigan International Speedway, August 21, 2011
101 AJ Allmendinger +5000
102 Brad Keselowski +2500
103 Brian Vickers +5000
104 Carl Edwards +700
105 Clint Bowyer +3000
106 Dale Earnhardt Jr +2500
107 David Ragan +4000
108 David Reutimann +5000
109 Denny Hamlin +800
110 Greg Biffle +2000
111 Jamie McMurray +5000
112 Jeff Burton +5000
113 Jeff Gordon +800
114 Jimmie Johnson +700
115 Joey Logano +3000
116 Juan Pablo Montoya +4000
117 Kasey Kahne +3000
118 Kevin Harvick +1200
119 Kurt Busch +800
120 Kyle Busch +800
121 Marcos Ambrose +8000
122 Mark Martin +5000
123 Martin Truex Jr +4000
124 Matt Kenseth +1200
125 Paul Menard +5000
126 Regan Smith +8000
127 Ryan Newman +3000
128 Tony Stewart +1200
129 Trevor Bayne +8000
130 Field (Any Other Driver) +8000