National Championship Game Picks: Butler vs. UConn Odds and Predictions
by Trevor Whenham - 4/4/2011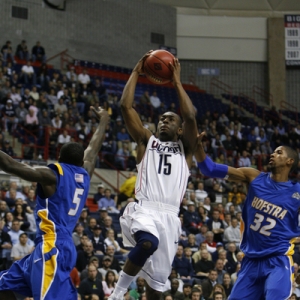 Butler and Connecticut for all the marbles -- just like you imagined it, I'm sure. This is a wildly unpredictable final, but that seems fitting in a year when the only dependable thing in college basketball was surprise. There weren't many teams that seemed elite, and those always found a way to disappoint just when it seemed like they were on track.
These teams come from a world apart in terms of history, experience, conference and so on, but the pairing seems fitting in one sense -- both teams had very similar seasons. After a decent start -- a very good one in the case of the Huskies -- things really took a turn for the worse. The Bulldogs lost four straight and looked like they would be lucky to win a game in the NIT. The Huskies went 4-4 in February and looked confused, unfocused and uncompetitive. Since then Butler has won 14 in a row, and UConn followed up a stunning Big East Tournament run with an equally stunning NCAA Tournament run. These teams are as hot as teams can be. That extends to the betting world as well. The Bulldogs have covered every spread since the Horizon League Tournament began and are 10-3-1 ATS over the course of their winning streak. The Huskies have covered every game but one in their two tournament runs -- they only beat Arizona by two as 3.5-point favorites.
Coaching experience is a storyline that gets a lot of play in this matchup. Jim Calhoun has been coaching literally longer than Brad Stevens has been alive, and he has a trophy case packed full of accomplishments. I think worrying about that mismatch, though, is totally pointless. In evaluating coaches what matters is not what they have done but how well they understand their team, and how effectively they can work with them. Both guys are clearly tuned in closely to the needs of their squads, and they know just what buttons to push. Stevens may be far behind in accomplishments, but by taking two teams in a row to the Finals he's clearly shown that he knows how to make his squad perform at their best. He's also not going to be intimidated by playing in a game he played in just last year, and he has clearly shown that he's not intimidated by any coach.
Your attitude to this game will be dictated in large part by your opinion of the importance of talent. UConn is unquestionably the more talented team, and Kemba Walker is by far the best player on the court -- he was the best in the tournament. He's a blue blood -- like Jeremy Lamb. Matt Howard and Shelvin Mack are far more blue collar, but they will clearly die for their team, and they always seem to be able to do what is needed just when it is needed. If you think the best player will come out on top then UConn is your squad. Of course, if that was the case then Butler wouldn't be here. The big difference between the two, though, is that Walker is the kind of player who can carry a team single-handedly while Butler is the quintessential team without a dominant star.
In watching the games on Saturday two things stood out about UConn -- they are clearly the better team here, and they looked really, really tired. If the Huskies can play their game, and if they can get rested and comfortable by tip-off, then they are going to cut down the nets. Butler has shown an impressive ability to disrupt teams and throw them off their games, though, and if they can do that -- and find ways to exploit UConn's exhaustion -- then they can come out on top.
I love handicapping horse racing. In that sport there is one type of runner that stands above all -- a horse that is passed by another horse in the stretch and is able to fight back and win. In almost all cases a horse that is passed will quit, so a fighter is exceptionally tough and is one to back. The problem in applying that to this context is that it applies to both teams. UConn saw their huge lead evaporate against Kentucky, but showed what they have shown throughout the tournament -- an ability to pick themselves up and deliver a knockout punch. Butler is similarly capable of ignoring the fact that they should give up to fight back and take the win. This game has the potential to be epic because both squads are big punchers who you can't knock out. Throw aside all the differences in talent, strategy, coaching and so on, and it comes down to this -- this game will be won by the team that wants it more. You can say that about any championship, but it takes a special meaning when the teams are as tough as these.
Butler vs. UConn Betting Odds and Line Movement
The line opened with UConn favored by four points. Fast early action on the Bulldogs, though, dropped the line to 3.5 where it appears to have stabilized. If it moves anywhere it will likely be further down as about two-thirds of bets have been placed on Butler. The total opened at 129.5 and is on a slow march downwards -- it's sitting at 128.5 as I write.
Butler vs. UConn Betting Trends
The two teams haven't met before on the court
Butler has gone 'under' in seven of their last 10 NCAA Tournament games
The Huskies are 8-2 ATS in their last 10 NCAA Tournament games, while the Bulldogs are 7-0 ATS in their last seven tournament games as an underdog

National Championship Game Picks: Butler vs. Connecticut Predictions
It's all Butler for me. UConn is more talented for sure, but Butler is tougher and more battle tested. The Huskies have been impressive, but each step of the way they have faced and beaten a team that they should have been able to beat -- it hasn't been the toughest schedule possible. Butler has played a tougher schedule against better teams and has largely looked more impressive doing it. Stevens will focus very hard on disrupting Walker, and I have faith he'll find a way to do that -- at least to slow him down. If Butler were favored it might be a different story, but getting 3.5 points here seems like a very attractive situation.