NCAA Tournament Facts and Interesting Tidbits
by Trevor Whenham - 3/14/2011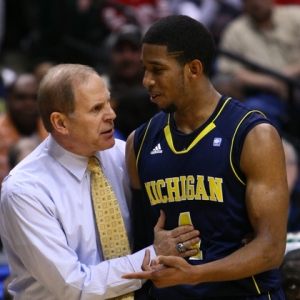 To get you into the March Madness spirit, here's a random collection of NCAA Tournament facts to broaden your mind:
--This year's 68-team field is the 11th different field size starting from as low eight teams from 1939 to 1950.
--The Big East has set a record this year with the most teams ever from one conference with 11. That record isn't quite as impressive as it sounds, though -- the tournament has been running since 1939, but up until 1975 there was only allowed to be one team per conference in the field.
--The term March Madness has only been associated with the NCAA Tournament since the early 1980's -- perhaps thanks to usage by Brent Musberger. It's been around referring to college basketball a lot longer than that, though. High school basketball tournaments in Midwestern states like Indiana and Illinois have been using the term since the 1930s.
--The profits for the tournament do not go to the NCAA. Instead, they are split among the schools and conferences. Half of the profits are distributed to all Division I schools based on the number of sports they play and the number of scholarships they award. The other half goes to the conferences based on how well they have done in the last six NCAA Tournaments.
--North Carolina and UCLA lead the way with 18 Final Four appearances each over the years. Duke is next with 15, Kansas and Kentucky and Kentucky have 13 each, and Ohio State will be looking to make their 11th appearance. Michigan and Memphis share the lead in a dubious Final Four category - each has had two Final Four appearances vacated.
--BYU has played in the most tournaments without a Final Four appearance -- 25. Missouri is close behind with 24, followed by Xavier with 21.
--Mike Krzyzewski is far ahead of all active coaches with 11 Final Four appearances. Roy Williams is second with seven, followed by Tom Izzo with six. Coach K is tied with Dean Smith with the second most Final Four appearances of all time. He has a chance to tie John Wooden at the top of the list this year. Coach K leads the way among active coaches with four wins. That means that he has lost more finals than all but one active coaches have appeared in. Three other active coaches -- Roy Williams, Jim Calhoun and Billy Donovan -- have won two titles.
--Incredibly, there are 20 coaches in the field this year who have taken a team -- not necessarily their current team -- to the Final Four.
--There are 147,573,952,589,676,412,928 different possible brackets with a 68-team field.
--There have been 21 different teams that have entered the tournament ranked No. 1 in the country and gone on to win it all. Before you jump on the Ohio State bandwagon, though, take note that no team has done so since 2001, and only four teams have done it in the 26 years since the tournament expanded to 64 teams.
--Only once have all four No. 1 seeds made the Final Four -- in 2008. Twice as often -- in 1980 and 2006 -- no No. 1s have advanced. No. 1s have won 16 of the 26 64 (or more) team tournaments. No. 2 seeds are a distant second with four wins, while third seeds have won three times. No team lower than an eight seed has ever won.
--No 16 seed has ever won a game in 104 tries, but five have come close -- within four or fewer points. In 1989 two 16 seeds came within a single point of pulling off the upset. There hasn't been one of these close games since 1996. Does that mean we are due this year?
--The biggest upset ever, according to the point spread, was when Santa Clara, a 19.5-point underdog, upset Arizona in the first round in 1993. Santa Clara's freshman point guard was some guy named Steve Nash. The biggest upset in the Championship game was when 9.5-point dogs UConn beat Duke in 1999.
--There is just one pairing in the first round in which the lower seed has a historical edge. Not surprisingly, that is the ninth seed, which has won 56 of their 104 games against the eight seed. It might seem like the 12 seeds have great luck against the five seeds, but the higher seed has still won two thirds of the games the two seeds have played.
--This year's Final Four will be played in Reliant Stadium in Houston. That city is the site of the first Final Four played in a domed stadium -- the 1971 tournament took place in Astrodome. UCLA won that tournament and is therefore the only Champion ever crowned in Houston. Louisville, Kentucky, UConn, and Kansas have also won the tournament in the state of Texas.
Doc's Sports is your one-stop shop for everything March Madness! We have our Main March Madness page HERE where you can find links to our printable March Madness Brackets, current updated March Madness Odds and daily updated March Madness betting content. Check Doc's every day for the best chance to beat your bookie this week. Also, if you don't have the time to do your own homework, Doc has a team of expert college basketball handicappers that are working 24/7 on their March Madness picks and you can get a package from each one through the Final Four for only $199.