NCAA Tournament Odds and Predictions For Saturday
by Dave Schwab - 3/18/2011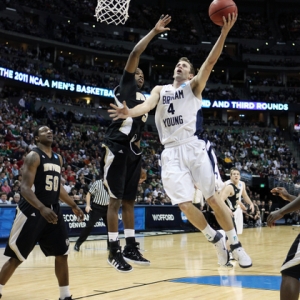 As is typical with the first full day of action in the NCAA Tournament, there were blowouts, buzzer beaters, and a couple of bracket-busting victories that came together to validate the madness that is March. The survivors of Thursday's games will now regroup to try and play their way into this year's Sweet 16 in a full state of action this Saturday. The following is a brief look at all eight matchups along with the NCAA Tournament odds. We will also offer some predictions on how the games might go.
(5) West Virginia vs. (4) Kentucky -3.5
This is a rematch of last year's Elite Eight showdown in which the Mountaineers came away with a 73-66 win as a four-point underdog. Kentucky has the advantage in talent this time around and should come out on top by a comfortable margin as long as the youth on this team doesn't get caught up in the moment.
(7) UCLA vs. (2) Florida -5
The Bruins need to clean up their act from the foul-line to have any chance to pull off the upset after missing 17 free throws against Michigan State in a 78-76 nail biter that should never have been that close. Florida cruised in a 28-point victory over UC Santa Barbara as a 12.5-point favorite, but will struggle to cover the five points in this one.
(13) Morehead State vs. (12) Richmond -3.5
These two bracket busters square off in what should be a great game between two very underrated teams. If Eagles guard Terrance Hill lights things up again from three-point range then Morehead State has a chance, but this is Richmond's game to lose behind a bit more talent and depth off the bench.
(7) Temple vs. (2) San Diego State -5.5
The Owls survived an upset scare from Penn State with a last-second 66-64 win as a 2.5-point favorite. San Diego State's shutdown defense should be able to control the tempo of this game and keep Temple well below its 71-point scoring average to win this game with relative ease.
(8) Butler vs. (1) Pittsburgh -7.5
Butler played an excellent game under the boards against a very physical Old Dominion team in Thursday's 60-58 victory over the Monarchs as a one-point underdog. The big question in this game is how well the Bulldogs will do underneath against an even more physical team like Pitt. The Panthers get the win, but this game will be closer than the 7.5-point spread.
(11) Gonzaga vs. (3) BYU 'pick'
Gonzaga continued its tradition of playing its best ball of the year in this tournament with a solid 86-71 win over St.John's as a one-point favorite. The Bulldogs now need to find an answer for stopping Jimmer Fredette, who put up 32 against Wofford. He will prove to once again be too much to contain in a Cougars win.
(5) Kansas State vs. (4) Wisconsin -1
The Wildcats rode Jacob Pullen's game-high 22 points to a 73-68 win as a one-point favorite over a very persistent Utah State. Wisconsin shook off the rust from a dismal 36-33 loss to Penn State in the Big Ten Tournament with a 72-58 win over upstart Belmont as a four-point favorite, but that is as far as it goes for the Badgers this season.
(6) Cincinnati vs. (3) Connecticut -3
This is the first head-to-head Big East showdown in this tournament and a rematch of a regular season game that Connecticut won, 67-59, as a 3.5-point road underdog. The Huskies showed little sign of fatigue from last week's impressive run through the conference tournament in an 81-52 win over Bucknell as a 10-point favorite. This spells bad news for the Bearcats' chances of avenging the first loss.
Doc's Sports is your home for NCAA Tournament betting information! We have our Main March Madness page HERE where you can find our up-to-the-minute March Madness Odds and daily exclusive NCAA Tournament betting articles. Check Doc's every day until the Final Four for all the information you need to beat your bookie throughout the tournament. Also, if you don't have the time to do your own homework, Doc has a team of expert college basketball handicappers that are working 24/7 on their March Madness picks and you can get a package from each one through the Final Four for only $199.