NCAA Tournament Odds: Interesting Prop Bets With Predictions
by Trevor Whenham - 3/16/2011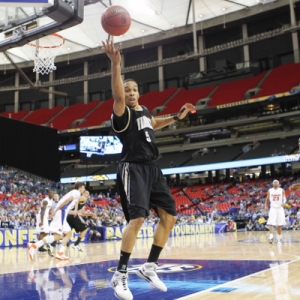 When it comes to prop bets the NCAA Tournament can't touch the Super Bowl, the king of all prop betting experiences. There are still a lot of different ways to get action on this tournament, though. Let's do a survey of some of the different sportsbooks to find their most interesting NCAA Tournament odds for prop bets:
Bodog has the best range of interesting props available so far.
How many No. 12 seeds will advance past the round of 64? - The NCAA Tournament odds for the two options here are one or less at even money or two or more at -130. Obviously I'd rather bet the better paying option. But does it make sense? In the 26 years since the field was expanded to 64 teams the 12 seed has won 35 games -- just short of a third of games. In just three of those years -- 1988, 200 and 2007 -- have the 12 seeds failed to win at least one game. There's a good chance, then, that there will be at least one winner. To get a sense if more than one is likely we need to look at the teams involved. Of the four, only Clemson is a team I am reasonably confident will lose. The other three are in pretty good shape. As much as I would like to take one or less, I just can't justify it.
Which Canadian will average the most points in the tournament? - As a Canadian myself I have to look at this one. Kyle Johnson of Long Island is initially attractive -- Long Island scores a ton of points and is likely to play only one game, so his average won't be pulled down by too many games. The problem, though, is that Long Island shares the scoring load far too much, so Johnson likely won't get beyond low double digits. Kris Joseph of Syracuse s the favorite. He's the only guy on the list who is the leading scorer of his team. The Orange have a really tough path, though, so I'm skeptical of the price. Tristan Thompson and Cory Joseph of Texas are both Canadian, and both listed. I really like both -- my son is named Tristan, so I am especially partial to Thompson. Texas has a tough draw, though, and it's hard to know how these guys will handle the pressure. That leaves one guy -- Robert Sacre of Gonzaga. He's only the fourth guy at a very nice +500, and he's my prediction. The Bulldogs play what should be a wide open game against St. John's. If they survive that one then they'll have another wide open one against BYU. It's Sacre's year.
5Dimes has a large range of head-to-head tournament win props available that are very interesting:
Kentucky (-140) vs. Louisville (+110) - I like the Cardinals a lot here. Both four seeds are in decent shape to win their first two games, though Louisville definitely has the easier path. In the third round both would likely play a No. 1. I think Louisville matches up much better against Kansas than Kentucky does against Ohio State. That means that the underdog here is my solid choice.
Duke (-130) vs. Ohio State (+100) - I really can't figure out why the Buckeyes are favored here. They are my pick to win it all, and they have an easier path to glory than Duke does. I am not as convinced as some people are that Kyrie Irving can come back and play significant minutes, or that he'll be productive despite the rust if he does. Most confusing, Ohio State is at lower odds in the futures than Duke, so it seems nice and attractive that Ohio State is the underdog.
Butler (+100) vs. UNLV (-130) - UNLV is going to win one game -- Illinois is a lousy team. That sets up a matchup with Kansas, though, and I just don't see a win happening there. So can Butler get two wins? Maybe. Their first game against ODU is going to be a war, but I give the Bulldogs the nod. They play Pittsburgh in the second round. The Panthers are the worst of the top seeds by a wide margin in my eyes, and I think they are vulnerable against a tough, experienced team. Butler has more hope of the upset than UNLV, so they make sense at this price.
Which Big East team will advance the furthest? - This one is attractive because Pitt is the heavy favorite (+170) and I really don't like them at all. That means that there is a good chance of value elsewhere. You can split the rest of the teams into two groups -- the longshots (+1800 or higher) and the serious contenders. Of the longshots the team that stands out is St. John's at +1800. They play in the weakest, most wide open region, and they have a real chance of winning against an opponent they could face -- especially if Steve Lavin can work some of his tournament magic again. Of the serious contenders the one that stands out for me is Syracuse at +500. I love two things about them -- their athleticism and their coaching. They have a very solid chance of being an Elite Eight team and they would make things tough for Ohio State there as well. I also like Notre Dame (+550) to make it to the Elite Eight and give Kansas a test once they get there. What looking at this bet really points out, though, is how much I don't like the Big East this year. It amazes me that there are 11 teams in the field, yet I can't find a Final Four team among them.
Doc's Sports is your home for NCAA Tournament betting information! We have our Main March Madness page HERE where you can find our very popular updated March Madness Brackets, up-to-the-minute March Madness Odds and daily exclusive NCAA Tournament betting articles. If you don't want to fill out the brackets yourself, be sure to look at Doc's March Madness Mock Bracket Predictions. Check Doc's every day until the Final Four for all the information you need to beat your bookie throughout the tournament. Also, if you don't have the time to do your own homework, Doc has a team of expert college basketball handicappers that are working 24/7 on their March Madness picks and you can get a package from each one through the Final Four for only $199.