2011 NFL Draft Prospects: Small School Players
by Aaron Smith - 4/19/2011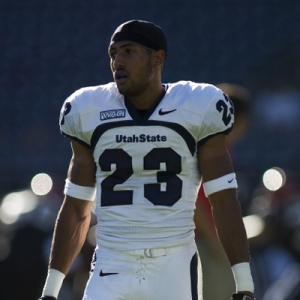 Over the course of the past few years, more team executives have come to realize how important it is to look for hidden talents in the small school ranks. Each year there are several small school players who make a large impact in the NFL. These are the types of players that you heard nothing about during their college careers, but you are bound to hear from some of them once they get into the NFL. It will always be the top few draft picks that receive the majority of the attention, but those who follow the NFL Draft closely know that the middle and late rounds are extremely important. This list of 10 small college NFL Draft prospects should help introduce you to some players that are likely to be major contributors in the next few years.
NFL Draft Prospects: Small School Players in the 2011 NFL Draft
10. Buster Skrine (Chattanooga-CB) - Buster Skrine wasn't on many draft boards as of a few months ago, but some extremely impressive performances in the offseason have his stock rising quickly. Skrine ran a 4.37 40-yard dash, and he topped the charts with a 20-yard shuttle time of 3.9 seconds. He could struggle in run support, but his sheer quickness and ability in coverage will merit a draft pick from someone.
9. Cecil Shorts III (Mount Union-WR) – Shorts comes from the same Division III program that produced Pierre Garcon. Shorts has terrific hands, and he has always been known as a real leader on the field. He has great body control and he has a superb work ethic on the outside. He isn't a speed burner, but he has adequate speed.
8. Curtis Marsh (Utah State-CB) – Marsh showed his ability when the Aggies took on the Boise State Broncos in 2010. Marsh virtually shut down Austin Pettis in that game, which is a very difficult task. Marsh has extremely long arms, and he is at his best when he is using those long arms to disrupt the receiver's timing.
7. Taiwan Jones (Eastern Washington-RB) – You won't find a faster running back in this year's NFL Draft class. Jones ran a 4.35 40-yard dash, and he is extremely explosive with the football. Durability concerns are definitely an issue, but Jones did bulk up in the offseason to try to help his cause. He'll certainly get a look from a team searching for a hidden gem in the backfield.
6. Brandon Fusco (Slippery Rock- C/G) – Fusco was the Gene Upshaw Division II Lineman of the Year in 2010. He started all 44 games in his collegiate career. He impressed scouts with his ability and attitude at the Senior Bowl. Fusco plays with a chip on his shoulder at all times, which could make him a valuable asset for someone in this draft.
5. Kenrick Ellis (Hampton, DT) – Ellis certainly projects as a nose tackle in the NFL because of his huge size. He is 6'5 and 346 pounds, and he has the frame to be a terrific run stuffer. He can really surprise with his quick first step. Ellis has had some off-the-field issues that might hurt his stock a bit, but don't be surprised if he is off the board sometime in the fourth round.
4. Edmond Gates (Abilene Christian, WR) – Gates ran a 4.37 40-yard dash at the Combine, and he also wowed with a 40-inch vertical leap. Gates is fully capable of taking a short pass the distance with his amazing burst of speed. He comes from a difficult upbringing, and some may be worried about character issues. Gates has the ability to be a star in this league, and I think he'll be off the board before the fourth round begins.
3. Benjamin Ijalana (Villanova, OT/OG) – Ijalana had surgery for a sports hernia injury late in 2010 and was unable to bench or workout at the Combine. He has very long arms, but he is slightly shorter than the average offensive lineman. He has great technique on the line, but needs to develop a bit of a mean streak. Ijalana should be drafted highly because of his consistent production in college.
2. Will Rackley (Lehigh, OL) Rackley played against subpar competition in college, but he proved able to deal with a step-up in competition at the East West Shrine game. Rackley is very good in both pass protection and run blocking. He consistently plays at the correct pad level. Rackley is one of the top five offensive linemen available in 2011.
1. Jerrel Jernigan (Troy, WR) – Jernigan comes from a school that has produced NFL talents such as DeMarcus Ware and Osi Umenyiora. Jernigan is only 5'9, but he is a terrific route runner. Jernigan has solid top-end speed and exceptional initial quickness. Jernigan is one of the best special teams' players available in this draft, and I think he'll be off the board by the time the third round begins.