NFL Week 13 Player Props and Betting Predictions
by Alan Matthews - 12/1/2011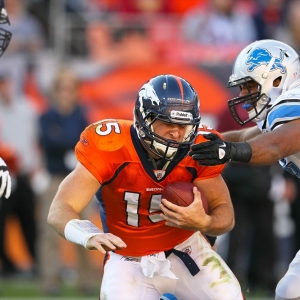 I took last week off in the props story department due to Thanksgiving, but I am back this week and there should be no more interruptions for the rest of the NFL's regular season. And, dang it, I'm going back on a promise I made to myself: I will address some Tim Tebow props that Bodog has listed for this week – Broncos are at Vikings on Sunday. Here are the three:
--Will Tebow have 22 or more rushing attempts in a single game in the rest of the regular season: 'Yes' (+300), 'No' (-500).
Free $60 in Member MLB Picks No Obligation Click Here
--Tebow's total rushing yards in Week 13: 'over/under' 60.5 (both at -115)
--Will Tebow complete a pass in the first quarter of Week 13: 'Yes' (-600), 'No' (+400).
The 22 number obviously comes from the Broncos' last game, when Tebow had that many carries in an overtime win over San Diego. That seems like stealing money, even at -500, considering that Tebow's previous high this season was 13 carries.
Unless John Fox truly does hate Tebow and wants to see him killed, there's no way he will carry the ball 22 times again unless all of Denver's running backs are injured. So take the 'no' option.
The rushing yards total does seem a bit low. Tebow has gone 'over' that total in four of his six starts this season and in the past two games. Minnesota is still pretty good against the run but not so against the pass. Still, I don't see Denver suddenly morphing into a passing team – the Broncos are who they are. Take the 'over'.
And the first-quarter completion is also a no-brainer: take the 'yes'.
OK, now the Tebow ban is back on.
Arguably the biggest breakout star this season has been New England tight end Rob Gronkowski, who already has become the fastest tight end in history to reach 20 touchdown catches in a career. "Gronk" has 11 touchdown catches on the season and six in the past four games.
Bodog offers a prop on whether he breaks the tight end season record of 13 touchdown catches. 'Yes' is at -300 and 'No' at +200. I always tend to lean to the 'under' on season records only because injuries are a fact of life in the NFL. Plus, perhaps the Patriots have nothing to play for in the final week or two. I'm taking the 'under' here.
Probably the biggest quarterback news of Week 13 is that the Texans are forced to start rookie fifth-round pick T.J. Yates against Atlanta with the season-ending injuries of the Matts: Schaub and Leinart.
Here are Yates' totals for this week: 'over/under' 210.5 passing yards (both -115), 'over/under' 1.5 TD passes ('under' is -200 favorite) and 'over/under' .5 interceptions ('over' is -225 favorite).
It's hard to know what to make of Yates, who appeared in his first NFL game this past Sunday after Leinart was injured. Yates completed 8-of-15 passes for 70 yards against a good Jaguars defense.
I fully expect the Texans to become massively conservative and rely on their stellar running game and defense to carry the day now. However, Atlanta is No. 2 in the NFL against the rush. Against the pass, the Falcons are only No. 23. Just for comparison's sake, Vikings rookie QB Christian Ponder threw for 186 yards, one TD and no picks last week against the Falcons – and Minnesota was without star RB Adrian Peterson. I'm still going 'under' the yards and TD passes and 'over' the picks for Yates.
Finally, Bodog offers NFL odds on several teams' chances to make the playoffs. Tebow's Broncos (dang, ban temporarily lifted!) are 'No' at -200 and 'Yes' at +160. As things stand now, Denver (6-5) is a game behind the Raiders in the AFC West and No. 7 overall in the conference, just behind Cincinnati for the final wild-card spot.
The one thing in the Broncos' favor is that they hold the tiebreaker over the two other 6-5 teams, the Jets and Titans, based on best win percentage in conference games. If it becomes head-to-head, the Broncos beat the Jets and lost to Tennessee. Denver and Oakland split their two meetings.
I think Denver goes 2-3 the rest of the way (at Minnesota, vs. Chicago, vs. New England, at Buffalo, vs. Kansas City) and misses the postseason.
Another interesting case is the Detroit Lions, who are -110 to make the playoffs and -120 to miss out. As things stand right now, Detroit (7-4) would be No. 7 overall in the NFC and would not make the postseason. And the Lions lose a tiebreak to Chicago (based on best win percentage in common games) and the Falcons (head-to-head).
The Lions seem likely to lose at least three more games this year: this week at New Orleans, Week 15 at Oakland and Week 17 at Green Bay. I don't see Detroit making the playoffs.
Allen Eastman is on a roll for his NFL picks. His incredible 411 System, the top NFL betting system in the nation, is on a 5-1-1 run the last few weeks and it is 81-47-4 the last four years overall. He will have a 7-Unit Game of the Year on his weekend card this week and a one-week package is only $99. Also, check his Insider's Page HERE for free sports picks daily.