Monday Couch Potato: NFL Week 6/NCAA Week 7 Betting Recap
by Alan Matthews - 10/17/2011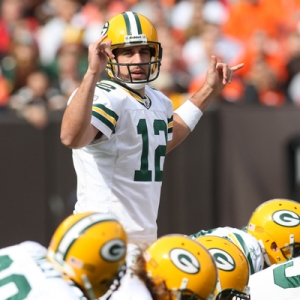 Welcome again to the Monday coach potato, a recap of the football weekend that was. I hope you took my advice on the Bodog prop for which team would be the last unbeaten. That is Green Bay, and that's the team I recommended (they were second favorites behind the Pats when that prop was released). Here are three other things that caught my attention in the pro and college ranks this past weekend:
Big Chalk Week in NFL
If you are in a survivor pool or just an NFL office pool picks competition, I am guessing every competitor you are up against in each of those had a good week. By that I mean almost every team that was supposed to win did so and certainly there were no huge upsets on Sunday.
Really the only two games I would call minimal surprises were the San Francisco 49ers winning at Detroit and the Tampa Bay Bucs winning at home against New Orleans. Normally I would never recommend taking a West Coast team to win a game played in the Eastern time zone at 10 a.m. Pacific time, but the Niners are the exception to the rule. They are now 3-0 in such games this year, winning at Cincinnati, at Philadelphia and then Sunday in Motown. The Niners have two more games in the Eastern time zone, Nov. 6 at Washington and Thanksgiving night in the Harbaugh Bowl in Baltimore, so file this knowledge away. Overall, the favorites covered in eight of 12 games (one push).
By the way, that Niners-Lions matchup was the final game of the NFL season that will pit two unbeaten ATS teams. Other than 5-0-1 San Francisco, Green Bay and Cincinnati are the next two best teams ATS (both 5-1; Detroit is 4-1-1). The only winless ATS teams are the Miami Dolphins (who visit the NY Jets on Monday night) and St. Louis Rams, who acquired Brandon Lloyd on Monday from the Broncos. Clearly the Broncos are already giving up on the season (the trade deadline is Tuesday and there are rumors WR Eddie Royal and QB Kyle Orton are on the block), so they will be a good foe to bet against from now on, unless Tim Tebow morphs into Joe Montana.
Let the QB Controversies Begin
Look for at least three NFL lines for Week 7 to be in flux for a few days because of questions at quarterback: Green Bay at Minnesota, Washington at Carolina and Kansas City at Oakland.
With the Vikings, a decision will apparently be made by Head Coach Leslie Frazier on Wednesday on whether rookie Christian Ponder (No. 12 overall pick in this year's draft) or a clearly washed up Donovan McNabb will start against the Packers. Bet the house it's Ponder. The Vikings might as well find out what they have at 1-5 and clearly going nowhere. They were getting stomped by the Bears on Sunday night so Frazier inserted Ponder for an ineffective McNabb early in the fourth quarter. The former Seminole finished 9-for-17 for 99 yards. Frazier said he simply wanted to get the rookie some reps and McNabb said he fully expected to start vs. Green Bay. But that Frazier didn't back his veteran on Monday speaks volumes. This Sunday's game loomed as a potential trap for Green Bay with the bye week following, but there's no chance the Pack don't eat Ponder alive if that's the way Frazier goes.
In Washington, bad Rex Grossman finally made his expected appearance, throwing four interceptions in a 20-13 home loss to the Eagles. John Beck replaced Rex, who finished 9-for-22 for 143 yards in the fourth quarter. After one stalled drive, Beck directed the Redskins on a 10-play, 80-yard scoring drive capped by a two-yard touchdown run on a quarterback keeper. Coach Mike Shanahan, as of this writing, hasn't named his starter. But count on Beck. Grossman has thrown nine interceptions and fumbled twice this season. Against the Eagles, the Skins went 0-for-7 on third down attempts and 0-for-2 in the red zone with Grossman as their quarterback. The Skins are going to get worse.
And finally, the Raiders lost starter Jason Campbell, likely for the season, to a broken collarbone. I honestly don't think this hurts Oakland all that much. The Raiders simply asked Campbell to manage the game and not make mistakes – probably no team is more dependent on the running game than Oakland. Kyle Boller is now the likely starter, although the Raiders reportedly are trying to get Carson Palmer from Cincinnati and are kicking the tires on David Garrard. But Boller can easily be what Campbell was.
Sell On South Carolina
I mentioned a few weeks ago how that Nov. 5 game between Alabama and LSU was essentially the SEC Championship Game and a national semifinal. I believe that even more now that South Carolina lost running back Marcus Lattimore for the season in Saturday's close win over Mississippi State. I would argue no player, perhaps other than Andrew Luck at Stanford, is more important to his team than Lattimore.
The sophomore pretty much is South Carolina's offense. He averaged 116.9 rushing yards this season (10 touchdowns) and was also South Carolina's second-leading receiver with 19 catches for 182 yards. Yes, the Gamecocks still have stud WR Alshon Jeffery, but they also have a pretty inexperienced quarterback to get him the ball in Connor Shaw (remember that senior Stephen Garcia was booted from the team last week).
I fully expected USC to win the SEC East again and at least give the LSU/Alabama winner a challenge in the SEC title game, but now look for Georgia to steal that division away (both UGA and USC are 4-1 in SEC play). USC returns from the bye at Tennessee and still has to go to Arkansas, as well as hosting Florida. The Dawgs, who lost 45-42 to USC earlier this season and thus would lose a head-to-head tiebreaker, don't play another road SEC game, facing Florida on Oct. 29 in the annual neutral-site game in Jacksonville and then hosting Auburn and Kentucky. The LSU/Bama winner would spank Georgia.