PGA Tour Betting: Tiger Woods
by Trevor Whenham - 7/1/2011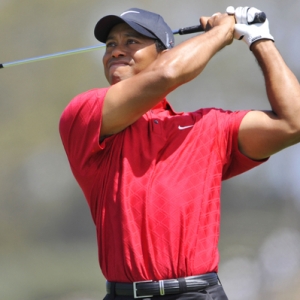 Every time you think that the Tiger Woods story is going to return to normal he finds another way to make it odd and hard to look away from. This week we saw Tiger give an interview at the AT&T National — the tournament that he hosts. Tiger showed up for the interview with a ridiculous beard, and that facial hair crime may have been the highlight of the event.
He informed us that he is still hurt, he's not practicing yet, and that he has no timetable for his return. He truly seemed disinterested in his progress. He talked about returning for the British Open in two weeks, but since he said he would only go to win it is almost impossible to believe he could be ready by then if he really isn't taking full swings now.
The more bizarre the Tiger saga gets, the more of a headache it becomes for bettors when he eventually returns. Whether anyone likes it or not, the PGA Tour is still Tiger's show, and that's not going to change until he rides into the sunset. Betting on events that Tiger is in has never been easy, and it will be even tougher whenever he does finally return. When you are deciding if and how to bet on his return event and the events that follow here are five points to consider:
He quit - The last time Tiger played was at the Players in early May, and he quit that round after just nine disastrous holes. He was injured, but he still quit — and his attitude was really lousy before he did quit. In the last two years he has shown this willingness to give less than his best several times. When he was at his best he had a killer instinct that couldn't be matched.
At best that fire isn't burning quite as bright as it once was, and that has an inevitable and significant impact on his effectiveness — as we have seen since this whole mess started. I don't believe that the fire is dimmed for good, but until he gets his burning competitive spark back he's not going to get anywhere.
It's going to take a while - Woods won't have played for at least two months by the time he returns, and he won't have practiced for almost as long. He's coming off an injury that has, in one form or another, bothered him for years. He hasn't won in two years.
If you expect instant miracles from the guy then you are just being delusional. No one can be reasonably expected to return to top playing form right away. A lot of people are going to be overly optimistic early on, and then will be frustrated and jump off the bandwagon if he struggles. If you do that then there is a chance you'll be wrong both times — betting on him when you shouldn't and then not betting on him when he might actually provide some value for the first time in years. Patience is the keyword here.
It seems like he's no longer immortal - Rory fever has gripped the nation, and a lot of other younger players — and a few older ones — have stepped up and played well recently. For years now people have looked at Tiger like he operates on a different level. Even Phil wasn't ever seen as being on the same level. Now there seems to be an increasing sentiment that Tiger is no longer immortal, and that there could be challengers. In other words, it seems like people are saying that his days have passed him by.
I don't believe that that is the pervasive sentiment yet, but it is certainly out there and gaining steam. The longer it takes him to be competitive again, the stronger this buzz will grow. That could have an impact on how the oddsmakers and the betting public view him. For the first time in a long time it is perhaps even conceivable that he could play a tournament without being solidly favored. That would be a new reality.
People might not like, but they'll still love - Right now people are saying that they don't believe in Tiger, and that his days are done and so on. I believe that they believe that right now, but I also believe that with his first win all will be forgotten and he'll be back atop his perch. The public is loyal to those they love, and whether they like it or not they love Tiger.
Really, who else is there? - Ultimately, I still don't believe that there is a guy who can seriously challenge Tiger if he gets back into form. Not yet, anyway.
McIlroy was wildly impressive at the U.S. Open, but the guy still only has three more professional wins than I do, and he has yet to win two tournaments in one year. He has a lot to prove before he can live up to the hype that is being heaped upon him.
Lots of other guys have been very impressive lately -- Kaymer, Westwood, Donald, Stricker, and so on -- but none has consistently distinguished themselves or shown themselves to be nearly the force that Tiger is when he is on his game. Tiger will continue to be treated like Tiger by the betting public until someone else emerges to capture their imagination. The public needs superheroes, not pretty-impressive-heroes.