PGA Tour Odds and Predictions: The Greenbrier Classic
by Alan Matthews - 7/27/2011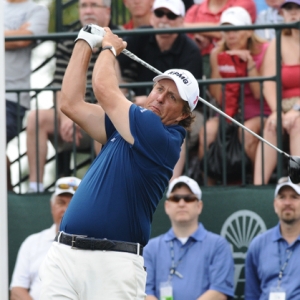 The good news is that the PGA Tour is about to enter perhaps its best stretch of golf of the year with a big-money WGC event, the final Grand Slam tournament of the year and the FedEx Cup playoffs, culminating in the Tour Championship. The bad news is that stretch really doesn't start until next week, with the pros visiting a little town in West Virginia for this week's Greenbrier Classic at The Old White TPC in White Sulfur Springs.
Because of the upcoming hectic schedule, pretty much every big-name player has passed this week. In fact, the only member of the Top 25 world rankings who is here is Phil Mickelson, and I'm frankly not sure why he is. Apparently it's because Greenbrier is a very family-friendly tourist resort, so Mickelson brought along his. Another surprising name in the field is Tom Watson, the club's second Golf Professional Emeritus after Sam Snead. He is playing even though this event will be played opposite the U.S. Senior Open. Watson said he's playing this year because he felt bad after missing the inaugural Greenbrier Classic in 2010.
Mickelson, Watson and defending champion Stuart Appleby are all paired together for the first two rounds. You may remember Appleby's win here last year. He shot a final-round 59 to defeat Jeff Overton by one shot. Appleby started the final round seven shots back, but became the fifth player to shoot a 59 on the PGA Tour (first on a par-70 course) and joined Al Geiberger and David Duval as the three of five to shoot 59 and win the event.
This course was dominated by the pros last year. Of the 472 rounds played, 325 were in the 60s and a total of 57 rounds of 65 or lower were shot. Eight players finished the week at minus-15 or better. A whopping 50 players finished minus-10 or better. Of the players who finished in the top 50, there were a combined total of just five rounds higher than par. But this year's course is expected to play much more difficult. It will play 7,247 yards, or nearly 250 yards longer than 2010 with 16 holes altered. And the greens were re-seeded and many were re-contoured. Watson said this week they were much harder than he expected.
PGA Tour Odds: Greenbrier Classic Betting Favorites
As you would expect, Mickelson is the favorite on Bodog at 8/1. Lefty still has just one victory since the 2010 Masters, and that was in Houston the week before this year's stop at Augusta. But Mickelson did show flashes of getting back to winning form at the British Open with a runner-up finish.
Sergio Garcia is next at 14/1. El Nino is looking for his first win on the PGA Tour since 2008 and finished tied for 60th here last year (how easy was the course? Garcia finished that far down despite shooting 8-under 272 with his worst round a 70). Garcia seems ready to win again: In his last three starts, he finished T7 at the U.S. Open, second at the BMW International Open and T9 at the British Open.
Garcia is followed by Charles Howell III (18/1), Jeff Overton and Webb Simpson (both 20/1). Chucky Three Sticks is looking for his first win since 2007. But in his three tournaments prior to a T28 at the British Open, Howell didn't finish worse than fifth. He was T9 at this tournament last year. Overton has never won on Tour, but would have had Appleby not made history last year. Simpson looks for his first win as well but hasn't finished worse than 16th in his past five tournaments. He missed the cut at the 2010 Greenbrier.
PGA Tour Predictions: Greenbrier Classic Interesting Long Shots and Picks
Wondering why Appleby is 100/1 despite last year's result? Because he has made just one cut in the past four months. Steer clear.
It might not be a bad idea to throw down a few bucks on Watson at 150/1. He may well be the most educated member of this field when it comes to knowing all the nooks and crannies of The Old White TPC. Plus Watson is obviously playing well, having finished third last week at the Senior British Open.
I think Woody Austin (50/1) has a shot at his first win in four years. This month, he has a T30 at the John Deere, a T18 at the Viking Classic and a T6 last week at the RBC Canadian Open. Austin finished T4 at The Greenbrier last year.
But the best value is probably Brendon De Jonge at 40/1 to get his first win. In his past two tournaments, he finished T7 at the John Deere and T13 at the Viking. He finished third at this tournament last year and leads the Tour in total birdies.