Is Rory McIlroy the Next Big PGA Tour Star?
by Trevor Whenham - 6/22/2011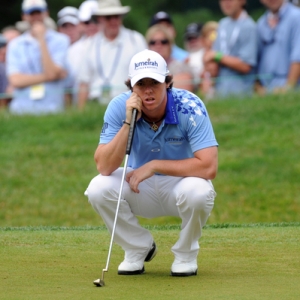 The Rory McIlroy era has arrived with a bang. The timing couldn't have been any better for his dominating win in the U.S. Open. With the obvious mortality of Tiger Woods, the struggles of Phil Mickelson, and the aging of other top players, there is a lack of compelling stars at the top of the golf world. There is no shortage of young talent, but few players have the charisma and 'it factor' that is needed to go from a very good player to a megastar.
McIlroy was a guy who was always looked at as potentially the next big thing, and with the most dominant performance by a guy not named after a big cat that we have seen in a long, long time he seems to have taken his spot in the hearts and minds of fans and bettors alike. For so long now Tiger and Phil have been the two clear choices of bettors, and all other guys have fallen far behind in the odds. McIlroy is the first guy to come along that has the potential to break through into that group and join those stars on their level.
The possibilities are almost endless for McIlroy. The question, though, is whether he can realize that potential and became all he could be. That's a particularly important question given that the public has clearly fallen in love with him, so the value in betting on him is going to be very slim.
Cons
He has only won three tournaments - To crown McIlroy as the next big thing could be just a touch premature. He has only won three tournaments, and only one each year for the last three years. While it seems reasonable that he could accelerate that pace, he has yet to do so. There are a lot of guys that have won more tournaments than that who are not the next Tiger Woods, so it's hard to really buy into the hype before he has more hardware to show off. By contrast, Woods had won three tournaments in the six months before his Masters breakthrough.
He's only 22 - That's really young for a golfer. He is years away from his prime. That might seem like a good thing, but we can't know how he is going to grow and change physically, how his personal life will change and impact his development, and so on. Before I really buy into the hype I would like to wait and see if he can maintain this trajectory as he matures.
He cratered at the Masters - The U.S. Open was amazing, but you can't forget that just two months earlier he had carded the worst final round by a leader in the history of the Masters. That was very concerning, and makes it hard to fully trust him until he can prove that he has moved past that level of performance.
There is a lot of good young talent out there - McIlroy is good, but so are a lot of young players right now - Kaymer, Westwood, Day, Donald, and so on. McIlroy is going to be under attack every time he takes the course, and that will make it hard for him to dominate.
Pressure is going to be ridiculous - When you do what McIlroy did you would get a lot of attention at any time, but when the public is so starved for heroes the pressure is going to be so much more intense. Being called the 'next Tiger' is a massive burden to bear -- just ask Anthony Kim.
Pros
That was a rebound for the ages - A lot of guys would be crushed from the devastation at the Masters, and it could take a long time to bounce back and find form again. McIlroy bounced back in his first major chance. Not only that, but from the time he hit his first shot he looked totally determined to win, and there was never any reason to doubt that he was going to be able to hang on. It takes a very special guy to use a setback as motivation like he did. That shows that he has an intense hunger to succeed. The question now is whether that hunger will still be as intense now that he already has a major championship to his credit. Many players seem to take their foot off the gas after a major win.
Obviously wildly talented - In order to be at the top of the game you obviously have to be a truly elite talent. There is no doubt that McIlroy fits that.
He's only 22 - If he is this good now then how good could he get now that he has tasted success and now that he is building experience with every shot? Tiger used his Masters win as a springboard for greatness -- and he was only 21 at the time.