This Week in March Madness Betting, A-Z
by Nicholas Tolomeo - 3/23/2011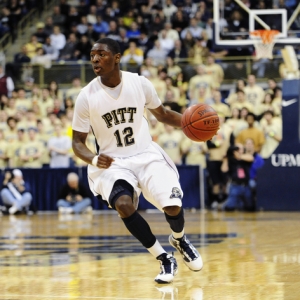 A – Ashton Gibbs. The Pitt hoopster has apparently had enough of school and ,conveniently enough, he decided that just two days after his top-seeded Panthers were bounced from the NCAA Tournament by No. 8 seed Butler. Gibbs tweeted, "Man school just isn't for me smh." The tweet was published in a daily Pittsburgh newspaper. We are led to believe that 'smh' is the name of some European basketball league where Gibbs will be playing next.
B – Baracketology. Speaking off Pitt losing in the second round, that seems to be one of the few blemishes on President Barack Obama's March Madness bracket. The Commander and Chief has correctly predicted 10 of the Sweet 16 teams and three of his Final Four teams are still alive, Kansas, Ohio State and Duke.
C – Carlos Boozer. The Chicago Bulls forward is claiming he was swindled out of $1 million by a supposed businessman named Claudio Osorio. Boozer fell for Osorio's scam, in which he tells clients they will be in line for a 1000 percent return on their investment and that he was once named "Entrepreneur of the Year" by Ernst & Young. Good luck getting your money Carlos. For one, Mr. Osorio owes Swiss lenders $220 million and a recent audit of one of Osorio's bank accounts shows a balance of $12,000.
D- Dancing With the Stars. After one day of competition we have a new favorite on "Dancing With the Stars" Season 12, and it is former Karate Kid Ralph Macchio (5/2). Former favorite Kendra Wilkinson is now to 6/1 on Bodog, those are the same odds as Chelsea Kane. Kirsti Alley is listed at 3/1 and Steelers wide receiver Hines Ward is listed at 11/2. Those are not bad odds for Ward, especially after teammate James Farrior predicted Ward would be the first dancer voted off the show. Stay tuned to A-Z for the new favorite.
E – Elin Nordgren. Not only did Ms. Ex-Tiger Woods, Elin Nordgren, take $110 million of Tiger's money, but she went ahead and decided to flaunt it right in front of him. Nordegren recently purchased a $12.2 million mansion in North Palm Beach, Fla., that just happens to be nearly twice the size of Woods' mansion and just 10 miles away.
F – Floyd, Michael. The Notre Dame receiver was out late Saturday night/Sunday morning at 3:18 a.m. in his White Cadillac and he ran a stop sign. Any college football fan knows what comes next. Floyd was pulled over by police and went ahead to fail three sobriety tests and blow a 0.19. The Fighting Irish went ahead and suspended him indefinitely. Notre Dame Coach Brian Kelly said football "needs to take a backseat at the moment" for Floyd. The pun is not lost on us of the backseat reference considering Floyd took the backseat on the ride to the police station.
G – GQ Most Obnoxious Fans. The magazine came up with a list of the most obnoxious fans in the United States. Most of the rankings came as no surprise including No. 15, the LA Lakers and their $21 nachos, No. 13 Wisconsin Badgers and their breathalyzers at the gates of the football stadium, No. 8 Duke and their silver spoons, No. 7 Penn State and their urine tossing fans, No. 5 Maryland and their stunt of lighting street fires after a WOMEN'S basketball game and No. 1 and No. 2, Philadelphia Eagles and Phillies fans just for being from Philadelphia.
H – Hester, Devin. Count at least one NFL franchise, and specifically one NFL player who is not for the new rule change of moving the kickoff up five yards. The Chicago Bears voted against the proposal that moves kickoffs up to the 35-yard line and Devin Hester publicly lambasted it. The plan is to have more touchbacks and fewer returns. Hester went ahead and sounded off saying, "They're going too far. They're changing the whole fun of the game." He even wondered if the NFL would put up big nets on the goal posts like they do in Arena Football League.
I – Idol. The best part about watching "American Idol" is cheering for someone to get voted off. Thanks to Bodog now you can wager on who will be the next teeny bopper to have their dreams dashed on live television. The favorite to get sent home packing on March 24 is Naima Adedapo, at 3/2, most likely because nobody can pronounce her name. Other possibilities to get the ax are Haley Reinhart (2/1) and Jacob Lusk (5/1).
J – Jam Sandwiches. Michelle Beadle of ESPN's "Sportsnation" and of an ongoing relationship with Matthew Barnaby has posted her bracket on online under the name Jam Sandwiches and with all the red on her bracket, it kind of looks like a Jam Sandwich. She currently ranks 5,711,168 and with a Final Four of Ohio State, St. Johns, Notre Dame and Texas, it doesn't look like that ranking will get much better.
K – Kelly Gneiting. The 400-pound sumo wrestler from Arizona became the fattest person ever to finish a marathon. Kelly, who is a male by the way, completed the 26-mile marathon in an agonizing 9 hours, 48 minutes and 52 seconds. The next fattest person ever to complete a marathon according to the Guinness Book of World Records was a 275-pounder.
L – Lindsay Lohan. Almost as standard as Lindsay Lohan being sent to court, is that there will be a subsequent prop bet based on her court trial. Bodog has posted an 'over/under' on how many days will Lindsay Lohan serve in jail as a result of her latest necklace theft/probation violation. The total has been set at 19.5 days in the can.
M – MTV2. In the best thing to happen to MTV since the invention of the music video, the station has committed to broadcasting the entire Lingerie Football League on its sister station MTV2. The agreement is for the upcoming 2011-2012 season. The games will be live and in full length and we can only hope also in HD and/or 3D.
N – Name Team. Baylor may or may not win the NCAA Women's Tournament, but they do have a couple players on the all-name team including Brooklyn, Destiny, Odyssey and Kimetria.
O – Ochocinco. In what has to be some kind of record for being in the most reality shows, Chad Ochocinco is reportedly headed for yet another one. His fiancé Evelyn Lozada is threatening to quit her current reality show "Basketball Wives" to start another reality show with Ochocinco on E!. Come August Ochocinco may be the only NFL player you may be able to see on TV.
P – Pennsylvania Dog Lovers. The plan by a Pennsylvania-based animal rights group to raise enough money to buy Michael Vick's former dog fighting palace has failed in yet another example of overzealous animal lovers having too much time on their hands and not enough money. The PETA rip off wanted to raise $600,000 to buy Vick's house, the former HQ for Bad Newz Kennels. But Dog Deserves Better, the sad name of the group, failed miserably, only raising $130,000.
Q – Quintillion. It doesn't even sound like a real number, but the odds of completing a perfect NCAA bracket are 1 in 9 quintillion. To put that in perspective, it is 50 billion times easier to win the Mega Millions lottery jackpot. A quintillion, by the way, is a 9 followed by 18 zeroes or 9,000,000,000,000,000,000.
R – Ralph Macchio. One of the best celebrity entertainment props in recent memory has surfaced on Bodog. You can wager on the following prop, "Will Ralph Macchio do the Karate Kid Crane Pose during one of his dances on Dancing With the Stars Season 12?" The odds on him executing the classic crane pose are +300. After day one of the show Macchio has become the favorite to win the competition with odds at 5/2. We tend to think that the two props go hand in hand, if he executes the crane, he is a lock to win it.
S – Spring Scuffle. Nothing says the first day of spring quite like a good old fashion brouhaha in spring training between Tony La Russa and Jim Riggleman. The two skippers had to be separated when both benches cleared during a spring training game. Even stranger than a fight in spring training was the fact that the Nats won the game, 7-2.
T – Tournament Ratings. The new television format for the NCAA Tournament produced a 14-percent increase in ratings and a further decrease in employee production on Thursday and Friday. Spread across the networks of CBS, TBS, TNT and TruTV, the games generated 8.4 million viewers, very impressive considering nobody could ever find TruTV.
U – Under Oath. Further proving that being under oath means nothing, Barry Bonds' defense went ahead and claimed the slugger didn't know he was taking steroids. He may have thought he was taking a flu shot, who knows? Now in his perjury and obstruction trial his fate is up to 12 jurors, including a 19-year old college student and a 27-year old phlebotomist.
V – VCU. From First Four to Final Four? Not likely, but what VCU has done is remarkable. They escaped the exile that is the play-in game in Dayton, Ohio, to string together a pair of upsets against Georgetown and Purdue. Now the 11th-seeded Rams face No. 10 seed Florida State as four-point underdogs. Even with a head of steam and a coach named Shaka Smart, VCU still can get no love on Sportsbook.com, where the Rams are the only team in the Sweet 16 without odds to win a National Championship. They are in the "Field" listed as +10,000. They shouldn't feel too bad though, Marquette and Richmond both have the same odds.
W – West Virginia University. In the previously mentioned GQ rankings of the most obnoxious sport fans, Mountaineer fans from WVU were ranked No. 3, but the magazine actually compliments the fans as the best in college athletics. The magazine cited the school for "shouting obscenities on national television broadcasts" and "pegging a Pitt assistant basketball coach in the face with a metallic object" and lighting up an unmatchable 1,120 blazes, including 120 in a single night to celebrate a football win over Virginia Tech in 2003 and 60 infernos set to celebrate advancing to the Elite Eight of the NCAA Tournament in 2005. The magazine applauds the school for living up to its motto, "Win or lose, we still booze!
X – teXans. Everything is bigger in Texas, even their gigantically stupid ideas like the Houston Texans stunt of featuring pictures of fans instead of players on season tickets. Obviously the Texans have a limited amount of star power, but wouldn't you rather see a picture of Andre Johnson tossing a haymaker on your game ticket than some Joe Schmo from Section 521?
Y – Yevette. That is the middle name of Brittney Griner, the 6-foot-8 sophomore from Baylor. Her middle name isn't even the strangest part of her bio. Griner wears a mens size 17 shoe. She has an 86 inch wingspan and, oh yeah, she was ejected from a game last year for punching an opponent in the face.
Z – Z. Ashley. NBA.com had their annual sleaze fest dance team bracket contest where you go to the league's official site, watch videos of the different dance teams prancing around in shorts as tight as the ones as players used to wear in the eighties, and then vote on the "best" ones. In our Final Four we have the Warrior Girls, the Nuggets Dancers, the Sixers Dancers and the Wizards Girls. But if this was an individual contest, the winner, hands down, would be Ashley Z. of the Miami Heat dance crew. You can check her out on the official Miami Heat site, there are plenty of videos and pictures of the scantily clad dancer. Ms. Z is in her first year with the dance team, so that can probably explain the spike in ticket sales the Miami Heat experienced this year.