Betting the 2012 Breeders' Cup Pick Six
by Trevor Whenham - 11/1/2012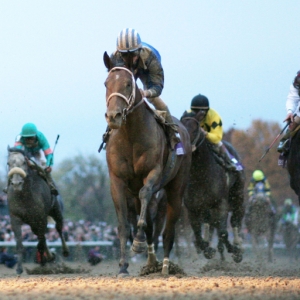 For serious horseplayers there is nothing bigger than the Breeders' Cup, and nothing about those two days that are more inviting than Saturday's pick six. The reason for that is simple — it's the best chance bettors have every year of getting rich on a single bet. Since 2002 when the bet was introduced, a $2 bet has paid a median of more than $320,000. Three different times it has paid more than a million dollars, with the $2.7 million mega-payout in 2003 reigning supreme.
Of course, there is no such thing as an easy bet that offers massive payoffs. The reason the pick six can pay so much is that it is really tough to win. Each Breeders' Cup race is tough to handicap on its own, never mind six of them in a row. The people who reap these massive windfalls have definitely earned them — or they are really, really lucky.
Because the payoffs are so big the pick six can capture the imagination of even the most casual of bettors. For the largest majority of bettors, though, it's not a bet that they should be making. There are many reasons for that, but here are four:
Too much can go wrong - The more races you have to deal with, the more things that can go wrong. If one of your horses stumbles, or one unexpected longshot comes through, your whole ticket can blow up. More variables mean more difficulty and a lower chance of winning. If you aren't willing to do your homework and be very prepared for the races then the variable can be too much to overcome.
It costs too much - To properly bet the pick six to give yourself a strong chance of success you need to invest thousands of dollars. If you are only betting a few dollars then you only have a few combinations, and you might as well play the lottery. Only by betting several horses per race in different combinations can you have a real chance. If you don't have a big bankroll you can't bet the pick six properly, and a loss can wipe out your bankroll in one day.
Big payoffs can be found elsewhere - You don't get the big payoffs on other bets that you can with the pick six, but because the investment is much lower the bets can be more attractive. The pick three, for example, is the ideal Breeders' Cup bet in my eyes. The average payout on these bets is more than $2800, and the median payout is better than $1100. Because there are only three races instead of six the cost of the bets is dramatically cheaper, and you can enjoy a great return on investment on a good day. More significantly,, because a new pick three starts on each race on the two days of the Breeders' Cup there are many chances to win, and a much better chance of turning a profit as a result.
Mistakes in bet structure are costly - When you have six races with multiple horses picked in each race the cost of a ticket adds up quickly. If you aren't familiar with proper bet structure then small mistakes can add huge costs. For example, if you bet just two horses per race your cost would be $128. Adding one horse in one race might not seem like much, but it adds another $64 to the cost of the ticket. Just adding in a couple of horses you don't need can dramatically inflate your investment.
If you do insist on taking a shot at this year's big pick six, which includes the Turf Sprint, Juvenile, Turf, Sprint, Mile and Classic, here are four things to give yourself a better chance:
Pool your resources - This is one of the few spots in sports betting where working with others is probably a better idea than going it alone. By pooling your money with others you can cover significantly more combinations than you could alone, and you have a much better chance of success as a result. You'll get a smaller piece of the jackpot if you do win, but a smaller payoff is better than no payoff any day.
Look for a single - In one or more of the six races in the bet there is probably at least one horse that you feel very strongly about. By using just one horse in a race you can significantly reduce the cost of your investment without dramatically reducing your chances of winning.
Construct multiple tickets - Instead of betting one big ticket with four or five horses in each race you can reduce your costs while still giving yourself a good chance of success by betting multiple smaller tickets. You could build one ticket with all of your top choices, another that includes four top choices and your top four choices in two races, and so on.
Set a budget and stick to it - It is very easy for your spending to get totally out of hand with the pick six. Tickets can quickly get huge, and you can easily become attached to all the horses you have picked so you don't want to get rid of any of them. If you spend all of your money on your pick six bet then you don't have money to invest elsewhere.