Case of the Mondays: Bucs, Giants Play Hot-Potato with the Football
by Ricky Dimon - 12/17/2012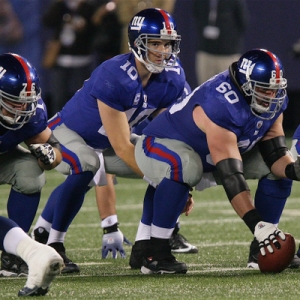 Combined, the Bucs and Giants had as many turnovers on Sunday as Pittsburgh had in one game earlier this season. That doesn't sound so bad at first mention…until you remember that said number is eight!

Tampa Bay (five giveaways) and New York (three) were among three teams that did not score a single point yesterday. And that doesn't even begin to cover all of the pathetic displays in Week 15 (Lions, anyone?).
(All odds provided by Sportsbook.ag):
Offense. The last time there were three shutouts in one NFL week was Dec. 28, 2008. Moreover, none of the three on Sunday were particular shutout candidates. New Orleans' defense was once on pace for record-breaking futility and had allowed 52 points just one week earlier. The offense that pinned 52 on the Saints? None other than that of the Giants, who were only one-point underdogs at Atlanta. In the long, heated history of Chiefs vs. Raiders, Oakland had recorded only a single blanking of Kansas City. Make that two after Sunday's 15-0 win for a Raiders squad that had lost six in a row while allowing at least 20 points in those six. The Chiefs are +6 home underdogs vs. Indianapolis in Week 16. Tampa Bay, which scored zilch against New Orleans, is a -3 home favorite over St. Louis.
New York Giants. What was supposed to be one of the most competitive games of Week 15 turned out to be the second biggest blowout on Sunday. The Giants' 34-0 humiliation by Atlanta was the first time they have been shut out since Dec. 1, 1996 at Philadelphia. That had been the third longest streak in the NFL. As if that isn't bad enough, fellow NFC East rivals Washington and Dallas have combined for eight consecutive wins. This is hard to believe, but if the season ended right now, the Giants would not be in the playoffs. The spread for New York's Week 16 showdown at Baltimore is "pick'em".
Anyone who said drafting Kirk Cousins was dumb. Need a laugh on Monday? Google "drafting Kirk Cousins dumb move," or "drafting Kirk Cousins stupid," or anything of that sort. You won't be disappointed. In the last two weeks, Cousins (selected in the fourth round at No. 102 overall) has led Washington to an overtime win over Baltimore and a 38-21 victory at Cleveland. The Redskins were two minutes away from being two games out in the NFC East when RG3 went down. Eight days later they are one of the NFL's division leaders. Washington is +1300 to win the conference and +2500 to win the Super Bowl.

Detroit Lions. There's good news for Detroit Lions football fans: their team didn't blow another seemingly insurmountable lead! In Week 13, the Lions became the first team in NFL history to lose three straight games after leading in the final two minutes of regulation. In Week 14, they tied an NFL record by losing their third consecutive game after leading by 10 points or more. So when they led 7-0 on Sunday, the Lions decided to play it safe and get outscored 38-3 the rest of the way. "No more history-making for us," they must have said. "No sir!" But wait…the opponent was none other than the horrendous Arizona Cardinals. That's right, Detroit lost 38-10 to a team that had lost eight straight, including 58-0 to Seattle seven days earlier. If this isn't the most embarrassing loss in Lions franchise history, I have no idea what is. They are +3.5 home underdogs against Atlanta on Saturday night.

Michigan football. The Wolverines will be without three suspended players for the Outback Bowl against South Carolina. Those include starting cornerback J.T. Floyd and punter Will Hagerup. The Gamecocks are -5.5 favorites over Michigan after the spread opened at -4. On the bright side, Michigan's hoops squad is on pace to reach heights it hasn't scraped since the days of the Fab Five. The Wolverines are 9-0 and are +800 to win the National Championship (third favorite).

Duke haters. Like it or not, Duke is the No. 1 team in the nation. Indiana lost an overtime thriller against Butler on Saturday, all but relinquishing its stranglehold on the top spot. The Blue Devils have not yet slipped, despite playing an unusually tough nonconference schedule that has already included Kentucky, Louisville, and Ohio State. Mason Plumlee is averaging 19.2 points and 11.3 rebounds through nine games. Duke is +700 to win its second National Championship in the last four seasons, trailing only Indiana (+500).

Los Angeles Lakers. The Lakers have won two in a row, but two in a row is not nearly enough right now. L.A. is still a dismal 11-14 and mired in 12th place in the Western Conference. To heck with title talk…the Lakers wouldn't even be in the playoffs if the regular season ended now; not even close. Adding insult to injury, the Lakers are finding out why Los Angeles is "Lob City." It's the Clippers town now, as the "other" L.A. squad is 17-6 and owns the NBA's current longest winning streak at nine games. The Clippers are -7 road favorites at Detroit on Monday.

Texas Rangers. The offseason has been nothing short of disastrous in Texas. Michael Young was shipped to Philadelphia, Zack Greinke signed with the Dodgers instead of the Rangers, the Mets agreed to a trade with Toronto—not Texas—for R.A. Dickey, and Josh Hamilton inked a five-year, $125 million deal with the Angels. Even Hamilton's wife called out the Rangers, saying they should have locked up her husband with a long-term deal a long time ago after so many seasons of successful partnership. The Tigers are tied with the Yankees at +500 to win the 2013 American League pennant, trailing Detroit (+350) and the Angels (+400).