What Does Pick'em Mean in Sports Betting?
by Max Powers - 10/10/2011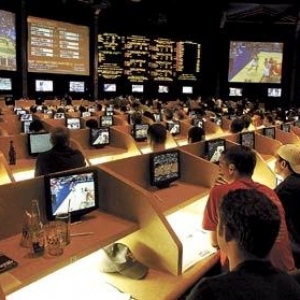 Often times in sports betting you hear the word 'pick'em.' Most professional or regular gamblers immediately know what the means. But that is not always the case with novice bettors or someone making a first trip to Las Vegas that happens to wander into the sportsbook. The following will describe some key terms in gambling that will help you make an educated wager and avoid an uncomfortable look for the ticket taker. We will answer the question "what does pick'em mean in sports betting?".
The majority of bets in football and basketball are made via the point spread. The spread is determined by the sportsbook and their intended purpose is to have a number that will get equal action on both sides, and thus insure the bookmaker a profit via the vig . The vig, also known as the 'juice,' is what customers must put down in order to place a bet, and it is usually 10 percent. You get that money back when you win, but the 10 percent is added to your bet and not returned if the bet does not win. Contrary to what most people believe, the spread is not established according to what the bookmakers feel will happen in the game. It is established to get equal action on both sides of a certain game. If heavy action comes in on one side, the spread is adjusted to try and attack action on the other side.
When a game is listed as a 'pick'em,' the point spread does not come into play and in order to win your bet, you just need to have your team win the game. If they win, you will win your bet and if they lose, you will lose your bet. Pick'em basically means the point spread is 'even'.
A pick'em bet is usually a good game to wager on because you do not have to worry about getting backdoored or having a team not try their hardest (kneeling down in football or giving the team a lay-up in basketball to avoid fouling and stopping the clock). But some professional gamblers avoid betting pick'em games because often times the teams are very similar in talent and if they played 10 times, each side would theoretically win five of those games. It is more of a personal preference and most amateur gamblers like games that feature a pick'em line because they know that they will get maximum effort for the entire game with their selection.

Want free sports betting picks? Doc's Sports has you covered – get $60 worth of picks free from any of Doc's Sports expert handicappers. Click here for free picks (new clients only).