How to Make an NFL Game Winner Prediction (NFL Picks)
by Docsports.com - 9/8/2023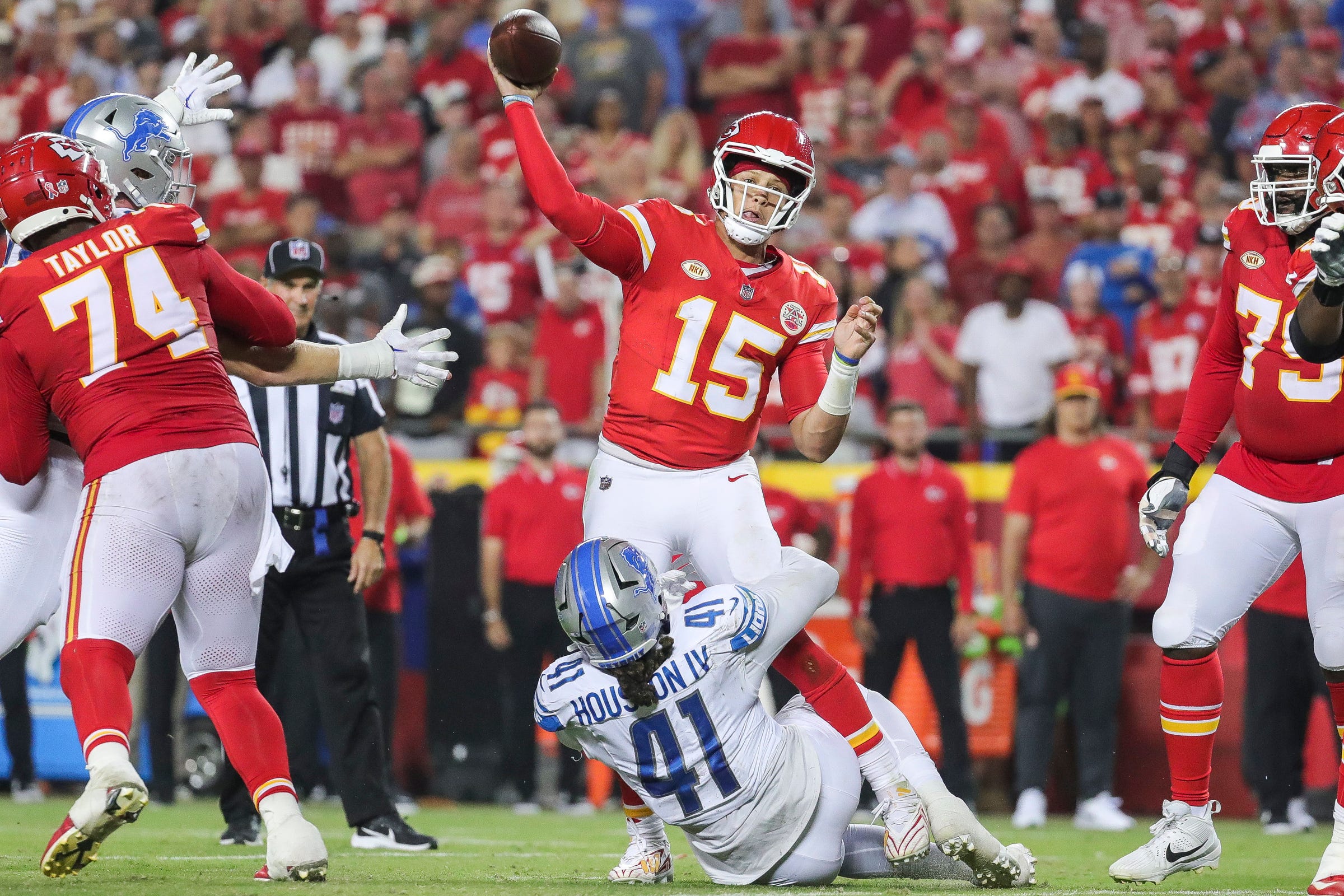 Dive into the world of NFL game predictions, where data meets intuition, and discover the key insights that can guide your betting journey.
In the exhilarating realm of the NFL, predicting game outcomes is more than just a casual guess; it's a blend of meticulous analysis, expert intuition, and understanding the dynamics of the sport. As millions are wagered weekly, understanding the nuances of the game becomes paramount. Whether you're a seasoned bettor or a curious enthusiast, the following insights will shed light on the intricacies of NFL game predictions and the potential rewards that await.
Doc's Sports offers NFL picks for every game on our NFL predictions page.
Key insights from the document
Financial Implications of Predictions: People bet around $257 million weekly on NFL games in the U.S. Correct predictions can lead to huge monetary gains.

Handicappers' Role: Handicappers analyze teams and players in-depth, guiding bettors with their insights.

Systematic Prediction Process: Predictions involve collecting data, choosing a model, understanding numbers, intuition, evaluating odds, and post-game reviews.

Data vs. Intuition: Beyond data, experts' intuition, like Arun Shiva's "fading the public" strategy, plays a vital role in predictions.

Importance of Learning: Post-game reviews help refine prediction methods for better future outcomes.

Moneyline & Point Spread: Learning how to utilize the point spread and moneyline for NFL predictions is one of the most important factors in successful NFL predictions.
What's an NFL Game Prediction?
An NFL game prediction is like making an educated guess about which team will win (moneyline) or cover the point spread. People look at how teams and players have done before, check if any players are hurt, and even think about things like the weather.
Why Predict the Game's Outcome?
You can earn a lot of money if you guess right!
Some bettors, like the famous Billy Walters, have won millions of dollars from their NFL predictions. Walters dedicated much of his life to learning how to win with sports betting. Not everyone has that sort of time. But with discipline, research and proper money management, anyone can win with NFL predictions..
So, making good guesses about NFL games isn't just for fun. If you use good information and know a lot about the game, you can make better bets and maybe win a lot of money!
What is a Handicapper?
A handicapper is like a sports detective. They study and guess how sports games might turn out. They look at all the details, like how teams have played before and which players are doing well. People often listen to handicappers when they want to bet money on a game, hoping their guesses can help them win.
The Process to Make a Winning Prediction
How to Guess the Winning NFL Team: A Simple Guide
Step 1: Collecting Information
The first thing you need to do when trying to guess which NFL team will win is to gather a lot of information. This means looking at how players and teams have been doing lately, who's hurt, and more.
Let's look at how a one of Doc's Sports newest NFL handicappers, Griffin Murphy, does it:
Team Info: Griffin doesn't just see if a team won or lost. He looks closely at how they played, what they're good at, and what they're not so good at. He also thinks about how one team might do against another team.
Player Info: Every player matters in a game. Griffin pays attention to all of them, not just the famous ones. He looks at players who are important in special moments, like when a team needs to move the ball just a little bit more or defend their goal area.
Who's Hurt: If a top player is hurt and can't play, it can really change how a game goes. Griffin always checks to see who's hurt and thinks about how it might affect the game.
Looking at the Past: How a team played in their last few games can give clues about how they might play next. Griffin looks at recent games to see if a team is doing well or if they're having problems.
In short, to make a good guess about an NFL game, you need to gather a lot of information. This helps you understand everything that might affect the game's result.
Step 2. Choose a Handicapping Model.
Here are Doc's handicapper process and samples of their historical predictions.
Griffin Murphy
Process: 1. Data Collection (team, player, injury reports, recent performance) 2. Algorithm Execution (statistical model) 3. Results Analysis (data trends, patterns) 4. Applying Intuition (team camaraderie, coaching decisions, weather) 5. Making the Pick (based on data, algorithm, intuition)
Green Bay is no longer led by future Hall of Fame quarterback Aaron Rodgers. Green Bay's quarterback is now Jordan Love. Love backed up Rodgers for three years before being given the opportunity to start in the NFL. Given that Love is no Aaron Rodgers, we need to adjust our expectations. Love has big expectations from me in the future, but not for the 2023 season. Green Bay plays in the NFC North Division, which is stacked with talent. Following an unbelievable 2022 season, Detroit is now preparing for their 2023 season with Jared Goff at the helm following a 9-8 winning season. Chicago made significant changes in the offseason of 2023, signing players such as DJ Moore, D'Onta Foreman, TJ Edwards, Tremaine Edmunds, DeMarcus Walker, and Nate Davis. This season, I expect Chicago to do amazing things, including taking two games from Green Bay. Finally, Minnesota finished 13-4 last season, and I have similar expectations for this season. Green Bay could be in big trouble this season. If Love fails to perform and move the offense, the defense will be forced to carry the club. Green Bay's defense is expected to finish 20th in the NFL. Green Bay finished fourth in the league in defensive sacks last season (2022). If Love is unable to keep the offense on the field for an extended period of time, Green Bay might have a dismal season in 2023. Take Green Bay (UNDER 7.5 wins) (+100)
Strike Point Sports
Process: 1. Dedication to a week-long process 2. Identify matchups and systems 3. Recognize teams getting hot 4. Understand that teams that win typically cover the spread
This is a huge spot for the Bengals. They are playing good football despite being banged up. Cincinnati has won five of their last seven games, and three of their last four, following their 0-2 start. The Ravens currently sit one game ahead of the Bengals in the AFC Central and with Baltimore playing Carolina, Cincy doesn't want to let this game slip. Pittsburgh looked good coming out of their bye but now they have to face a Bengals team rested and ready out of their own bye. The Steelers knocked off Cincy in the first game of the season but that was in overtime and a game that featured five, YES FIVE, Bengals turnovers. That was also the perfect situational spot for the Steelers as the Super Bowl loser always seems to struggle week 1 of the following NFL season. This week will not follow the same pattern as week 1. Yes, TJ Watt is back for Pittsburgh and when he plays the Steelers are a different animal, but he won't be able to do enough to keep this game within the number for Pittsburgh. The Bengals have averaged nearly 36 points per game over the course of their last three wins while Pittsburgh hasn't scored more than 20 points since that week 1 overtime win over these Bengals. Lay the points here with the road team as Cincinnati is the play.
Doug Upstone
Process: 1. Contrarian approach to totals 2. Use key systems with high win rates 3. Analyze line movement against system direction 4. Deep dive into numbers
Given how the Dallas and Philadelphia defenses have played, ranked 3rd and 7th respectively in points allowed, this looks like an easy Under. With the Cowboys' average total score of 33 points and the Eagles at 44.6, the simple math should show a line in the upper 30s. So why did the oddsmakers have this at 45.5 and it was taken down to 42? For this big play, I'm going full contrarian with this information. When the total is between 35.5 and 42 points and a team like Dallas is riding four or more consecutive wins, against an opponent after five or more consecutive wins, the OVER is a flat-out amazing 28-1, with an average score of 49 points. Eagles won 28-17
Vernon Croy
Process: 1. Review injury reports 2. Analyze matchups and past matchups 3. Consider turnovers and their context 4. Monitor betting percentages and line movements 5. Use analytics (rushing, passing averages) 6. Understand team depth in case of injuries 7. Consider third-down percentages
Take Baltimore ATS as my top NFL pick for Thursday night. This pick falls into one of my top NFL systems and I really like Baltimore in this spot here tonight. I feel that Baltimore is definitely the better overall team here tonight and they have averaged 156 rushing yards per game this season including averaging 6.5 yards per run on the road this season. Tampa Bay has banged up big time defensively and opponents have rushed for 136 rushing yards per game against them at home this season averaging 4.4 yards per run. Tampa Bay has averaged just 14 points per game over their last 3 games and this is a Tampa Bay offense to put up just 3 points last week at Carolina. Now that was a Carolina defense that has allowed 21.3 points per game this season and it wasn't even turnovers but still failed to find the end zone. Baltimore has averaged 27 points per game on the road this season and 25.9 points per game overall and they have also held opponents to just 19.7 points per game against them on the road this season. Opponents have also averaged just 105 rushing yards per game against Baltimore this season and they have also converted just 29.7% of their 3rd downs against them on the road this season. Tampa Bay's opponents have converted 41.6% of their 3rd downs against them this season and 52.2% of their 3rd downs against them at home this season. Baltimore is hands-down the superior team here tonight and I expect them to come away with a dominant victory. Play Baltimore ATS
Arun Shiva
Process: 1. Fade the public 2. Avoid teams with high public backing 3. Consider teams off a loss, with revenge, underdogs on SNF/MNF, teams off emotional wins, look-ahead spots, and second meetings between division rivals
We roll with Tomlin and the Steelers as road dogs to hang tough here. Tomlin has been rock solid in this spot over the years as a divisional underdog. Lets not forget this is a Steelers team that went on the road last year in week 1 to Buffalo and stunned them winning outright as +6.5 dogs. The Steelers have a ton of weapons and are well balanced. Enter Mitch Trubisky who comes in with more offensive talent than he has ever had around him. Tomlin is comfortable with him and has the experience of being an NFL starter. He had a great preseason earning the #1 spot. Add in the fact that the Steelers have double revenge from last year and the players are aware. Now they have a chance to knock off the Bengals who were in the Super Bowl last year and the Steelers will get up for this game. I think the Steelers are being undervalued here and the Bengals are getting a lot of love and will be over valued in many spots this year due to their miracle Super Bowl run. The losers of the Super Bowl are 4-18 ATS their next game which is a decent sample size. The public is still riding the high of Burrows and the Bengals. In a divisional game with a low total, I think this is simply too many points to be giving Tomlin and the Steelers. In NFL Week 1 divisional teams with double revenge from last year are 44-22 (67%) ATS. Like the Steelers to stay within the number and possibly win outright. Great public fade to boot. Steelers won 23-20 Outright
Jason Sharpe
Process: 1. Emphasis on INFORMATION 2. Understand team dynamics 3. Monitor player comments and coaching strategies 4. Consider past results and stats 5. Account for injuries and returning players 6. Weekly consultations with other NFL handicappers
Jacksonville is coming off an upset win last week at home over the Baltimore Ravens but I think way too much is being made of that outcome. The Jaguars were in a great spot going into that game as were off their bye week with two weeks to prepare for the Ravens as bye weeks later in the NFL season can be huge for teams. The Jags caught numerous breaks late in that contest as they recovered a Ravens fumble down inside Baltimore's 20 yard line which they turned in a field goal and they also converted a couple of 4th down plays to stay alive in the game. In the end the Jags came back from 9 points down with less than 6 minutes left to steal the win from Baltimore. A closer look shows just how bad Jacksonville had been playing coming into that game as they had just one straight-up win and one point spread cover in their previous seven games. The lone win and cover during that stretch was by a 7 point victory at home over a bad Las Vegas team and in a game that the Jags came back from trailing in the 4th quarter to get the victory. Their home loss to Denver back on October 30th is the only game that the Broncos have won since September 25th. Their home loss on October 9th to Houston is the only game that the Texans have won this entire season so far. The Jags also lost to Indianapolis by 7 points which is the largest margin of victory in a game by the Colts this season among their four overall wins. Jacksonville has played six games away from home this season and they have covered the spread just one time. The Detroit Lions are a much better team when playing at home covering the point spread in 4 of their 6 games played in Detroit this year and they are 10-4 the past two years combined at home against the spread. The Lions offense is built for the fast track at Ford Field as they average 30.5 points per game at home this year and just 18.4 on the road which is a 12 point differential which is the largest differential for any team in the NFL this season. The Lions were dealing with a ton of injuries in the middle of the year but they have started to get some key guys back the last few weeks and with that they have played a lot better of late winning 3 of their last 4 and going 4-0 ATS. Detroit has also played one of the tougher schedules in the NFL thus far as 9 of their 11 opponents have an above .500 record and they are a perfect 2-0 when going up against teams like Jacksonville with a losing record on the year. Add in the extra time the Lions have had to prepare for this home game and I expect a strong performance from them in this one. Take Detroit to win this game.
After understanding the various models, you'll need to decide whether to use one model or combine insights from multiple models. For instance, if you appreciate both data-driven and intuitive approaches, you might combine insights from Griffin Murphy's and Arun Shiva's models.
Step 3: How to Pick a Winning NFL Team: Understanding the Numbers with Doug Upstone
Doug Upstone is an expert at guessing NFL game outcomes. Let's see how he uses numbers and information:
Digging Deeper into Numbers
Doug doesn't just accept numbers or stats at face value. He's curious. If a team's been winning a lot, he checks who they played against. Were those teams strong or weak? This helps him understand the real story behind the numbers.
Checking Score Guesses
Doug looks closely at the expected total score of both teams, called "totals." If public bettors or bookies guess a game will have few points, but Doug thinks there'll be more, he sees a good betting opportunity.
Trusting What Works
Doug has methods that usually work well for him. He uses them to see if current games are similar to past ones. If they are, he's more sure about his guess.
Thinking Differently Sometimes,
Doug doesn't think like most people. If many people guess one way but Doug's methods guess another, he trusts his way. He's seen it work many times before.
To sum it up, Doug Upstone doesn't just look at data. He questions it, checks it, and sometimes thinks differently from others. That's why he produces consistent winning NFL predictions..
Step 4: How to Pick a Winning NFL Team
Using Your Gut Feeling and Knowledge
Guessing game outcomes isn't just about numbers. It's also about using your own feelings and what you've learned over time.
Take Arun Shiva as an example. He uses a trick called "fading the public." This means if most people think one team will win, he might bet on the other team. Why? Because he knows that sometimes, lots of people betting one way can be wrong. They might be influenced by popular opinions, not the real chances of winning.
Also, Shiva has a rule: he doesn't usually support a team if more than 65% of people are also supporting it. This choice isn't just about numbers. It's about his experience and understanding how betting works.
So, while numbers and methods are important, experts like Arun Shiva also trust their feelings and what they've learned from watching many games. Mixing both can make a prediction even better.
Step 5. Evaluate Betting Odds and Lines
Betting odds and lines are set by bookmakers to level the playing field between two teams and to attract bets on both sides. Evaluating these odds and lines is crucial to determining the value of a particular bet.
Example:
Imagine the New England Patriots are playing the Miami Dolphins. The bookmakers have set the following odds and lines:
Point Spread: Patriots -7.5

Moneyline: Patriots -320, Dolphins +260

Total (Over/Under): 49.5 points
Here's how one might evaluate these:
Point Spread: The Patriots are favored to win by 7.5 points. If you believe the Patriots will win by 8 points or more, you'd bet on them to cover the spread. If you think the Dolphins will lose by 7 points or fewer (or win the game outright), you'd bet on the Dolphins.

Moneyline: This is a straight-up bet on who will win the game. The negative number for the Patriots (-320) means you'd need to bet $320 to win $100. The positive number for the Dolphins (+260) means a $100 bet would win you $260. If you believe the Dolphins have a good chance to win outright, the moneyline offers a substantial return.

Total (Over/Under): The combined score of both teams is predicted to be 49.5 points. If you believe the total score will be 50 or more, you'd bet the over. If you think it'll be 49 or less, you'd bet the under.
In evaluating these odds, you might consider factors like team performance, injuries, and historical matchups. For instance, if the Dolphins' star quarterback is injured and their backup has a poor track record, the Patriots covering the spread might seem more likely.
Furthermore, Vernon Croy's approach can be applied here. He emphasizes understanding line movements, especially when a key player is injured. If the point spread moved from Patriots -5.5 to -7.5 after the announcement of the Dolphins' quarterback injury, it indicates a significant shift in public perception. Recognizing such movements can be crucial in making informed betting decisions.
Step 6. Make the Prediction
Making a prediction is the culmination of all the research, analysis, and intuition applied throughout the process. It's where you synthesize all the information and insights you've gathered and decide on the most probable outcome of the game. Different handicappers have their unique approaches, which can provide a richer understanding of this step.
How expert handicappers make the prediction:
Strike Point Sports: They emphasize that in the NFL, teams that win usually cover the spread about 80% of the time. For instance, for one winning past prediction, they recommended Cincinnati with a -4 point spread over Pittsburgh, basing their prediction on Cincinnati's recent performance, the importance of the game in the AFC Central standings, and the previous matchup between the two teams.
Griffin Murphy: His approach combines algorithmic predictions with personal intuition. After gathering data and running his algorithm, he then applies his years of NFL game analysis to refine the prediction. For example, he once predicted that Green Bay would go 'UNDER' 7.5 Wins for the season, considering factors like the change in quarterback and the strength of their division rivals.
Doug Upstone: Doug looks for value when the total is going up or down and uses key systems that win 85% or more of the time. For instance, for one winning prediction, he went contrarian on a game between Dallas and Philadelphia, predicting an 'OVER' based on a system that had a historical success rate of 28-1.
Arun Shiva: His method emphasizes fading the public, especially when a team has more than 65% public backing. Using a checklist that includes factors like revenge games and underdogs on prime-time games, he once correctly predicted that the Steelers would not only cover the spread but possibly win outright against the Bengals.
Vernon Croy: He dives deep into matchups, past performances, and turnovers. He also considers betting percentages and line movements. For example, for a previous winning prediction, he predicted Baltimore ATS as his top NFL pick for a Thursday night, citing Baltimore's superior rushing stats and Tampa Bay's recent scoring struggles.
Jason Sharpe: Jason's approach is rooted in gathering as much information as possible. He emphasizes the importance of understanding each team's mental psyche, coaching comments, past results, and injury reports. In one of his past winning predictions, he recommended Detroit over Jacksonville, citing Jacksonville's overvalued recent win and Detroit's strong home performance.
In essence, making the prediction is about taking a stance based on the culmination of all your research and insights. Each handicapper's method offers a unique lens through which to view the game, and their predictions are a testament to their individual approaches. It's the point where analysis meets action, and you commit to a specific outcome based on the best information available to you.
Step 7: Looking Back and Getting Better
After the game ends, there's still work to do. Let's see how Jason Sharpe reviews games:
Did You Guess Right?
After the game, see if your guess was close to what actually happened. Find out what you got right and what you didn't.
Understanding Mistakes
If you didn't guess right, think about why. Were your sources of information good? Maybe something changed right before the game that you didn't know about.
Get Better Info
If you made mistakes, think about where you get your information. It's better to have a few really good sources than lots of mediocre ones. Look for trusted news, expert thoughts, or even what fans are saying.
Keep Improving
Every game can teach you something. If you made a mistake, it shows you what to do better next time. If you guessed right, it shows you what you're doing well. Always try to get better at making your guesses.
In short, always look back at your guesses. This helps you learn and get better for next time.
Taking action
To excel in NFL game predictions, one must adopt a holistic approach that combines rigorous data analysis with personal intuition. Whether you're a casual viewer or someone looking to place bets, understanding the intricacies of the game, the dynamics of betting, and the insights of experts can enhance your prediction capabilities. Remember, every game offers a learning opportunity. By continuously refining your methods and staying updated with the latest information, you can improve your prediction accuracy and potentially reap significant rewards.
Get NFL picks on every single game, or if you want our very best bet premium picks by the experts, sign up for your free $60 account with a guarantee.