How Lasix Figures into 2012 Breeders' Cup Handicapping
by Trevor Whenham - 10/31/2012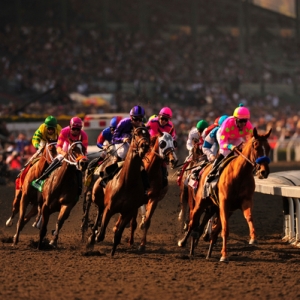 You're going to hear a lot more about Lasix during this year's Breeders' Cup than you have in any other year. That's because the organizers of the event have banned the drug, also known as Salix, in the juvenile races for the first time. The intention is to expand the ban to all races next year. The change could have a big impact on the race days, and has already caused a good deal of discussion and panic. Therefore, it is important for bettors to understand it.
The starting point is to understand what Lasix is — at least in layman's terms. When a horse runs in a race it obviously puts tremendous strain on his or her lungs. The tissues in the lungs and nostrils that separate the air coming in from the blood that requires oxygen are thin, and in the midst of a race some of those tissues can rip or tear, and blood can get into the lungs and nostrils. Besides discomfort and health concerns, blood in the lungs impacts the ability of a horse to run, and therefore is a big concern for trainers and owners. Lasix works to prevent that bleeding during a race.
Not all horses bleed during races. In many regions of North America, though, almost every horse that runs in a race does so on Lasix. That differs from much of the rest of the racing world that still bans the drug. There are some people who are big advocates of the drug because of its effectiveness against bleeding. Others argue that it is negative because there is a risk of dehydration and because it allows people to rely on the drug instead of doing what is best to keep the horse healthy.
One reason why the use of Lasix is of interest to bettors is because of the impacts starting or stopping the use can have. We often see a horse who is on Lasix for the first time take a leap forward — at least in part because his or her bleeding issues are minimized. When a horse quits using Lasix after having run on it, it can be very tough to know what to expect. Some horses run much worse while others have basically no impact. It is a headache for bettors in the situations when it comes up.
The Breeders' Cup firmly lands in the camp of those that are opposed to the use of Lasix. They are banning it for juveniles this year, and for all horses starting next year. They were expecting this change to be part of a national movement, but politics and indecision have limited the progress to just the Breeders' Cup. That has created a big issue this year.
Juveniles can use Lasix everywhere else in North America, and most horses do. Because the horses are so young, fragile and valuable, a lot of owners have been unwilling to run off of Lasix after having used it, so entries have taken a big hit in these races. In the Juvenile and Juvenile Fillies, for example, there were a combined 29 pre-entries last year, and just 15 this year. There could be other reasons that contributed to the drop — like a change to qualifying policies for the Kentucky Derby that makes two year old success less important — but the use of Lasix is unquestionably the biggest factor.
There is still a lot of quality in the juvenile races this year despite the Lasix ban. There has been all sorts of discussion about what impact this ban will have on those races and how to deal with them. Here are three factors to consider heading into the race weekend:
First time off - In the past performances you can tell whether a horse has run on or off Lasix in each race they have run. In the Daily Racing Form, for example, the use of Lasix in a race is signified by an L right between the name of the jockey and the weight the horse carried. With juveniles every race they have run will typically be listed in the past performances, so you can tell whether the horse will be off Lasix for the first time. It doesn't mean that you shouldn't bet on a horse because it is coming off Lasix — in the Juvenile that would eliminate eight of nine entrants. It just means that you need to be aware that there is the potential for a drop-off, and that you need to be particularly sure that you like the horse and the price before making the bet because it may or may not be quite the horse you are expecting.
Non-users - Horses that come over for the Breeders' Cup after starting their career in Europe will have never run on Lasix before. Sometimes a North American runner won't have been on it, either. These horses are worth a look. It's important to note that the lack of Lasix in the past performances doesn't necessarily mean that the horse has an advantage over his opponents. It just means that they are more predictable than the other horse because there is one less unknown to account for.
Shape of the race - This issue is getting a lot of coverage, so the public is going to pay close attention. The impact of that attention is going to differ from race to race depending on how the race sets up. In the Juvenile, for example, the headline story is the duel between Shanghai Bobby and Power Broker. Both horses have been on Lasix their whole careers, so the impact will be minimized. In the Juvenile Turf, though, five horses including favored Dundonnell have yet to use Lasix, so the debate could be more intense — and the impact of the public concern therefore more significant.
Doc's Sports is offering $60 worth of free member's Breeders' Cup picks absolutely free – no obligation, no sales people – you don't even have to enter credit card information. You can use this $60 credit any way you please on any of our top horse racing handicappers or for any of the Triple Crown races our Breeders' Cup races. Click here for more details and to take advantage of this free $60 picks credit today.