2012 March Madness Bracket Predictions: East Region
by Robert Ferringo - 3/13/2012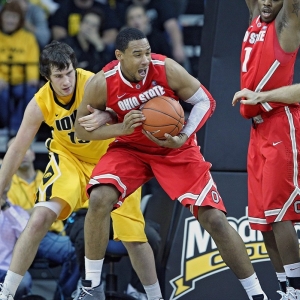 What a difference a loss makes.
Last week Syracuse was 30-1 and was the clear-cut No. 2 favorite to win the National Championship. At the same time, Ohio State was coming off a mammoth win at Michigan State to earn a piece of the Big Ten title and was positioning itself to earn a No. 1 seed in the NCAA Tournament.
But both teams were defeated in their conference tournament and now not only do they need to square off with in the same region, but they will have to hold off a litany of other capable Final Four hopefuls. This is one of the toughest regions in the NCAA Tournament and there are no less than five teams – Florida State, Wisconsin, Vanderbilt, SU and OSU – with odds of +800 or higher to come out of this portion of the bracket.
Here are Doc's Sports March Madness bracket predictions for the East (Boston) Region:
No. 1 Seed: Syracuse (31-2 Straight-Up, 17-15 ATS)
It's tough to get down on a team that went 31-2 during the course of the season. However, if Syracuse plays like they did in the Big East Tournament then they won't be dancing for very long. This is the most talented team, 1-10, in the country and they have the size, experience, and athleticism to win a national title. The Orange have a seemingly endless number of combinations that they can use effectively on both ends of the court. But at times that depth can be a weakness since a lot of roles on this team – particularly on offense – aren't clearly defined. Seniors Kris Joseph and Scoop Jardine are hoping to make one last run, but they need to raise their game. Also, the team just found out that Fab Melo will be ineligible for the NCAA Tournament. That is a massive loss and that essentially ends SU's hopes of a National Championship.
Syracuse March Madness Prediction:This team is completely unraveling. Melo's absence will be too much to overcome later in the tournament – and maybe even against Kansas State. I wouldn't be surprised if this is the first No. 1 seed to get bumped off. If they do survive the opening weekend they'll be tough to beat in Boston. But their Final Four hopes were probably dashed once Melo's season ended.
No. 2 Seed: Ohio State (27-6 Straight-Up, 17-11 ATS)
The Buckeyes have been considered one of the best teams in the nation through most of the season. They have been playing at an extremely high level so far in March and they are looking to ride the ample shoulders of center Jared Sullinger to the Final Four. Ohio State's anchor is Sullinger, but the closer is senior guard William Buford. Four superb sophomores surround him, giving the Buckeyes a young-but-talented roster. The Buckeyes are in the Top 40 in scoring and Top 15 in scoring defense and their average margin of victory this year was a whopping 15.7 points per game. This team does not shoot well from three-point land – which could really hurt them if they run into Syracuse – but they dominate the interior and have three guys (Deshaun Thomas is the third) capable of taking over for stretches.
Ohio State March Madness Prediction: I don't think Ohio State would beat Syracuse if the chalk holds in this bracket. But if the Orange get squeezed then I don't think anyone else in this region can stop Ohio State from making the Final Four.
No. 3 Seed: Florida State (24-9 SU, 18-13 ATS)
The Seminoles are fresh off a thrilling run to the ACC Championship last weekend, which included back-to-back wins over Duke and North Carolina. That makes them one of the hottest teams in the nation at the moment. They are also one of the most experienced teams in the land, with three senior starters and five of their top eight players in their fourth year. The Seminoles get it done with defense and they just smother teams on the perimeter. The big X-factor for this team is its outside shooting. Outside of Michael Snaer they have a host of mediocre shooters. Also, this team had eye-opening losses to Princeton, Clemson and Boston College, so they aren't impervious to an upset.
Florida State March Madness Prediction: This is a veteran team. But I don't know that they can get back up high enough after scaling the ACC mountain. This team will exit sooner than most people expect.
No. 4 Seed: Wisconsin (24-9 SU, 16-14 ATS)
In my opinion this team is one of the hardest in the nation to predict. The statistical metrics all love the Badgers. They have been in the Top 20 in the RPI and other ratings indexes all season long. They have one of the top point guards in the country in Jordan Taylor. But when you really dig in with this team there isn't a lot to like. They didn't really beat any of the top teams they played this year, going just 3-7 against teams in the field seeded No. 4 or higher. Two of those wins were against Indiana. Bo Ryan hasn't lost a first-round tournament game in five years. But this Badgers group doesn't have the size that his past teams enjoyed and are a little too reliant on the three-point shot.
Wisconsin March Madness Prediction: I don't know that Wisconsin can shake Vanderbilt. But if they miss the Commodores the Badgers could definitely upset Syracuse. This isn't a Final Four-caliber team but they should be a player in this region.
No. 5 Seed: Vanderbilt (24-10 SU, 17-13 ATS)
The Commodores were a sheik preseason pick to make a run at the Final Four. Now is their opportunity. This is one of the most experienced teams in the nation with four seniors and one junior in the starting lineup and another senior as their first player off the bench. This team can score a variety of ways and the one-two punch of Jeff Taylor and Josh Jenkins is a force. But they can be soft on the interior and are known for defensive lapses. Vanderbilt has to be brimming with confidence coming off their SEC Championship Game win over Kentucky and this group may be peaking at the right time. However, Kevin Stallings has been upset in the first round of the tournament in each of his last three trips to The Big Dance.
Vanderbilt March Madness Prediction: Vanderbilt's tournament could be defined by the first 10 minutes of their first game. If they come out flat they could be upset. Again. But if they can bury Harvard this is a team capable of making it to the regional final.
No. 6 Seed: Cincinnati (24-10 SU, 15-13 ATS)
The Bearcats have had a checkered season, to say the least. But they have a core of upperclassmen and they made their way to the Big East Championship Game. This team has only lost twice in the last month by a total of seven points and they will scrap and claw for 40 minutes. They are the No. 249 shooting team in the nation and are one of the worst free throw shooting teams in the field. But they defend for days and senior forward Yancy Gates gives them a force in the middle. This team lacks depth and could suffer a little post-Big East hangover. This team knocked off Missouri in the first round of last year's tournament. And when they go down this year they will go down swinging, so to speak.
Cincinnati March Madness Prediction: I don't see this group sticking around very long. Any belief that they can beat any of the best teams in the country is based on conjecture because outside of a fluke win over Syracuse last weekend they haven't beaten any top-tier teams over the last two years.
Best first-round matchup: No. 7 Gonzaga vs. No. 10 West Virginia
This one may not be very aesthetically pleasing but it features two very talented, tough teams that are capable of surviving the weekend. Gonzaga is a tournament staple and they have one of the best frontcourts in the country with Robert Sacre and Elias Harris. West Virginia counters with its own stud forwards, Kevin Jones and Deniz Kilicli. While both squads are solid in the paint they are also young and shaky in the backcourt. The team that gets better guard play – in terms of shooting and decision making – will likely advance to take a shot at Ohio State.
Best potential second-round matchup: No. 4 Wisconsin vs. No. 5 Vanderbilt
Here we have two dark horse Final Four teams and a pair of clubs that execute and play with skill. Vanderbilt is playing its best basketball of the season and they have Final Four talent. Wisconsin does its best work on the defensive end and they have wrestled with title contenders like North Carolina, Michigan State and Ohio State this year. The winner will be a very dangerous team in the Sweet 16 and I think that this has the potential to be one of the best games of the tournament.
Upset Alert (first round): No. 5 Vanderbilt vs. No. 12 Harvard
Don't sleep on the Crimson. This team beat Florida State on a neutral site and they are No. 4 in the country in points allowed per game. Harvard is catching Vanderbilt in a letdown situation after their big win over Kentucky and the Crimson are a surprisingly low 6.5-point underdog in this matchup. I don't know that Harvard shoots well enough from deep to pull the upset. But they aren't some small, frail Ivy League team is just happy to be here. This is definitely a dangerous spot for the Commodores on Friday afternoon.
Upset Alert (second round): No. 1 Syracuse vs. No. 8 Kansas State
Kansas State will not be afraid of the Orange. The Wildcats haven't just beaten the likes of Missouri (twice), Baylor, Alabama and Long Beach State, but they absolutely pounded three of those four teams. Syracuse has a weakness with its defensive rebounding and K-State will pound the offensive glass for 40 minutes. They don't really have the shooting or the overall guard play to crack the Syracuse zone. But this Kansas State squad could overwhelm SU underneath with their frontcourt depth and size. This is a tough matchup for Syracuse, especially now that they will be playing without their starting center, and he was a game-changer on the defensive end.
Dark Horse team: No. 4 Wisconsin
I do like this Wisconsin team and I love Jordan Taylor. Bo Ryan is masterful and this team has some key pieces back from a group that was in the Sweet 16 just last year. I think that they match up well with the teams on their side of the bracket and they could be set up for a run because they defend and are better than some more regarded teams in the half-court game that the NCAA Tournament demands. I think they could really frustrate Syracuse on both ends of the floor. They would force SU into a slow game and make them execute on offense (their weakness). And the Badgers can shoot holes in the Orange zone. Also, if they were to make the Elite Eight it would set up a rubber match with Ohio State, whom they beat in Columbus a few weeks ago. This is a scary team.
Team That Makes Me Nervous: No. 5 Vanderbilt
I don't deny that the Commodores have talent. We have collected on them quite a bit this year. But I think their three-game winning streak in the SEC Tournament has kind of given everyone rose-colored glasses when viewing this team. Vandy ended the season just 7-6 and then outside of their win over Kentucky in the final (and UK didn't play well at all in Atlanta) it's not like Vandy beat anyone to win that banner. This team is soft and, for long stretches, pretty gutless. I don't know that I suddenly trust their heart and will to win here. But, again, they have three pro-level players and are experienced. They are a team that can bomb a lot of brackets, for good or ill, and are one to watch.
Doc's Sports is offering $60 worth of member's college basketball picks absolutely free – no obligation, no sales people, and no credit card information. You can use this $60 credit any way you please on any of our top college basketball handicappers, including Robert Ferringo. Robert has posted 10 of 11 winning college basketball months and is up nearly $11,000 in profit this year. Click here for more details and take advantage of this free $60 picks credit today.
---
Most Recent March Madness Betting