2012 March Madness Bracket Predictions: West Region
by Robert Ferringo - 3/12/2012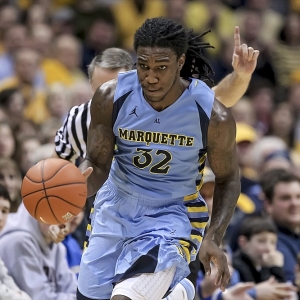 Think small.
The West (Phoenix) Region of the NCAA Tournament features mammoth Michigan State and its rugged frontcourt matched up against a seemingly endless roster of small, quick, guard-oriented teams. This region will be playing basketball at a frenetic pace and if you like little guards running and dunking and chucking up three-point shots then this is the region for you.
With six teams posted at 10-to-1 or less to win the region and four teams at 5-to-1 or less, the West Region is the most parity-driven and potentially the most unpredictable on the entire March Madness bracket. Michigan State is the favorite at +185 and No. 2 seed Missouri is not far behind at +225. Two big East teams, Marquette and Louisville, are lurking behind them, both posted at +500.
Here are Doc's Sports March Madness bracket predictions for the West (Phoenix) Region:
No. 1 Seed: Michigan State (26-7 SU, 20-10 ATS)
The newly-minted champions of the Big Ten will have to regroup quickly after cutting down the nets last Sunday. The Spartans started the regular season with two straight losses and ended the regular season with two straight losses. But in between they have been a powerhouse. MSU's bruising frontcourt trio of Draymond Green, Derrick Nix and Adreian Payne has to be handled first and foremost by anyone hoping for an upset. This team did lose a crucial contributor, Branden Dawson, to injury. But it didn't slow Sparty down against Wisconsin or Ohio State. The backcourt is in good hands with fifth-year senior Brandon Wood and senior shooter Austin Thornton. And the X-factor is explosive Keith Appling. This team is beatable. But no one is tougher. And with six Final Fours in the last 13 years Tom Izzo's postseason credentials are impeccable.
Michigan State March Madness Prediction: It's tough not to like this team to reach the Final Four. I think if they face Missouri in the Elite Eight they will lose. Other than that I'm not sure what other "little guys" can chop down this tree.
No. 2 Seed: Missouri (30-4 SU, 18-9-2 ATS)
Like the Spartans, Missouri is still riding high after winning its conference championship over the weekend. The Tigers have the best backcourt in the country and they have a thrilling group of guards capable of playing at a very high level. This is one of the most experienced groups in the nation. But they are also one of the smallest. This team only has three players taller than 6-3 and routinely gets beaten on the boards. But despite this glaring weakness only three teams (Kansas, Kansas State and Oklahoma State) have been able to top this team and they enter the NCAA Tournament off four straight wins by 14 points or more. This team is a buzz saw right now. I do think that this team is a little suspect when it comes to holding a lead and closing games. Depth is an issue. But winning in March is about guard play and the Tigers have the best crop in the country.
Missouri March Madness Prediction: I think that if Missouri can make it out of the opening weekend then they will go to the Final Four. Michigan State doesn't have anything that Kansas or Baylor didn't have on the interior and the Tigers went 4-1 against those two teams.
No. 3 Seed: Marquette (25-7 SU, 16-12 ATS)
The Golden Eagles were quietly the second-best team in the Big East this season. They also have what is, for my money, one of the best one-two punches in America with senior guard Darius Johnson-Odom and senior forward Jae Crowder. They are two of the best and most underrated players in the nation – especially Crowder – and they have carried this team to this point. Marquette lacks a true post presence like just about everyone else outside of Michigan State in this region. But few teams in the nation play a tougher, more active, more physical brand of basketball than this group. Five of their top players this year were on the team that went to the Sweet 16 last year and this is definitely a very mentally tough group.
Marquette March Madness Prediction: Marquette has an excellent team but also a very tough road. But they have the best guard in their pod and the best forward in the lower half of the bracket. A date with Missouri in the Sweet 16 would give us one of the best matchups of the tournament.
No. 4 Seed: Louisville (26-9 SU, 18-13-1 ATS)
Louisville is another one of 10 teams in this region that won their conference tournament championship. That was quite a burst from a team that has had a roller coaster season. Louisville had lost four of its last six games heading into the Big East Tournament but won four games in four nights behind the nation's No. 3 field goal defense. The Cardinals have seen injuries sap them of their depth. But they have six players averaging between 9.0 and 13.1 points per game and are adept at using their defense to create easy offense. Kyle Kuric is the go-to guy on a team that struggles to score in a half court game. And it is difficult to tell if Louisville is going to be able to get back "up" for this week's games out in Portland after a long week in New York.
Louisville March Madness Prediction: The Cardinals are a team I've almost given up on betting on or against. They always do the opposite of what I expect. But although their defense and nonconference resumes are among the best in the country this isn't a team that I have particularly high hopes for on the national stage.
No. 5 Seed: New Mexico (27-6 SU, 12-16 ATS)
Very quietly the Lobos have positioned themselves among the Top 25 seeds in the tournament despite spending the overwhelming majority of the season outside the Top 25. This is one of the best defensive teams in the nation (No. 15 scoring, No. 4 shooting) and they have the type of length and athleticism that matches up well with anyone. Double-double machine Drew Gordon is their stud in the post and point guard Kendall Williams can be explosive. But the true strength of this team is that they have eight guys that do nothing great but everything well. They are playing with a ton of confidence and plenty of attitude right now and that can make a big difference this time of the year.
New Mexico March Madness Prediction:I don't know if any team seeded No. 6 or lower in the tournament has a tougher potential opening weekend. New Mexico is good enough to beat both Long Beach State and Louisville. But that's still a tall order and makes the Lobos one of the biggest X-Factors in this region.
No. 6 Seed: Murray State (30-1 SU, 14-15-1 ATS)
The Racers and their 30-1 record sure are impressive. That is until you realize that the best two teams that this squad faced are Memphis (won by four) and Southern Mississippi (won in overtime). Murray State utilizes a four-guard offense led by one of the top point guards in the country, Isaiah Canaan. They only have two guys on the roster taller than 6-5 and they don't have anyone taller than 6-7. But they are No. 5 in the nation in three-point shooting, making nearly 41 percent of all shots from deep, and they are excellent as forcing teams into a frantic pace. Murray State was just seconds away from the Sweet 16 back in 2010 and some feel that this team is even better. Not me. I think the Racers are overrated, but are a quality team ready to perform on a big stage.
Murray State March Madness Prediction: I don't think that this Racers team is as good as people want them to be. I don't see this team winning two games to get out of the opening round and it wouldn't stun me if the tables were turned and they were upset in their opener against Colorado State.
Best first-round matchup: No. 5 New Mexico vs. No. 12 Long Beach State
My heart sunk when I saw this matchup because these are two teams that I was hell-bent on betting on in The Big Dance. These are two of the best mid-major teams in the nation and two teams capable of making a run to the Sweet 16. Long Beach State is the most experienced team in the nation. They have four senior, three-year starters that have played against the best competition in the nation of any mid-major team in the land over the last three years. This group only lost by eight at Kansas and by six at North Carolina so they aren't scared of anyone. One thing to keep an eye on is the status of star guard Larry Anderson. The Big West Defensive Player of the Year and 49ers second-leading scorer sprained an MCL last week and didn't play in the conference tournament. I don't know that he'll play in this one and that would be a huge loss for LBSU.
Best potential second-round matchup: No. 2 Missouri vs. No. 7 Florida
From a strategy and personnel standpoint these two teams are carbon copies of one another. Florida relies on five guards (same as Missouri) to do most of their damage. The Gators have one exceptional big man in Patric Young and some other post role players (like Missouri's Ricardo Ratliffe and Co.). Florida spent a portion of this season ranked in the Top 10 and they have gone toe-to-toe with Ohio State, Syracuse and Kentucky in true road games. They won't be scared of Missouri in a game that should be played at a break-neck pace. The Gators aren't playing particularly well right now, losing four of their last five games, but they have more than enough talent to run with Missouri…if they can crack tough-nut Virginia in the opening round.
Upset Alert (first round): No. 4 Louisville vs. No. 13 Davidson
The Cardinals could be in a letdown spot after their ugly win in the Big East title game last Saturday night. And they are facing a fearless Davidson team that earned the most shocking victory of the year: a win over Kansas at Phog Allen Fieldhouse back on Dec. 19. Davidson also played Duke and Vanderbilt very tight this year and they are a team that will live and die by the three-point shot. Also, Louisville has lost its first round game in each of the last two tournaments, including a stunning upset at the hands of Morehead State last March.
Upset Alert (second round): No. 2 Missouri vs. No. 7 Florida
I wanted to choose another game but really couldn't find anything nearly as interesting as this game could be. This has the potential to be one of the best games of the tournament and I would love to see eight guards and two post players flying all over the court for 40 minutes.
Dark Horse team: No. 5 New Mexico
There won't be a lot of talk about this Lobos team heading into the start of The Big Dance but I really feel like this group is playing its best basketball at the right time. They have only lost four times since Thanksgiving. And while they haven't played a great schedule they still dominated a conference that sent four teams to the tournament. The main reason to keep an eye on this group is that they have the size and length on the wings to really bother the shorter teams in this region.
Team That Makes Me Nervous: No. 4 Louisville
Winning the Big East Tournament has really been a mixed bag recently. The last two teams to win it – Connecticut and West Virginia – both made the Final Four. And two other teams – Louisville in 2009 and Georgetown in 2007 – made it to at least the Elite Eight. However, all four of those teams were No. 1 or No. 2 seeds. But the last three times a team cut down the nets at Madison Square Garden and had a seed of 3 or higher that team didn't make it out of the opening weekend. Do they have enough left in the tank to impose their defensive style on people?
Doc's Sports is offering $60 worth of member's college basketball picks absolutely free – no obligation, no sales people, and no credit card information. You can use this $60 credit any way you please on any of our top college basketball handicappers, including Robert Ferringo. Robert has posted 10 of 11 winning college basketball months and is up nearly $11,000 in profit this year. Click here for more details and take advantage of this free $60 picks credit today.