This Week in Sports Betting, A-Z
by Nicholas Tolomeo - 9/14/2012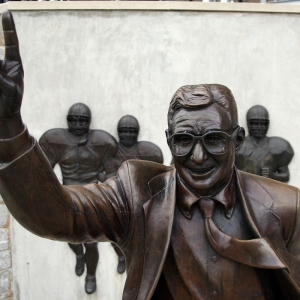 A – Al Pacino. Al Pacino will reportedly play Joe Paterno in an upcoming movie about the former Penn State coach. Not sure who will get stuck with the god awful role of Jerry Sandusky, but I will be highly upset if Mike McQueary is played by anyone besides Carrot Top.
B- Bengals fan. A Cincinnati Bengals fan fed a knuckle sandwich to a Ravens fan at a Florida Applebee's during the Ravens/Bengals "Monday Night Football" matchup. The Ravens won going away, 44-13. And the excessive celebration by Ravens fan Patrick Bennett led to the unnamed Bengals fan cold-cocking him and simply walking out of the restaurant.
C – Colt McCoy. In the only instance of this ever happening, fans were actually chanting for Colt McCoy. Upset with the horrific performance of the really old rookie Brandon Weeden, fans actually chanted Colt's name during the Brown's loss to the Eagles.
D – DJ Williams. Denver Broncos linebacker DJ Williams just does not get along with Twitter. Williams once famously tweeted out a picture of his team's playbook to his 10,000 followers. This week some spam found its way onto Williams' wall as he tweeted about the AGU Period Tracker, an app that helps track a girl's period. Seriously.
E – Eva Longoria. Mark Sanchez continues to defy the odds. Somehow he is a starting quarterback in the NFL and somehow his team won in Week 1 by 20 points. Sanchez then celebrated the New York Jets 48-28 thrashing of the Buffalo Bills by taking Eva Longoria to Del Frisco's Double Eagle Steak House.
F – Fighting Irish. Notre Dame is sort of joining the ACC. The Fighting Irish will compete in the ACC in all sports except football, kind of like Duke.
G – Gay. In the creepiest story you will ever hear about, Jamie Kuntz, an 18-year-old linebacker at North Dakota State College of Science, claims he was kicked off the football team after he was spotted kissing his 65-year-old boyfriend. That is shocking; who knew North Dakota State College of Science (NDSCOS) had a football team?
H – Harden, James. James Harden is quickly becoming the Rob Gronkowski of the NBA. Harden's summer binge fest was caught on camera last week. Harden was spotted shirtless at a strip club, with a leopard print cowboy hat on sitting around a table full of cash and thick, butt-naked women.
I – Intercourse. Italian soccer club Napoli has banned its players from having sex in the 48 hours leading up to a match. The ban on banging is apparently to help prevent muscular strains, but instead will probably cause massive amounts of depression. No word on how on earth the club plans on enforcing this rule.
J – James Harrison. Since he was not playing in Week 1 and unable to get fined $100,000 for cold-cocking a quarterback behind the ears, James Harrison had some change lying around. On Wednesday the Steelers linebacker donated $100,000 to his alma mater, Kent State University.
K – Kevin Kolb. Kevin Kolb is once again a starting quarterback in the NFL thanks to an injury to John Skelton. Kolb will have every NFL survivor pool participant cheering against him as he takes his two-touchdown underdog Cardinals into Gillette Stadium to face the Patriots.
L – Long snapper. Oakland Raider backup linebacker Travis Goethel was thrust into action as long snapper on "Monday Night Football," and Goethel shit the bed really hard. He literally rolled two snaps to punter Shane Lechler, who was immediately tackled. And when Lechler moved up to try to help Goethel out, he had his punt blocked. So if you didn't stay up to like two in the morning to watch the special teams shit fest, that is what you missed. The terrible snaps cost the Raiders the game as the Chargers won, 22-14.
M – Mike Francesa. WFAN's sports radio talk show host Mike Francesa took a little snooze while on the air during an interview with a WFAN correspondent. Sleeping on the job wouldn't be a problem for Francesa, a radio host, but the show is also broadcast on the YES network, so there is actual footage of the host dozing off and then about 20 seconds later snapping his head up with a look of bewilderment on his face. And, apparently, this is not the first time he has fallen asleep at the mic.
N – New York Mets. The wheels have fallen off the New York Mets bandwagon. This stat tells it all. Since the all-star break the teams with the most wins at Citi Field are the Nationals (six) and Braves (five) and then the Rockies (four) and Mets (four).
O – Odds. In something that would have denied explanation a few years ago, the Houston Texans and San Francisco 49ers are both listed at 7/1 to win the Super Bowl. The Texans and 49ers, who were both abysmal for most of the 2000 decade, have the second-best odds in the entire league on Bovada behind only the New England Patriots (5/1). In news that would have made perfect sense even a few years ago, the Browns are listed at 200/1.
P – Patriots. Wes Welker decided it was a good time to come out and say that Tom Brady was "such a good-looking guy" and that his quarterback is probably "the toughest metrosexual I've ever come across."
Q – Quarterback. You can wager on who will be the first quarterback to be benched in a non-injury related situation. The top three favorites to be yanked are Russell Wilson in Seattle at -125, Brandon Weeden in Cleveland at +125 and Ryan Tannehill in Miami at +500. All three quarterbacks looked about as bad as everyone expected them to look in Week 1, although Weeden was the only one to get stuck under an American flag.
R – Ratings. While awesome for degenerate gamblers, the "Monday Night Football" doubleheader is not an overall ratings winner. This week the Bengals dropping a deuce in Baltimore drew an 8.1 overnight rating down 21 percent from last season, while the Raiders special team shit-fest drew an even lower rating, 7.9 overnight.
S – Streaker. A streaker who went full monty at a high school football game in Florida managed to allude security and police. The streaker sprinted across the field in the buff, hurdled two fences and then escaped in a getaway car.
T – Threesome.Oakland A's pitcher Brandon McCarthy took a line drive off his dome in a game last week. He evidently did not lose his senses. Upon being released from the hospital he tweeted that the timing was right to ask his wife, smoke show Amanda McCarthy, about a threesome.
U – Utah. After injuring his shoulder again, Utah quarterback Jordan Wynn has decided to call it a career, possibly becoming the first ever collegiate player to announce his retirement while still in college.
V – Vendetta. The San Francisco 49ers and their head coach Jim Harbaugh will meet Detroit Lions and their head coach Jim Schwartz on Sunday Night Football. The two coaches nearly came to blows last year in Detroit. This year you can wager on what will happen after the game. A "handshake or hug" after the game is juiced at -500 while "no handshake or hug" is listed at +300. A bare-knuckle boxing exhibition at the 50-yard line falls under the "no handshake or hug" bet.
W – Warren Sapp. Warren Sapp is broke and now his house is for sale and it may be auctioned off. Sapp declared bankruptcy in April because he somehow owes over $6 million to various creditors, including his baby's mommas. Sapp's Florida home features four beds, eight freaking bathrooms, and it is located on about three acres of land. It is selling for $3.8 million, and if no buyer emerges by Nov. 1 it will be auctioned off for a whole lot less. If there is such thing as karma, Chad Clifton will buy it and hire Sapp as his pool boy.
X- "X Factor". Simon Cowell is the favorite to be the winning judge of "X Factor" Season 2. Cowell is listed at +175 at Bovada, ahead of Britney Spears and L.A. Reid, who are both +225, and Demi Lovato, who is +450.
Y – You got to be kidding. In the most Cleveland Browns-ish story ever, rookie quarterback Brandon Weeden got stuck underneath the American flag before Cleveland's Week 1 game. Of the incident, Weeden simply said, "Was throwing like I always do and they came haulin' ass with that thing right at me."
Z – Zapped. A New Jersey man, Ian Cummings, is suing the Jets and Giants, seeking $2 million, after he was zapped with a stun gun by another fan at a Jets-Cowboys game last year at Met Life Stadium. A 60-year man, Leroy McKelvey, somehow brought the stun gun into the stadium and used it on Cummings.