Back to the Futures: The NFL is Peyton's Place
by Ricky Dimon - 9/13/2013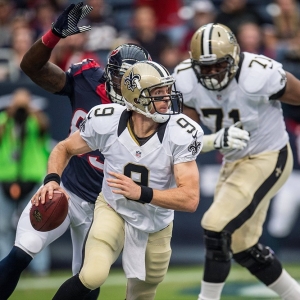 If there is such a thing as a one-man MVP race after one week (which there isn't, of course), the 2013 NFL is it. With one season in Denver under his belt and a plethora of capable receivers at his disposal, Peyton Manning is off and running—to put it mildly. So, too, are QBs like Teddy Bridgewater and Jameis Winston in the college ranks.

Odds provided by Sportsbook.ag.

NFL MVP

Peyton Manning (+300) – Manning is on pace to throw for 7,392 yards and 112 touchdowns. That probably won't happen, but the Broncos' quarterback did pass for 462 yards and seven scores without being picked off a single time in his team's season-opening rout of defending Super Bowl Champion Baltimore.

Drew Brees (+800) – Brees did not go crazy in Week 1 like Manning, but the Saints' signal-caller at least pinned 357 yards and two touchdowns on the Falcons. More importantly, New Orleans has its head coach back on the sidelines and winning ways appear to be returning to the Big Easy.

Colin Kaepernick (+1000) – Normally a defense can expect to contain Kaepernick when it limits him to 22 rushing yards on seven carriers. Not so last Sunday. Kaepernick completed 27-of-39 passes for 412 yards, three touchdowns, and no interceptions as San Francisco outscored Green Bay, 34-28.
Tom Brady (+1000) – With his current crop of impostors who call themselves receivers, Brady has no chance. After all, New England's secondary was better at catching passes on Thursday than its offense. Of course, it won't have the pleasure of facing Geno Smith every week. At the same time, Brady likely won't have to throw to guys like Aaron Dobson and Kenbrell Thompkins much longer.
NFC East

Dallas Cowboys (+200) – The NFC East is consistently one of the most competitive divisions in football. As the odds suggest, in 2013 no team looks amazing, but no team appears to be anything worse than mediocre. Dallas is 1-0 in the division after getting past the Giants at home in Week 1.

Philadelphia Eagles (+200) – Philadelphia also picked up an NFC East win as it held off the Redskins on Monday night. With one precinct reporting, Chip Kelly's offense has a 100-percent approval rating in the NFL. Michael Vick passed for 203 yards, rushed for 54 more, and accounted for three touchdowns.

New York Giants (+350) – The G-Men will have to get over their loss to Dallas in a hurry because the early-season schedule does not get any easier. New York's next five games are vs. Denver, at Carolina, at Kansas City, vs. Philadelphia, and at Chicago. It is a +5.5 home underdog in the Manning Bowl on Sunday.

Washington Redskins (+350) – Maybe the preseason isn't entirely worthless after all. RGIII played a grand total of zero snaps prior to the real thing, and he played like it in Week 1 against the Eagles. The 'Skins made a second-half charge to make the score respectable, and they will have to perform that way from the start on Sunday at Green Bay.

Heisman Trophy

Teddy Bridgewater (+400) – Through two games on its soft schedule, Louisville is outscoring opponents 93-14. Bridgewater has thrown for 752 yards and nine touchdowns while being picked off only once and sacked just once. This weekend's date at Kentucky may actually be one of the Cardinals' most difficult games of the season.

Braxton Miller (+600) – Miller's 2012 Heisman bid was not helped by the fact that his team was ineligible for a bowl—or for the National Championship. Ohio State should be a major player for the 2013 title, but Miller is off to a rough start. He suffered a sprained knee last weekend against San Diego State, and he is questionable for Saturday's contest at California.

Jameis Winston (+600) – Will a freshman quarterback win the Heisman Trophy for a second straight season? It's looking like a very real possibility right now. Winston's heavily-hyped opener at Pittsburgh on Labor Day could not have gone any better for the Hueytown, AL, native. He completed 25-of-27 passes for 356 yards and four touchdowns, and he also ran for another score.

Marcus Mariota (+600) – No Kelly in Oregon, no problem? Just a sophomore, Mariota is also off to an outstanding start. He rushed for more than 100 yards in each of his team's first two games and scored three touchdowns on the ground. Through the air, Mariota is 26-for-49 with three TDs and zero interceptions.

AL Pennant

Boston Red Sox (+175) – At even money, the Dodgers are a clear favorite to win the National League and punch their ticket to the World Series. The AL, however, is a much different story. Boston may have a slight inside track because it leads the East by 8.5 games and has a three-game cushion over Oakland for the league's best record.

Detroit Tigers (+200) – The Tigers should be able to wrap up the Central without much drama, but they are 4-6 in their last 10 and likely won't have home-field advantage throughout the playoffs. Once again, though, they are built for a playoff run thanks to a rotation led by Justin Verlander and Max Scherzer.

Oakland Athletics (+500) – Oakland has stormed ahead in the West mainly due to a major slide by Texas but also in part because of its own stellar play. The A's have won 10 of their last 13 and lead the division by 3.5 games. Is any team more balanced, and does any team play better fundamental baseball than this one?

Texas Rangers (+700) – The Rangers have lost three in a row, six of their last seven, and eight of their last 10. If the division is slipping away, the wild-card places are there for the taking. Texas is two games up on Tampa Bay for the first spot and three games clear of the Yankees for the second spot.
Read more articles by Ricky Dimon