Betting Tiger Woods at the 2013 British Open
by Trevor Whenham - 7/17/2013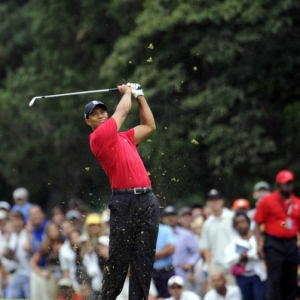 Heading into the Open Championship this week, Tiger Woods presents a real handicapping puzzle. On one hand he is the best golfer we have ever seen, and he has four wins this year to show that he is still dangerous. On the other hand, his major tournaments have been rough this year. The controversy surrounding the illegal drop at the Masters cost him two strokes and likely some focus. At the U.S. Open he just wasn't playing well — it's rare to see him that uncompetitive at a major event. So, do we expect him to bounce back and show the golf world who is boss? Or do we look elsewhere for better prices out of the betting public's eye? Here are five arguments in favor of backing Woods, and five for avoiding a bet on him at all costs:
Positive - No one has won more tournaments in the last five years than him
There is a lot of negativity around Tiger Woods heading into this tournament — at least relative to what we normally hear surrounding him. While we normally see unbridled enthusiasm from the media and the betting public, there is now more questions and uncertainty than normal. While a lot of that is warranted — it's frankly about time people get objective about him — it's important to keep perspective here. Woods has still won four times this year, and he is running away with the PGA money title. This is the darkest, least successful era of his career from a Major perspective, yet he has still won more tournaments than anyone over the last five years. My point is that while it makes sense to be cautious, panicking just isn't warranted.
Negative - His elbow is a concern
One of the many reasons for his issues at the U.S. Open was an elbow that, he says, was far from alright. He has had the time to rest it, but he is being noticeably cautious in his preparation. Like any injury, the elbow is going to be a concern until we see it in action and get a sense of how it can hold up.
Positive - He has been practicing at Muirfield
Woods was one of the first big names to arrive at the course, and he has been regularly practicing to familiarize himself with the course. That's significant because when the course plays hard and fast as it is now the driver is often not the best tool. The more familiar he gets with the course and the intricacies of it, the more prepared he will be.
Negative - He struggled last time on the course
To say he struggled in 2002 when the Open was last at Muirfield is an understatement. He had won the Masters and U.S. Open that year and went on to finish second in the PGA Championship. At the Open Championship, though, he finished 28th, thanks in large part to an 81 — his worst round as a pro. It was far from good, and that has to factor into his confidence and preparation here.
Positive - No one is mentally tougher
This one is obvious — when Tiger gets a victory in his sights later in a tournament there are few guys better at focusing on the task at hand and closing it out. He has been slightly less impressive on that front recently, but when he's a contender he's still a good bet to keep contending.
Negative - Except when he's not
Mental toughness has certainly been a question when things haven't gone well for him this year. In his last two outings — the Memorial and the U.S. Open — he has let rough patches bother him, and poor performances have really gotten away from him. Can he find the killer again, or is Tiger a kitten now?
Positive - He's rested
Woods hasn't played since the U.S. Open in the middle of June. That means that he has had a month to heal physically and to get back in a good place mentally. Given how far from his best self he has been the last two times out, that has to be seen as a good thing — at least to some extent.
Negative - Or is he rusty?
On the other hand, this is not an approach he has typically taken. Except for when he was playing a very light schedule because of injuries and other issues, Woods has typically played at least once between the middle two majors — the Western Open, which has been a very good tournament for him. He has often played a second time as well. Before all three of his Open Championships he had a strong outing in the Western, and he was able to carry that momentum forward and build on it. How much of an impact did that preparation have on his British performance?
Positive - The odds are better than they have been
In his prime it would have been almost impossible to even imagine getting odds of 8/1 on Woods to win a major tournament. If you like where Tiger is at right now and believe in him here, then, you are going to find value here compared to normal.
Negative - But the odds are still ridiculous
Even at 8/1 at Bovada, betting on Woods is a silly proposition — at least relatively. He hasn't won a major since 2008, is coming off of two lousy outings, and is fighting an injury, yet according to oddsmakers he is at least twice as likely as any other starter to win. He's more than three times more likely to win than Rory McIlroy or Lee Westwood. There may be value relative to the norm for Woods, but betting on him has never been an attractive option, and that likely continues here.
Read more articles by Trevor Whenham