Final Four Picks: Betting Odds and Predictions
by Trevor Whenham - 4/1/2013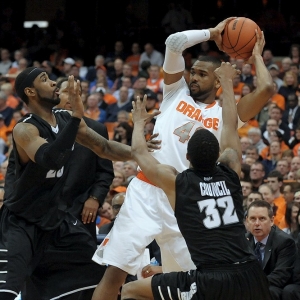 I'll start with the important stuff. My 2013 Final Four picks are simple — Louisville will meet Michigan on Monday night for all of the marbles. Louisville is too talented to make the mistakes that cost Ohio State and Gonzaga against this very good Wichita State team. Michigan's offense is dialed in and ridiculously efficient, and they will find a way to score more on the Syracuse zone than the Orange can respond with.
With the Final Four picks out of the way, let's look at each of the four teams and their biggest strength and weakness at this point (odds to win the Final Four are from Bovada):
Louisville Cardinals (-150)
Why they are dangerous: Louisville has had as smooth a trip to this point as a team can. They haven't had to travel more than two hours by bus. They haven't been tested — even by Duke. They looked like the best team in the tournament heading into March Madness, and all they have done since is reinforce that opinion. This is a very good team with an exceptional defense that is rested and prepared. They also face a favorable matchup against Wichita State — at least compared to the other teams they could have faced from that region. Add that to a team with all the experience they gained from their Final Four run last year, and this is a well-deserved favorite.
Why they are worried: We can't know how the team will respond to the whole Kevin Ware situation because we really haven't seen anything like this before. Ware's injury was as gory and unexpected as one can be, and it had a massive impact on the team. They responded well at the time, but now the emotion of the situation has a chance to set in and weigh on their mind. That's a potential concern. You also can't understate the impact of losing Ware. He wasn't a superstar, but he played 17 efficient minutes per game, and he will be missed.
Michigan Wolverines (+300)
Why they are dangerous: One stat stands out above all else to define what makes this Michigan team tick — they have had five different players score at least 21 points in a game. In this tournament! Glenn Robinson III and Tim Hardaway Jr. did it in the opener against South Dakota State. Mitch McGary did it against VCU and again against Kansas. Trey Burke had 23 against Kansas — after getting shut out in the first half. Nik Stauskas had 22 against Florida and couldn't have missed a shot if he tried. There is not a team with depth approaching that — all five starters have NBA careers ahead of them, and at least three could be lottery picks eventually.
Why they are worried: This team is dialed in, and they played excellent defense against Florida, but they have had a bad habit of tuning out and slacking off when they don't have the ball — especially in the second half of the regular season. They are very young, and they can be their own worst enemy — especially if the ball isn't going in early and they get frustrated.
Syracuse Orange (+425)
Why they are dangerous: Jim Boeheim is the absolute master at running a zone defense, and with this edition of the Orange he may be running it better than he ever has. He has lots of length on this team, and that makes it very hard to play against — as Marquette found out the hard way when they scored just 39 points.
Why they are worried: There are two things that a great zone defense can be vulnerable to — excellent ball handling and strong outside shooting. Syracuse is producing turnovers like crazy this year and turning them into easy points. Michigan just doesn't turn the ball over, though. They are also very good at scoring points. The zone excels at isolating strong shooters and making them uncomfortable. The zone can't stop everyone, but it can decide who has a bad day. With Michigan there is so much depth offensively that if they shut down a shooter or two there are still a couple of elite shooters there to take up the slack.
Wichita State Shockers (+1200)
Why they are dangerous: No one has any expectations for them at all. They aren't being taken seriously. That is a huge asset for a team that plays as angry as this team does. They have beaten a No. 1 and No. 2 already, and neither win was anything close to a fluke. Should this team be anything other than the fourth choice among these four teams? Not at all. Can they win it all? Absolutely. Louisville will be prepared for this game, but if they take even a moment off to rest on their laurels they will find themselves in a world of hurt. What's scariest about this Shockers' team is that they don't have a guy who is clearly their best player. They are just deep and big and scary. You can't isolate anyone because you are just wasting your time.
Why they are worried: At some point great talent plus great systems will beat out good talent plus great systems. Each of the three remaining teams is extremely well-coached, and each one has more talent — especially at the top end — than the Shockers do. It would take an awful lot for them to win two more games — especially since they would have to beat the best team in the tournament and then beat the winner of the Syracuse and Michigan game which will be the hottest team in the tournament.
Doc's Sports is offering $60 worth of free member's March Madness picks absolutely free – no obligation, no sales people – you don't even have to enter credit card information. You can use this $60 credit any way you please on any of our top college basketball handicappers. Click here for more details and to take advantage of this free $60 picks credit today.
Read more articles by Trevor Whenham