Golf Betting Advice: How to Deal with Tiger's Dominance
by Trevor Whenham - 5/23/2013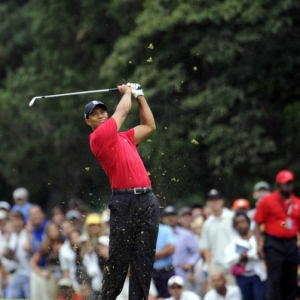 Breaking news — Tiger Woods is really good at golf. For quite a while injuries and general stupidity seemed determined to make it so that we would never again see how good he can be. This year, however, he is back to being just as dominant as ever.
He has made seven starts this season. He has four wins. In the Masters he wound up fourth and could easily have won if he wasn't penalized and distracted. He has made nearly $6 million this year on the PGA Tour, which is basically the same as the second and third competitors on the list have combined — and they have played 23 total tournaments. He's again No. 1 in the world and is opening up a margin in those standings that could again see him stay there for a long while.
As good as he is playing, what is most striking about him now is his demeanor. More than ever before, he is playing angry. He has a huge chip on his shoulder after all he has been through and all the perceived slights he has suffered, and he is out to prove himself right and everyone else wrong. He has always been at his best when he is driven like only he can be, and that is certainly the case now. Only Michael Jordan was as good as Tiger at being convinced everyone is out to get him when the world really worships him.
There isn't another player or team in sports right now that is as dominant as Tiger is given the challenges he faces — huge fields of talented golfers, so many opportunities for something to go wrong in every round, and such a small margin for error. That makes it particularly challenging, and often frustrating, to handicap and bet on golf these days. You either have to accept impossibly low payouts or nice payouts but very low winning percentages. Neither is necessarily attractive. When you are considering betting on tournaments Tiger plays in — and with the Memorial coming up leading into major season and the prime part of the regular PGA Tour calendar there are going to be plenty of opportunities to do so — here are four factors to keep in mind:
Don't fight it — he really is this good
If any other golfer performed at the level that Tiger is right now, then you would absolutely have to question whether it is sustainable. In this case, though, we know it is because he has done it so many times before.
In just the last seven years alone there are multiple examples — and he has struggled through much of time. In 2007 he won four of his last five tournaments and was second in the fifth. Injuries limited him to just six tournaments in 2008, but he made the most of them with four wins, a second and a fifth. In 2009 he played 17 tournaments. He won six, was second three more times, and he wound up in the Top 10 14 times.
I could go on, but you get the point — when Tiger is dialed in he can only really beat himself. Right now he is again dialed in. That's very bad news for everyone not named after a large cat.
Don't see value where there is none
There is not a more public athlete on the planet than Woods. His every move is scrutinized. Even the most casual of golf fans is fully aware of how dominant he is — even if they can't name another top golfer.
Whenever he is in a tournament he draws an overwhelming percentage of the bets, and it only gets worse with every win. Oddsmakers are very aggressive when they set his lines because they have to be, and the numbers often get bet down even further by the public.
When it comes to betting on Tiger when he is sound and playing like he can, there is no such thing as value. It is absolutely impossible for it to exist, so if you think you see any then you are almost certainly kidding yourself. That doesn't necessarily mean you can't bet on him. It just means you have to be very careful.
Look for ways to leverage your opinions
Betting on who is going to win the tournament is far from the only way to cash in on your opinions and handicapping skills. When Tiger makes betting on the winner less than interesting, you can look elsewhere for opportunities to cash in and shine.
Head-to-head matchups, for example, can be very lucrative. Props can be interesting as well. Instead of betting if Tiger is going to win and getting a lousy payoff if you are right, you can bet how much he is going to win by and get rewarded much more significantly.
There are all sorts of alternative options every week on the PGA Tour. And when a major rolls around, the number of props and other betting opportunities really explodes. You just have to be creative, and you need to be able to assess what a prop is actually asking and where the value lays.
Gamble
The nice thing about Tiger when he is dominant is that because he is bet down far too low every time he is out, virtually everyone else each week isn't bet down as far as they could be. If you are looking to bet on anyone other than Tiger, then, it can be much easier to find value than it would be if Tiger wasn't playing. That can make it more attractive to take a shot betting at other guys.
They may not be very likely to pay off, but you will be rewarded when they do. If you don't feeling like playing against a stacked deck, then you always have two other alternatives — either just be patient and only bet on the events that Tiger doesn't play in, or bet knowing what you are getting into and just have fun with it.
Read more articles by Trevor Whenham