Golf Handicapping: Phil Mickelson
by Trevor Whenham - 7/23/2013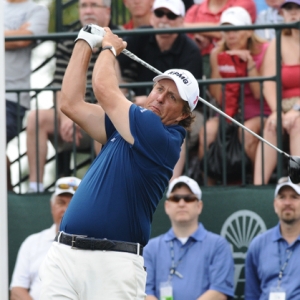 Phil Mickelson has had a remarkable two weeks — and that's an understatement. A guy who has always struggled on links courses showed he was serious about shedding that reputation with his win in the Scottish Open. Then he went out and put together one of the most impressive final rounds in Open Championship history to capture his fifth major. It was all wildly-impressive and a clear sign that Mickelson isn't done yet. In fact, with the recent woes of guys like Tiger Woods, Rory McIlroy and Adam Scott in intense situations, you could easily make the argument that Mickelson is the most mentally-tough player in the world right now. That is something you certainly wouldn't have argued 10 years ago.
For bettors, the success Mickelson has enjoyed recently has created a challenging golf handicapping scenario. Will he stay hot in key tournaments the rest of the year? Or will he fade away after having burned so bright? Here are five factors to consider when pondering those questions:
What does he do next?
We will be able to learn a lot about his mindset from what he does next. It became very clear that he was absolutely determined to win this tournament. Playing the Scottish Open was a bold move that most major American players wouldn't do. Then there is the story of how he told his wife at breakfast on the Sunday that he was going to win the tournament even though he was far behind the leaders at the time. While the determination is impressive, it is clearly all but impossible to maintain that kind of focus over the longer term. We could see Mickelson come back soon to try to capitalize on his hot play, or he could just relax and enjoy the remarkable accomplishments of the last two weeks? Look to his schedule — and whether he makes any last-minute changes.
He hasn't bounced back strong after past major wins
Mickelson has won four previous majors, and he has been slow to win again in each case. After his 2004 Masters he didn't win again for 10 months. There was a nine-month slump after his PGA Championship, 10 months after his second Masters, and a year after his third. Based on that alone, it would seem like a poor idea to expect him to win soon. Some would argue that things are different this year because he has been so hot two tournaments in a row. He won the week before his second Masters too, though, and that momentum didn't carry forward.
Age is a factor
Mickelson seems ageless, but the fact is that he is beyond his 43rd birthday. That's obviously not ancient for a golfer, but it is unquestionably beyond his prime. Add in his health issues and a body that isn't the most toned on the tour, and the reality is that his age is more of a liability — at least in terms of stamina and sustained high level performance — than it has been in the past.
U.S. Open is more of a focus than the PGA Championship
The biggest reason Mickelson was so determined to win the Open Championship is that he had never won one before. In fact, he had only rarely been competitive — the tournament had haunted him. Next up is the PGA Championship next month. He has won that tournament and done well several other times, and the tournament clearly means less to him than the other three. What will now motivate him above all else is the U.S. Open. As is well-chronicled, Mickelson has never won the tournament that would now cap his career Grand Slam, though he has finished second five times, including last year. If the U.S. Open was coming up soon then I would think differently, but for now I see him more focused on rest and preparation than on high-level performance in the short-to-mid term.
Can Tiger stop the bleeding?
From a betting perspective, you can never overlook Tiger Woods, and he has a big impact on how to bet on Mickelson. The public has rarely viewed Mickelson at quite the same level as Woods regardless of what he has done. At the Open Championship Phil was coming off a win while Tiger was injured and rusty, yet Woods was heavily-favored still in the tournament. His collapse in the second half of the Open has been heavily-covered, and coupled with rough performances over the last few months it's hard to believe that Woods is anywhere near his best right now. If the public starts to accept this reality then they won't bet him as heavily, and a lot of public money will pour onto Phil, further eroding value. If the blind loyalty to Tiger continues, though, then Phil could be more attractive. If Woods were to come out next time out and win, then the value in Phil — such as it is — would be maintained.
Read more articles by Trevor Whenham