MLB Betting and Handicapping: Scouting the Week Ahead
by Alan Matthews - 8/26/2013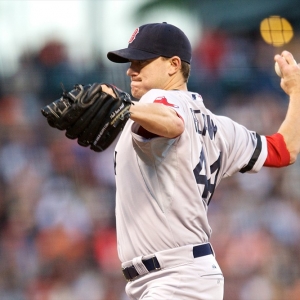 I love baseball, even if the Cubs always break my heart (my goal is still to find Steve Bartman and punch him in the kidney). But let's be honest here: Baseball simply fills up the space between the end of basketball season and the start of football. At least from a betting perspective. With that said, this will be my final week ahead story of the 2013 season with college football season starting this week (look for a week ahead on that starting soon) and the NFL the week after.
The big news last week had to be that the Boston Red Sox went to Los Angeles and took a series from the Dodgers. To be fair, the Sox avoided both Clayton Kershaw and Zack Greinke, but it's still notable as Los Angeles hadn't lost a series since mid-June. I do think it exposed some flaws in that L.A. offense as it scored just four runs in the series. Yasiel Puig is hitting only .167 in the past week -- I think he has been passed by Miami's Jose Fernandez for NL Rookie of the Year.
The series loss didn't shift any futures. The Dodgers remain 4/1 World Series favorites at Bovada with Boston No. 4 at 17/2. The Sox have to be feeling great about winning the AL East now after playing 16 of their past 19 on the road. They are -180 division favorites, with the Rays at +120. Now it's nine straight at Fenway Park, starting with a three-game set Tuesday night against Baltimore. Jake Peavy was brilliant in Sunday's win over the Dodgers and will start Saturday against his former White Sox teammates. He is 2-1 with a 3.31 ERA in five starts with Boston. Of Boston's next 25 games, 18 are at home, where the Red Sox are 40-23.
Big Week For Tribe
Watch the Cleveland Indians very closely this week. They visit Atlanta for three games starting Tuesday night and then Detroit for three this weekend. The Tribe enter the week just 1.5 games behind Oakland for the final wild-card spot. If the Indians can just tread water this week they should be in good shape, although the Tigers have owned them. After hosting the Orioles for three games starting on Labor Day, Cleveland has a very favorable schedule with only Kansas City among the clubs with a winning record (and the Royals may not have one by then).
Speaking of the Tigers, Max Scherzer will look to become the majors' first 20-game winner this season on Thursday afternoon against the visiting A's. Scherzer outdueled the Mets' Matt Harvey on Saturday. It was an historic day. It marked the first time in major-league history that the starters in the All-Star Game faced each other as starters in a subsequent regular-season game that same year. That deserves a bit of an asterisk because interleague play only began 16 years ago, and it used to generally end before the break, but it's still pretty cool (it has happened twice in the playoffs). Scherzer joins Roger Clemens (2001 Yankees) and Rube Marquard (1912 Giants) as the only pitchers to start 19-1.
Now Or Never For Nats
If the Washington Nationals don't want to go down as the biggest disappointment in baseball this season and have any chance at a wild-card spot, the time is now. They start a three-game home set against the Marlins (Washington has 10 games left against lousy Miami overall) on Tuesday and miss Fernandez in that series. Then the Mets visit for three, and the Nats miss Harvey in that one.
Washington won't play a team with a winning record until Sept. 16 against the Braves, and Atlanta won't have squat to play for then. It might be too late, however, as Washington is 8.5 games out of the second spot. The good news is that only one team is ahead of the Nats, and it's sliding Arizona. Also beneficial is the Cardinals, Pirates and Reds are playing each other quite a bit to close the season. I think the Nats are still holding out hope, and that's why they haven't traded Dan Haren to a contender. He has cleared waivers and is 4-0 with a 1.98 ERA in his last six starts after being terrible most of the season. He's scheduled to go Saturday against New York. That would be the last day he can be traded and still be allowed on a postseason roster. If Washington wins its next four games, look for him to stay. If they go 2-2 or worse, I think he goes and the white flag is waived.
And since this is my final MLB week ahead story, here is my World Series pick: Cardinals in six games over Tampa Bay. The Cards are 10/1 to win it all at Bovada and the Rays, who are due to get back Matt Moore early next week, are 11/1. If Moore isn't healthy or has some sort of setback then forget the Rays and go with Detroit.
Read more articles by Alan Matthews