MLB Handicapping Hot/Cold Pitchers and Hitters Betting Report
by Ricky Dimon - 4/16/2013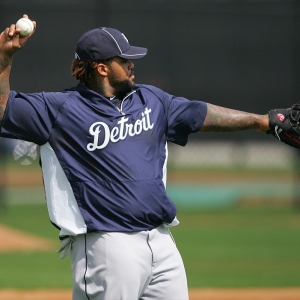 The Braves feasted on weak competition for a while at the beginning of this season, but it's safe to say their 11-1 record is no fluke…not after a road sweep of highly-touted Washington last weekend. Paul Maholm and the rest of the pitching staff are throwing darts, while newcomer Justin Upton is on fire at the plate.

At the other end of the spectrum, many teams and players are taking their sweet time heating up this April. Let's take a look at the hottest of the hot and the coldest of the cold with more than two weeks of the 2013 campaign in the books (all odds provided by Sportsbook.ag).

Pitchers – Hot

Paul Maholm (Braves) – Maholm was solid for the Braves late last season after being acquired from the Cubs in a trade-deadline deal. But he has been a whole different beast altogether this year. Through three starts, the southpaw has not allowed a single run in 20.1 innings, and his WHIP stands at a paltry 0.79 to go along with his perfect E.R.A.

Clay Buchholz (Red Sox) – Boston may be playing the role of underdog in 2013, but it is leading the AL East at 8-4 through 12 games. A big reason is Buchholz, who is a perfect 3-0 in three starts with a 0.41 E.R.A. and a 0.9 WHIP. Buchholz, fourth in the AL with 23 strikeouts, took a no-hitter into the eighth inning against Tampa Bay on Sunday. The Red Sox are +350 to win the division, ahead of only Baltimore but not far behind favored Toronto (+250).

Madison Bumgarner (Giants) – Bumgarner hasn't been entirely unhittable, but he's been even better than he was last year when he won 16 games and finished with an E.R.A. of 3.37. The towering lefty has won all three of his starts, and he sports a flash 1.77 E.R.A. to go along with a 0.98 WHIP. Bumgarner has helped the defending champs compile a 9-4 record that has them atop the NL West.

Pitchers – Cold

Yovani Gallardo (Brewers) – It would be fair to call Gallardo a model of consistency. His E.R.A. range did not waver outside of 3.52 to 3.84 in his five major league seasons with at least 17 starts. That makes his grotesque start in 2013 all the more alarming. Through three efforts toeing the rubber, Gallardo is 0-1 with a 6.61 E.R.A. and a measly nine strikeouts in 16.1 innings.

Vance Worley (Twins) – This is not what the Twins had in mind when they acquired Worley from Philadelphia, where he enjoyed two respectable seasons. The 25-year-old righty is 0-2 with a bloated 10.50 E.R.A. and 2.42 WHIP after three starts in Minnesota. Adding insult to injury: Worley was dealt for Ben Revere, who made the incredible diving catch for the Phillies on Monday night.

Mitchell Boggs (Cardinals) – Boggs allowed two baserunners in a non-save situation against Pittsburgh on Monday, but he got out of it unscathed. Still, the St. Louis closer has a 9.82 E.R.A. and two blown saves in nine appearances. Four of his seven walks came in one outing, in which he last just one-third of an inning. The visiting Cardinals (Jake Westbrook) are -150 favorites at Pittsburgh (Jonathan Sanchez) on Tuesday night.

Hitters – Hot

Prince Fielder (Tigers) – Chicks dig the long ball, but fantasy owners — and, you know, the Detroit Tigers — also dig things like RBI and batting average. Well, Fielder is delivering all of the above through 12 games. He is hitting .429 (best in the American League) with five homers and 19 RBI. Fielder has hit safely in nine straight games with nine hits, two home runs, and nine RBI in his last four.

John Buck (Mets) – In his last five games, Buck has four dingers and 10 RBI for a relatively surprising Mets team. His average is a solid .317, and his six home runs trail only Atlanta's Justin Upton among the major league leaders. Buck's Mets are +1500 to win an NL East expected to be dominated by the Braves and Nationals (both +110).

Chris Johnson (Braves) – Speaking of the younger Upton, he is not the only one getting it done for the best team in baseball. Johnson, acquired in the same deal with Arizona to help replace Chipper Jones and Martin Prado, is second in the NL with a .405 batting average. He has 13 hits in his last six games, including a mammoth homer last weekend at Washington.

Hitters – Cold

Jason Heyward (Braves) – Just think if the one-loss Braves had Heyward, Dan Uggla, B.J. Upton, and Freddie Freeman (who is on the DL) in decent form…. Heyward, who hit .227 in 2011 but improved that mark to .269 last season, has a mere four hits in his first 39 at-bats (.103). One homer and four RBI are not going to get the job done.

Victor Martinez (Tigers) – Martinez went deep 40 times last season in his first go-around with the Tigers. He is currently on pace for a grand total of zero this year. The left-handed slugger is hitting just .146 with four RBI. Of his six hits, not a single one has gone for extra bases.

Matt Kemp (Dodgers) – Kemp briefly surfaced above the Mendoza line during Monday night's loss to San Diego, but he currently sits at .196 with no longballs and four RBI. The Dodgers' slugger is +2000 to lead the major leagues in home runs. Jose Bautista (+700) is favored, just ahead of Justin Upton and Albert Pujols (both +800).

Read more articles by Ricky Dimon