MLB Handicapping: Hot/Cold Pitchers and Hitters Betting Report
by Ricky Dimon - 8/1/2013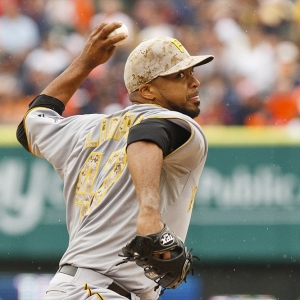 Break up the Bucks! Yes, the Pirates are the best team in baseball. Combined with St. Louis' seven-game losing streak, Pittsburgh's four-game surge has it 2.5 games ahead of the rest of the pack in the NL Central. Whereas the Pirates are red hot, it has been a different second-half story for Chris Davis. Let's take a hot-or-not look around baseball heading into August.

All odds provided by Sportsbook.ag.

Pitchers – Hot

Francisco Lariano (Pirates) – The Pirates, who have won four in a row against NL Central rival St. Louis in their current five-game series, are suddenly atop the division with some room to spare. Liriano went seven innings on Monday while allowing only one run and striking out eight. Last week at Washington he mowed down eight in 7.2 innings, during which the Nats mustered two hits and zero runs.

Jered Weaver (Angels) – As recently as June 27, Weaver's E.R.A. was 4.65. Fast forward just more than a month and now it's 2.84. That's what happens when you surrender no more than one earned run in six of your last seven starts. In his last three outings, the Angels' right-hander has given up a mere 11 hits and one run in 21.2 innings of work.

Jim Henderson (Brewers) – Henderson has four saves this week in four almost-perfect innings. Milwaukee's red-hot reliever has allowed only two hits and no runs in his last four appearances, all of which have been one inning long. Henderson has not been scored upon in his last 7.1 innings. The Brewers are obviously way out of the race for the NL Central, in which St. Louis is even-money to prevail ahead of Pittsburgh (+125).

Pitchers – Cold

Josh Johnson (Blue Jays) – The Blue Jays have dropped six straight games started by Johnson, and he has taken the loss in five consecutive contests. In the last three of those, Johnson has given up at least five earned runs without going more than six innings in any of them. The right-hander allowed seven runs and watched three balls leave the yard against Houston last Saturday.

Jordan Zimmermann (Nationals) – From June 4 to July 6, Washington won seven starts in a row made my Zimmermann. However, the Nationals—who are now a ridiculous 11 games behind Atlanta in the NL East—have lost Zimmermann's last three starts. He surrendered seven runs in just two innings to the Dodgers on July 21, and last Friday he gave up five runs in 6.2 innings against the Mets. The Nats are +600 to overtake the Braves (-4000).

C.C. Sabathia (Yankees) – At times during the life of this historic franchise, it was an upset when the Yankees were the fourth best team in all of baseball. Now they are the fourth best team in their own division. It's no thanks to Sabathia, whose last four starts have been lost by New York (he is 0-3 in that span). The southpaw has lasted five innings while yielding seven runs in each of his last two appearances.

Hitters – Hot

Daniel Murphy (Mets) – Murphy is hitless in his last four at-bats (a relative slump by his standards), but from July 6 to July 30 he hit safely in 19 of 21 games. The Mets' second baseman has five multi-hit performances in his last 10 contests. Last Friday at Washington he went 4-for-5 with two homers and five RBI.

Edwin Encarnacion (Blue Jays) – A six-game hitting streak came to an end on Wednesday for Encarnacion, who still has 11 hits and three longballs in his last six. Toronto's first baseman has crossed the plate in each of his team's past three games, and he has scored seven runs in his last seven. Encarnacion is +1200 to lead the majors in home runs. Chris Davis is -300.

Giancarlo Stanton (Marlins) – Stanton's recent hot streak is showing signs of coming to an end, but he still has three yahtzees in his last 10 games, and he has four multi-hit games (all four in succession) in his last seven. Miami's right fielder has driven in runs in eight of the team's last 11 contests.

Hitters – Cold

Chris Davis (Orioles) – Davis finally homered on Tuesday. It was his first since the all-star break, a span of 10 games without going deep. Baltimore's breakout star of 2013 has not had a multi-hit game since July 22, and he has struck out in a whopping 24 consecutive games. Davis has been mowed down 16 times in his last eight outings.

Matt Carpenter (Cardinals) – Carpenter was hitting .326 as recently as July 20, but his batting average has since dipped to .311. St. Louis' second baseman went hitless in four of his last five games, and he had only one total hit during that span. Carpenter has not enjoyed a multi-hit game since July 24, and he has not homered since July 10. The Cardinals are +225 to win the NL Pennant and +700 to win the World Series.

Darwin Barney (Cubs) – Barney has not had a good year, but it has been especially bad of late. The Cubs' second baseman is hitting .103 in his last 11 games to see his average plummet to .211 for the season. Barney is not a power hitter by nature, but he has only two home runs since June 21, and he has gone without an RBI in nine of his last 10 games.
Read more articles by Ricky Dimon