PGA Tour Golf Handicapping: Rory McIlroy Struggling
by Trevor Whenham - 3/5/2013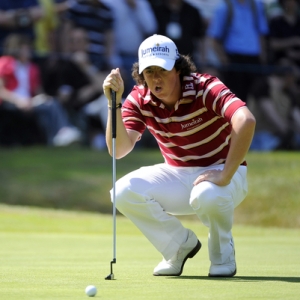 A few months ago, Rory McIlroy was on top of the world. He won his second major last year, and then he went on to win the money titles on both the European Tour and the PGA. He parlayed that into a massive contract with Nike. He wasn't quite ready to be the next Tiger, but at this point he was bigger than the great one has been in a long time.
On Monday he celebrated his 23rd birthday, but it didn't come at the happiest of times. In fact, his season so far has been a disaster. First he missed the cut in his first tournament of the year in Dubai. Then he was knocked out in the first round of the WGC Match Play. Last week he really stepped into controversy, though. After a lousy 27 holes at the Honda Classic, he picked his ball up after nine holes, walked away, and jumped into his car and drove home. He claimed a toothache at first, but he has since admitted that it was not his tooth but his head that was a mess. In other words, he quit, and he has faced a world of controversy since as a result.
As the top golfer on the planet right now, McIlroy is of strong interest to bettors — both serious bettors and the casual fans who pay attention when the action gets intense. That means that his struggles are particularly interesting. Is he going to be able to get back on track? How soon? Here are three factors to consider:
New equipment
McIlroy used Titleist equipment from when he was 14 to the end of last season. Once he signed the new deal with Nike, he made a full change — Nike clubs, driver, balls and clothing. When guys make a major change of equipment like this they will often ease into it slowly. McIlroy jumped right in. If you or I changed equipment, it might not make that much of a difference. For a pro, though, it can be very significant. He and his coach downplayed it — saying the shafts were the same, the club styles were similar, and the ball would only require a minor adjustment. That doesn't seem to be the case so far, though. While this is a big part of the reason for his struggles, it isn't going to last forever. Nike makes good equipment that guys win with, and McIlroy wasn't winning just because of his Titleist equipment. Therefore, sooner or later he will find his way again. It will just take more time than expected.
Age
McIlroy is only 23. Walking off the course was ridiculously immature. However, despite his success, he's still young enough that acts like this will happen. He's shown a lack of patience and maturity in the past in dealings with media members and competitors at times. He's had a whirlwind of an offseason as well. Besides the big contract and the scrutiny that accompanied it, he was named a member of the Order of the British Empire over the break. His relationship with tennis player Caroline Wozniacki has been in the news a lot worldwide, and in Britain he is a regular subject of the tabloids. His national affiliation has become an issue this year as well — he could play in the Olympics for Northern Ireland or the UK, and he has threatened not to play at all to avoid making the decision. Add that all up, and it's no wonder he hasn't been completely focused.
It's Early
With apologies to the Match Play, nothing that has happened yet matters to McIlroy or any other serious golfer. The first two months of the golf season are all but meaningless. Things don't really get rolling until the lead up to the Masters. By this point last year he had a first and two seconds, but it wasn't until the second half of the season that he really found his form and began to dominate. There is no reason to panic at all. In fact, a slump is something we have seen before. Even last year in his dream season, he followed up a second-place finish in the Wells Fargo with three straight missed cuts, a seventh-place finish, and then another missed cut. Back then there were rumbles about what was wrong with him — his attitude, focus and age were all raised as possibilities. He won four more times including a major, consecutive playoff events and the European championship, and he had three more Top-5 finishes. He was fine then, and sooner or later he will be fine now, too.
Read more articles by Trevor Whenham