Sports Betting Tips: How to Best Deal With Losing Streaks
by George Monroy - 3/13/2013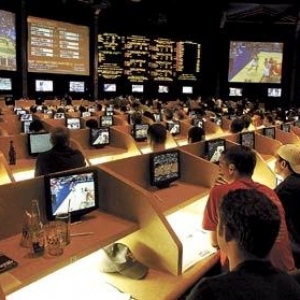 Sports betting can a brutal undertaking. Every gambler who has ever placed a bet has, at one time or another, been on the wrong end of a beat beat or suck out. We've all been there. Whether it is a meaningless half-court shot that kills a spread or a last-second pick-six that destroys an "over" or "under," as gamblers we all know that sports betting can be painful at times.
One of the worst situations a sports bettor can go through is a long losing streak. Not being able to pick a winner over an extended stretch of time can really impact a gambler's bankroll and overall confidence.
Get up to $1000 in sign-up bonus!
at Mybookie
CLICK HERE
Sometimes, during those losing streaks, it feels like you couldn't pick a winner if your life depended on it. It feels like your analysis is always wrong or even that the sports gods are conspiring against you. If you were to wager on an under, the game would probably hit that mark by halftime. If you wager on an underdog, they get blown out by end of the first quarter. Those streaks can get so bad that if there were a support group for bettors who can't win a bet, there'd be a line out the door. Since this is a topic that every sports bettor, casual or professional, can relate to, let's take a closer look at losing streaks and figure out a way to survive them.
Losing streaks are a part of the game
If a sports bettor were to tell you that he's never been through a losing streak, he is either lying or is about to be hit by one so bad that you do not want to be within a five-mile radius when it happens. The unfortunate truth about sports betting is that losing streaks happen — and not just to you either, they happen to everyone. The good news is that you are not the unluckiest gambler to ever place a bet, and you can stop feeling bad about yourself. The bad news is that long losing streaks are a part of the odds. The math requires them.
The truth is, over a certain set of bets, losing streaks are bound to happen. If a gambler were to make 500 wagers on 50/50 propositions over the course of a year — which might be a low amount for the regular bettor — the odds state that he should lose 10 straight bets 21 percent of the time. There is better than a one-in-five chance that a player who bets on a regular basis will lose 10 games in a row over 500 bets. Those are some alarming, yet comforting, stats.
Let's even take it a step further. A player who makes 500 bets a year will almost certainly go through a 10-game losing streak at least once in a five-year span. Those odds are comforting in the sense that you know a losing streak is bound to happen, and you can write it off as part of the process and not have those streaks shake your handicapping confidence.
Taking a look at the odds
Sports betting can be an extremely mathematical-based undertaking at times. Knowing and understanding that losing streaks happen can really set a player at ease. Those streaks are not a consequence of your bad handicapping skill or bad luck. It's simply the math. Here is a quick look at the odds for various losing streaks
The odds are calculated for wagers that are 50/50 propositions (a standard spread bet), and are assessed over a 500-game period.
Two-game losing streak: 100 percent
Three-game: 100 percent
Four-game: 100 percent
Five-game: 99.97 percent
Six-game: 98 percent
Seven-game: 86 percent
Eight-game: 62 percent
Nine-game: 38 percent
The odds of an extended losing streak are very high up until the eight-game mark. So, there is a very good chance that over a year's worth of sports betting you will lose seven games in a row. Of course, the better you are at handicapping the less frequent those losing streaks will be. However, simply understand that those long losing streaks are bound to happen. Remember to bet wisely, and may the spread be with you.
Read more articles by George Monroy