WNBA Betting One of Best Sports for Profit
by Indian Cowboy - 6/24/2013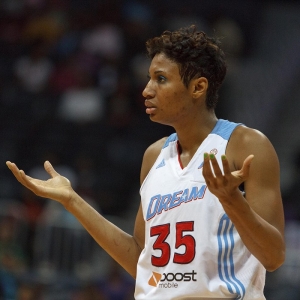 Just because King James and his Miami Heat concluded the NBA season with their seven-game championship series victory over the San Antonio Spurs does not mean basketball bettors have to wait until fall and college ball to wager on hoops.
The WNBA season is just getting into its groove, and while the ladies don't get the ink they might deserve, they still play a good brand of basketball. And the money you can make off the games spends just like NBA winnings.
And hoops is still hoops, so the wagering principles remain the same; teams that play good defense, are smart with their shot selection, tough on the boards and take care of the ball are going to win more games and cover more pointspreads than those that don't.
Here's a quick look at how the WNBA is shaping up, a quarter of the way into this season.
The Atlanta Dream have been the best team in the league so far this year, winning seven of their first eight games. Atlanta is led by G Angel McCoughtry, who ranks second in the league in scoring at 21 PPG. But this team does its best work on the other end of the floor, where they lead the league in scoring defense, allowing 70 points per game, and second in FG defense, holding foes to 39 percent shooting.
The Dream is also 6-2 ATS this season and 4-0 ATS at home. But as the oddsmakers and betting public begin to catch on to what Atlanta is up to, there stands a good chance that ATS mark will trend back toward the .500 mark.
Atlanta is also already 4-1 SU and 3-2 ATS against teams that made the playoffs last year, including an outright victory at defending WNBA champion Indiana.
The Minnesota Lynx scratched their way to the best record in the league again last year before losing in the WNBA Finals, and this season they lead the Western Division with a record of 6-2. Minnesota ranks third in both scoring at 83 PPG and FG shooting at 45 percent, and they are fourth in FG defense at 41 percent. But the Lynx's big advantage comes on the boards where they're out-rebounding opponents by over eight per game.
The main problem, though, with betting on Minnesota is the large pointspreads; so far this season the Lynx have already been favored by double-digits six times, going 3-3 ATS in those games.
Elsewhere around the WNBA this season the Washington Mystics, who won just five games all of last season, have already won four games, thanks in large part to newcomer Ivory Latta. The Mystics are 6-2 ATS.
On the other end of the spectrum, the defending league champion Fever, after going 22-12 last year, are just 1-6 both SU and ATS this season; and the Connecticut Sun, who won the Eastern Division last year by going 25-9, are just 2-6 SU and 3-5 ATS this season.
The quandary for WNBA bettors now becomes whether to begin to play Indiana and the Sun in hopes that those teams will turn things around, or to go against them and expect more of the same.
Finally, while the Tulsa Shock are only 3-8 so far this season, they've been the best team in the league to bet on, going a profitable 8-3 ATS.
As far as the "over/unders" are going in the WNBA this season, even though five teams are averaging better than 80 PPG and eight teams are allowing more than 75 PPG, the totals have leaned toward the unders this season by a lopsided 56-36 margin. This indicates to us that oddsmakers, and to a degree their betting clientele, are still overestimating WNBA game point totals.
The Indian Cowboy Team has won six of its last 10 WNBA picks this season, and is at 60 percent for the campaign. Check out IC's page for details. Also, Indian Cowboy wants you to try out his MLB handicapping service for free. Click here to get $60 in free Indian Cowboy baseball picks. There is no obligation for this offer, and you don't even have to enter credit card information. You can get $60 worth of Indian Cowboy picks for any sport he handicaps, including WNBA.