2014 Belmont Park Opening Day Picks
by Trevor Whenham - 9/5/2014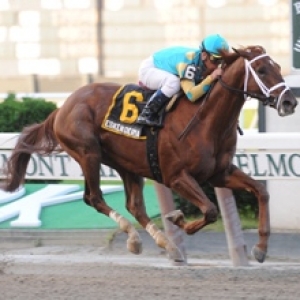 Saratoga, the greatest race meet of the year in North America, has come to an end. Now the heart of east coast racing moves to the somewhat less glamorous but no less important confines of Belmont Park for a meet that stretches from September 5 to October 26. The very best horses on the east coast will be here, and the Breeders' Cup fates of many horses will be determined by how they perform in races over the two months of this meet. For the month of September it is the best racing happening in North America by a pretty wide margin, so Belmont in the fall is certainly worth paying attention to.
The meet features no fewer than seven grade I stakes. Five go on September 27 on a truly epic card. The Jockey Club Gold Cup is shaping up to be a great older horse grudge match headlining that day, while the Beldame features the top racing fillies and mares on dirt, the Flower Bowl puts the fillies and mares on turf, the Joe Hirsch Turf Classic is a turf marathon, and the Vosburgh is a major test for sprinters. All five races will have major impacts on Breeders' Cup fields. If you are only going to watch one day of racing between now and the Breeders' Cup, that should unquestionably be it. A week later, the Frizette will test the top two-year-old fillies on the east coast, and the Champagne will pit the top two-year-old colts against each other. Both are major preps for the Breeders' Cup juvenile races a month later. Add in 13 other graded stakes and 22 other listed stakes with six-figure purses, and you have great meet.
The best part of this meet - and all the top fall meets - is the emergence of the two year olds. Handicapping them the first time out takes a leap of faith and a firm belief in the importance of breeding. Once they start to gain experience the stars will emerge, and the excitement of the next Triple Crown season will be here.
There are three races on the opening three days of the meet that stand out to my eye as particularly interesting:
Race 8, Friday September 5 - Left Bank Stakes
This is a surprisingly interesting field despite only having six horses entered. Alpha (5/1) won the Travers and Jim Dandy as a three year old in 2012 and the Woodward last year. As a five year old he has yet to find his form, though, and I fear his best is behind him. Golden Ticket (4/1) also won the 2012 Travers - a very rare dead heat gave him a share of the win at 33/1. Since then he has had a few near misses but no major scores. Pants on Fire (2/1) burned my money by finishing ninth in the 2011 Kentucky Derby, but he has had multiple graded stakes scores since. He is winless in two starts at Monmouth this year, though, so I don't see value in the price. The horse I do like is Integrity (5/1). He has three wins this year, though he misfired last time when stepping up to graded company. He was rested after that effort and should be sharp here. I like the breeding and the connections, and he fired three bullets in August training for this outing. The price is right.
Pick: Integrity to win
Race 9, Saturday September 6 - Yankee Affair Stakes
Sometimes when things seem to make no sense at all you just have to have faith that there is some logic in them somewhere. Such is the case in this mile and a half turf test. Elnaawi (5/1) is a horse I took mild interest last year in the Wood Memorial, a key Kentucky Derby prep. He was a disappointing fifth, though, and I forgot about him. After running in five allowance races this year and winning two he has tried stakes again his last two times out. He was ninth at a mile in a grade III, and then fourth at a mile and an eighth. Both races were at Monmouth on the dirt. He has not shown turf form, and we don't know much about his distance capabilities. Yet here he is on a mile and a half on the turf. Hmmm. I respect trainer Kiaran McLaughlin a lot, so maybe this is so crazy that it just might work. It's not like it is a deep and overwhelming field he faces.
Pick: Elnaawi to win
Race 4, Sunday September 7 - Real Courage Stakes
There are horses you just can't pass on, and for me one appears here. Za Approval is a horse I love. Great breeding. Honest efforts. Stunning athleticism. The six year old has it all. After a near miss in the Breeders' Cup Mile last year he has struggled to find his form in four outings this year. I really like how he is working lately, though, and Belmont is a track that has treated him well. His time is here again.
Pick: Za Approval to win.
Read more articles by Trevor Whenham