2014 Breeders' Cup Pick 6 Betting Advice and Tips
by Trevor Whenham - 10/23/2014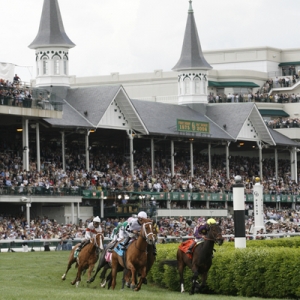 Now that the pre-entries are in and the big day draws near, all of my attention is on the Breeders' Cup - the greatest two day festival in sports. Breeders' Cup thoughts inevitably inspire dreams of winning the Pick 6. It only makes sense - the Saturday Breeders' Cup Pick 6 is the biggest prize in horse race handicapping.
Monetarily, the payoff is big enough to make you rich most years. From a skill and prestige basis, though, the prize is even bigger. You can't really win this bet if you are just lucky - or at least it is incredibly hard to do so. You have to have a blend of skill, strategy, bankroll - and luck - to come out on top. This is big league handicapping. If you are not a serious, seriously experienced handicapper and you are thinking of taking a shot at the Pick 6, the best advice I could give you is simple - don't. Aim at the much more manageable Pick 4s or even Pick 3s instead and give yourself a real shot at success. If you are determined to wade into the deep end and attack the Pick 6, though, here is some tips and advice to keep in mind:
This is really hard: There were a record number of entries in the Breeders' Cup, so we are likely to see close to the maximum of 14 horses in each of the six races. These are not bad horses that are easy to dismiss, either. They are top-level horses that have earned their way into these prestigious fields. Any horse can win on any day, but that is especially true here. With 14 horses per race there are more than 7.5 million different combinations of potential Pick 6 tickets. Only one will be the winner. It's not a wonder that tracks love to offer this bet. In both 2005 and 2006 a winning ticket was not bought on Breeders' Cup day. In 1999, 2003 and 2009 there was only one winner - and they were obviously very happy as they collected their riches.
Sometimes things are a lot easier than that. Last year, for example, there were three of the six races that ended in a very predictable fashion, and none of the six had truly shocking outcomes. It was the most winnable Pick 6 in years. The payoff, unfortunately, reflected that - a winning ticket was worth just $47,516.20. That sounds like a lot of return for a $2 investment, but when you consider that most bettors invest thousands to cover many potential combinations the actual ROI was not likely enough to justify the risk. In fact, there were probably multiple bettors who had a winning ticket and just barely broke even.
All of this isn't necessarily to scare you away from the Pick 6. It can be a thrilling challenge. Just be sure you know what you are getting into. If you are looking to just throw a few bucks into something and hope to hit the jackpot, just buy lottery tickets - the odds aren't much worse, and the payoff is better.
Find some friends: More is always better in the Pick 6. The more combinations you can have covered, the better. Sure, the ROI is going to be less, but it is better to have a good shot at a really good payoff then a much worse shot at a great payoff. The easiest way to do this is to pool your resources with a few other bettors. If five people are each looking to bet $200 on the Pick 6 then their individual tickets aren't going to go too deep, and they aren't likely to cover many particularly unique - and therefore more lucrative - options. If those five bettors all combined their resources then their $1,000 could buy many more combinations because they wouldn't have to all cover the same ground. They would only have a shot at a fifth of the pot instead of the whole thing, but their increased chances of success more than make up for the decreased potential jackpot. Crafting the ticket as the group is also incredibly fun - and potentially wildly educational as well.
Don't invest the whole day's bankroll: A big problem with the Pick 6 is that your chances can essentially be over hours before the Classic if you miss on an early race. There is no better way to ruin a great day at the races than to be broke and depressed early in the day. Bet on the pick six if you want to, but be sure you have the resources left to bet on other races, and take the Pick 3s as well. The Pick 6 is a home run swing, but games are more often won with a bunch of singles and doubles.
Look for a single - maybe: Nothing reduces the overall cost of a Pick 6 ticket more than having a single horse selected in one race. If you were picking four horses per race then your ticket would cost $8,192. If you singled just one race and picked four horses in the other five races, that cost would drop to $2,048. Of course, it also increases the risk dramatically because all of your eggs are in one basket. You need to be certain, then, that you are backing an exceptional horse. This year, if things aren't too haywire early on many tickets will likely make it to the Classic with Shared Belief as a single. Wise Dan would have been a popular single in the Mile until he was hurt, too. The worst thing you can do when looking for a single, though, is to force something that doesn't feel just right. If you have to work hard to debate whether a horse is a single or not then he absolutely isn't.
Get free picks from any Doc's Sports handicapper - there is no obligation for this offer and no credit card required. Just sign up for an account, and you can use the $60 in free picks for any Doc's Sports Advisory Board handicapper and any sport. Click here to get started now.
Read more articles by Trevor Whenham