2014 Breeders' Cup Track Trends and Handicapping
by Trevor Whenham - 10/23/2014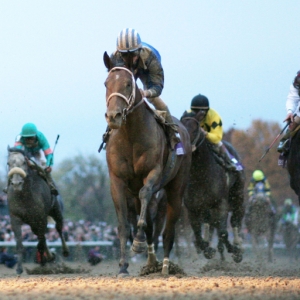 The biggest thing to remember when trying to handicap the impact the track will have on this year's edition of the Breeders' Cup is that we really will have no true idea until the races start. The championships have been at Santa Anita many times lately, so you would assume we could look back at what has happened recently to see what we can learn. While that is mostly true on the turf tracks, it would be extremely dangerous to do so on the dirt. The reason is simple - Santa Anita changes track surfaces about as often as I change shirts. This July they changed surfaces yet again - the fifth major renovation in the last eight years. They went from dirt to a synthetic surface, changed synthetic surfaces, went back to dirt, added more sand to the dirt, and most recently stripped all of the dirt out and replaced it with local sand. Santa Anita is a beautiful, historic place, but the last decade has not been one to remember when it comes to surface maintenance.
The other thing you have to remember is that you can't assume that the management of the track and the Breeders' Cup are collectively smart enough to make sure that their surface is ready and fair. Last year's Breeders' Cup Friday card was honestly the most preposterous day of racing I have ever seen. There was a superhighway in an outside lane, and the early speed that hit the highway won every race - regardless of how good they were. It was such a mess that not a single winning ticket was bought in the Pick 5. It would have been a farce of a day if it was on a Wednesday night in Des Moines, never mind that it happened on the sport's biggest day. Luckily, some aggressive maintenance overnight had things working a bit more fairly by Saturday.
Since the new track was installed this summer, the only thing we can look at to really gain any insight into how the track is working is what has happened since they began running at Santa Anita for the fall meet in late September. The sample size is small, but when you look at the results of races over the first three weeks of the meet a few things stand out. First, being on the rail for everything but six-furlong sprints has been advantageous. In the six-furlong races outside horses have had a bigger advantage. Really, though, the inside trend is what most would assume, anyway, so it doesn't help us much.
What is far more interesting is the number of horses that have been wiring fields - leading from the start of the race to the finish line. Forty-two percent of mile races on dirt, and 47 percent of races at a mile and a sixteenth, have been wired. By contrast, at the current Belmont meet, which is also on dirt, only 26 percent of mile dirt races and 19 percent of mile and a sixteenth races have been won by front runners. The September Churchill meet offers an even starker contrast - they saw only 17 percent of winners come from the front at a mile and an almost unbelievable eight percent at a mile and a sixteenth. No matter how you turn it, the front runners have had an advantage so far at Santa Anita. It remains to be seen if they can - or want to - correct that bias before the Breeders' Cup arrives.
The good news, at least, is that favorites are performing about as expected. In general terms, we hope to see favorites win about a third of all races and finish in the money in three-quarters of races. So far in this meet favorites have won 33 percent, and have been in the Top 3 74 percent of the time. Practically perfect.
A final potential complication for this track is the possibility of rain. The forecast currently indicates a 40 percent chance of showers for the Saturday card. L.A. is in the midst of a punishing drought, and they have essentially had no rain all summer and fall. If the rain were to come in any quantity then we can't really know how the track will handle it. We also don't know how any of the horses that have a race on this new dirt surface - including Classic favorite Shared Belief - would handle an off track, because they haven't seen one.
Get free picks from any Doc's Sports handicapper - there is no obligation for this offer and no credit card required. Just sign up for an account, and you can use the $60 in free picks for any Doc's Sports Advisory Board handicapper and any sport. Click here to get started now.
Read more articles by Trevor Whenham