Chris Davis Odds to Win 2014 MLB Home Run Crown with Picks and Predictions
by George Monroy - 3/5/2014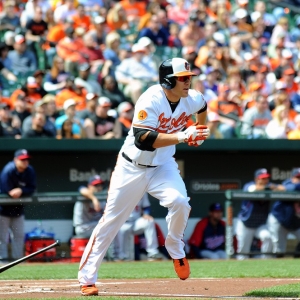 Baltimore Orioles' first baseman Chris Davis had a breakthrough last season and unleashed a bat filled with power and speed on the American League. The six-year veteran managed to outpace AL MVP Miguel Cabrera in both home runs and RBIs and stopped the Detroit Tigers' superstar from winning a second straight Triple Crown title. Only 16 players in MLB history have hit more than 53 home runs—the mark Davis set in 2013—in a single season.
The Orioles' slugger made quite a leap from 2012 to 2013, hitting 20 more home runs than he had in the previous year. Davis has the power, but the question is whether or not he can keep up with last season's ridiculous pace. Let's take a closer look at Davis' home run crown futures odds with picks, predictions and analysis. All odds come from Sportsbook.ag
Chris Davis 2014 MLB Home Run Crown Story Lines
The majority of Davis' home runs came during the first half of the season where he hit 37 long bombs with a batting average of .315. After the all-star break, however, the first baseman managed to hit only 16 home runs with a .245 batting average. The jury is probably still out on whether Davis can continue to progress as a player and become a superstar slugger in the AL. Making the jump from 33 to 53 home runs in a single season is a huge task, and Davis may not be able to sustain that type of production.

Baltimore is not expected to be much of a factor heading into the season and is currently receiving the 15th-best World Series odds at +4000, the ninth-best AL pennant odds at +200 and second-to-last AL East division odds at +600. The team's lack of talent, however, will probably not affect Davis' home run production too much and may even help the slugger, who could start 'swinging for the fences' every at bat.
In 2013 Davis ranked in the top two in home runs, RBIs, runs, slugging percentage and on-base percentage. However, Davis has not been nearly as accomplished in any of his other five seasons as a professional. Last year's home run king played only 108 games in 2011 and 45 games in 2010. Davis is expected to enter the season healthy and will be the centerpiece of Baltimore's offense.
Chris Davis 2014 MLB Home Run Crown Betting Odds and Key Stats
Davis is currently the co-favorite to win this season's home run crown with +700 odds, along with Miguel Cabrera, at Sportsbook.ag. Last year Davis led the AL in home runs with a whopping 53 long balls. He also had 167 hits over 584 at bats in 160 games played. The first baseman had a .266 batting average to go along with his 138 RBIs and was walked a total of 70 times.
In 2012 Davis played only 139 games and didn't produce the eye-popping stats that he would the very next year. Davis had 33 home runs, 85 RBIs and 139 hits in 515 at bats during the season.

Chris Davis 2014 MLB Home Run Crown Picks and Predictions
Only two AL players have won back-to-back home run titles in the last decade—Jose Bautista and Alex Rodriguez. But at this point, during an era of improved pitching and reduced home runs, Davis has as good of a chance as any other player. During the last two years, prior to Davis' win, the home run crown was won with 43 and 44 home runs. And while it might be unreasonable to expect the Baltimore slugger to hit over 50 home runs again this season, breaking the 40-something mark is well within his reach.
Expect Davis to hit in the mid- to high-40s and become one of the breakout stars of the season. Wagering on Davis at +700 feels like a great wager to make, especially since he is still young and looking to prove himself under the bright lights of the major league.
Try $60 worth of member's baseball picks absolutely free with no obligation and no sales people. Your $60 in free MLB picks are here.
Read more articles by George Monroy