College Basketball Handicapping: Teams Motivated for Conference Tournaments
by Trevor Whenham - 3/11/2014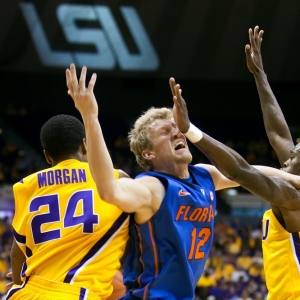 As we enter major conference tournament time in college basketball there are inevitably some teams that are going to be more motivated to succeed than others. Here's a look at one team poised for a big performance in each of the seven most important conferences ( odds to win their conference tournaments are from Bovada):
Michigan, Big Ten (3/1): After losing two players to the first round of the draft, and a preseason All-American to injury before Christmas, this team should have been in trouble. Instead, they won the statistically toughest conference in the country by three games. Impressive. And improbable. They have beaten every team in the conference this year, so they have no real scores to settle. What they do have to play for, though, is a seeding. They are currently penciled in as a No. 2 seed in the NCAA Tournament, but that is slightly fragile. They need to win at least once to maintain it. Looking further, though, they know that there is a small but existent chance to move up to a No. 1 if they win their tournament and others falter. They drew well in this field, they are playing their best ball right now, and they will be ready to prove themselves.
Creighton, Big East (7-to-4): They took a big step up in leagues this year and have played very well. Their star player is a lock for every major individual award. It is an impressive time to be a basketball fan in Omaha. The Bluejays have dropped two of their last three games, though, and neither of those losses - at Xavier and Georgetown - were great. The window slams shut after this year when Doug McDermott graduates, so this team knows that their time is now. They will be looking to play their way into form now so that they are ready to play into April.
Syracuse, ACC (3-to-1): It's hard to believe, but not that long ago Syracuse was the top-ranked team in the country and seemed to be in cruise control en route to a No. 1 seed. Then everything went wrong. They lost a shocker to Boston College. Then lost at Duke. Were crushed by Virginia. Then dropped a stunner against Georgia Tech. Four losses in their last six. Far, far from ideal - and a trend that badly needs to be reversed heading into the tournament that matters. We know from the past that Jim Boeheim teams love conference tournaments. They need to prove it again here.
Oklahoma State, Big 12 (5-to-1): The Cowboys have played 31 games. In their first 17 they were a strong 15-2 and were almost universally praised. In the 14 since, though, they are just 5-9, lost seven in a row at one point, endured three games without superstar Marcus Smart when he was suspended, and they generally struggled. They have won four of their last five, though, and lost in overtime at Iowa State in their finale. They are likely going to squeak into the NCAA Tournament field, but they desperately need to get some wins to get back on track. More significantly, they need to prove to themselves that they are a better team than they have seemed since early January.
Oregon, Pac-12 (7-to-1): The Ducks are an incredible story. On Feb. 8 they lost at Arizona State to drop to 3-8 in the Pac-12. They were completely irrelevant. Since then, though, they have won seven straight, capped by an impressive home win over Arizona to finish their season. This is obviously a team that is streaky - they won their first 13 games then lost eight of 10 before now getting hot. They need to keep that momentum going for as long as they can, and they are playing well enough to do just that.
Florida, SEC (2-to-3): Florida hasn't faced adversity since losing on Dec. 2. They played a laughably soft conference schedule. They can't afford a setback now. They also have the top seed in the tournament all but locked up, but they can't afford to falter early and threaten that standing. This is a team that is absolutely good enough to cruise through the SEC Tournament, and it would cause some real questions to be asked if they didn't.
Louisville, AAC (2-to-3): This is when things get serious for the Cardinals as they look to defend their title. They have done little seriously wrong this year aside from losing twice to Memphis. They are a good team, but they need to step their game up a level or two if they want to repeat their title. Last year they rode a brilliant performance in the Big East Tournament into success into April. They'll again be looking to build their momentum through their conference tournament, and they know they will have to be in top form because the AAC Tournament is not going to be easy.
Doc's Sports has the best group of March Madness handicappers on the planet with our awesome Advisory Board lineup of experts. New clients can try out March Madness picks for free from any Advisory Board handicapper on the Web site. Click here to get two days of college basketball picks for free - no hassle and no credit card needed.
Read more articles by Trevor Whenham