In-Game Betting: What is it and How to Use it During the NBA Playoffs
by George Monroy - 5/6/2014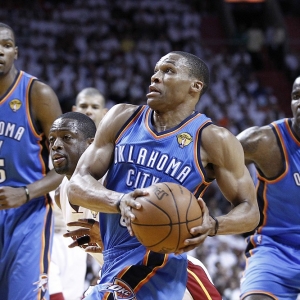 Early in the second quarter of Saturday's Game 7 matchup between the Oklahoma City Thunder and the Memphis Grizzlies, Mike Conley grabbed a rebound, sprinted across the court, and dished off an easy assist to Marc Gasol, who was waiting on the other side of floor for an easy basket.
Memphis' lead ballooned to 12, and Oklahoma City called a time out.
At that point, Thunder fans and bettors who had wagered on the series price when it opened at -400 (like I did), may have started to get a little worried. However, if you had asked any savvy gambler to wager on Oklahoma City to simply win the game, many of them would have still taken the bet.
If only such an opportunity actually existed.
Well, it did, and I took advantage of it. To the tune of a $500 bet on Oklahoma City -2.5 points for the entire game. Yes, they were down 12 points at the time, but I would have been crazy not to wager on the Thunder in that spot.
Once the game resumed, I realized I had over $1,500 riding on the game and series price. At that point, I started to get a little dizzy.
In-game betting
In-game or commercial betting is a relatively new form of sports gambling where many online sportsbooks adjust their lines and allow bettors to wager on new spreads and totals during every commercial. It's another tool that the sportsbooks use to entice bettors to wager at their site and possibly cause novice gamblers to lose a lot of money chasing bad spreads.
However, for the smart bettor in-game betting is an opportunity to find value and take advantage of bad lines that the sportsbooks are forced to put out. During Oklahoma City's Game 7, the in-game line moved from -2.5 to -3.0, and the vig ballooned from -110 to -150 in the matter of minutes. The sportsbooks did not want anyone wagering on the Thunder at -3.0, but they still had to put out a line.
How to use in-game betting
After I realized how much money I had riding on the Thunder, I began pacing around the house-it was going to be a long, restless night. However, Oklahoma City adjusted its lineup and instantly came roaring back and was up by three points heading into half time. The Thunder eventually won the game by 11 points and were up by as much as 20-they never let the lead slip below double-digits.
In-game betting lines offer situations like the one I just described nearly every single game. Oklahoma City opened up as a seven-point favorite prior to the game, and once news broke about Zach Randolph's suspension for Game 7, the line moved to 9.5. Even with the Thunder down 12 early in the second quarter, there was still very little chance that they were going to lose that game. Bettors may have the urge to panic and go the other way during that situation, but the smart move was to wager on Oklahoma City and essentiality take six points off the original line.
The big question, however, is how do bettors take advantage of those in-game situations? Let's go over a few tips and tricks for recognizing the best situations to wager on.
The first tip is not to overreact to anything that happens early in a game. Underdogs and favorites take big leads all the time only for them to be reversed in the mater of minutes.
Be patient and look for a spread that you feel comfortable with. If Oklahoma City is a nine-point favorite, look for a spot where they go down a few points and take a better number.
Don't jump on a lead after it's too late. If a team is a big favorite and then extends the lead, don't jump on a number bigger than the original spread, it's simply too risky and offers very little value.
Add points to a small underdog. If a team is a three- or four-point underdog, that means the oddsmakers are expecting a close game, so if the favorite happens to take a big lead, think about getting a bigger spread during the commercial.
Stay away from large underdogs. This tip is the opposite of the last one. It makes no sense to add extra points to a team that is already a large underdog. If the oddsmakers are expecting a blowout, adding a few extra points will probably not be the difference between winning and losing.
Remember, in-game betting is still a relatively new type of wager, so at this point no one has really mastered it. But there are excellent situations to find great value during a game. The biggest thing to keep in mind is that a basketball game rarely follows a straight line, and teams will be up and down throughout the game even if the final score stays close.

Want free sports betting picks? Doc's Sports has you covered - get $60 worth of picks free from any of Doc's Sports expert handicappers. Click here for free picks (new clients only).
Read more articles by George Monroy