March Madness Bracket Trends: Handicapping No. 1 seeds
by Trevor Whenham - 3/18/2014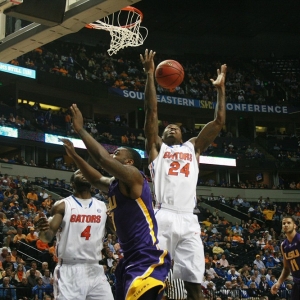 The brackets are set, and now all we can do is wait for the dance to get started. Counting seconds that never seem to pass. All we can do now is analyze some March Madness bracket trends, handicapping No.1 seeds and their chances of making it to Houston where their seed indicates they belong.
Florida Gators
The top overall seed ran through the SEC without a blemish this year. Of course, it's only the SEC. It's hard to believe that a conference so good at football can be so lousy at basketball. I'm concerned that they are reasonably untested and short on adversity they have had to overcome. Of course, there is no disputing what 26 straight wins means. Interesting fact, though — since Indiana in 1976, no team has entered the tournament on a winning streak of 13 or more games and gone on to win the title.
There are negatives, but three big positives stand out. Billy Donovan is a heck of a coach. He has won it all twice, and he has been SEC coach of the year three of the last four years. He's an obvious asset. It's also a big asset that this team starts four seniors. High-level college basketball is typically such a young-player sport, so to have this kind of depth and experience can only help. Finally, they play very strong, disciplined defense. That is never a bad thing at this time of year.
The Gators obviously earned plenty of karma all year, because they were given a kind ride to the Final Four. Kansas looms as a challenge in the Elite Eight, but up to that point Florida has a very manageable, sometimes soft path.
Wichita State Shockers
34-0. That's all you really need to say about this team. That just doesn't happen very often. Even great teams lose focus and have an off night from time to time, but the Shockers never did. The elephant in the room, though, is that they barely played anyone. Their strength of schedule is laughable, their conference is a joke, and their nonconference opponents had very few highlights. We know this team is focused and determined, but we have no idea about how they stack up with high-level teams. Just figuring out how to deal with this team makes my head hurt.
The assets for this team are obvious — they have the experience of a Final Four run, their core is not only talented but experienced, and head coach Gregg Marshall is exceptional. Aside from the lack of a real test this year, though, two things concern me. First, this is a whole new realm for them in terms of expectations. Last year they were a feisty No. 9, so every win was on house money. Now the target is on their backs, and the national media is alert from the outset. They have had a long time off since their last game to dwell on this, and that could really get in their heads. Second, this is a team that is vulnerable from deep when they are on defense. Getting hot and bombing was just how they beat No. 1 seed Gonzaga last year, and now they could fall in the same way here.
And then there is their path. Wow. I don't remember a harder path for a top seed. Kentucky in the second round. Then Louisville. Then Duke or Michigan. And that's just to make it to the Final Four. I was skeptical before I saw their bracket. Now I am openly and emphatically doubting.
Arizona Wildcats
It's really a tale of two seasons for these Wildcats — before the Brandon Ashley injury, and after it. They hadn't lost before their sophomore star went down. They lost the game he was injured in, and they dropped three of the 12 after that. That's far from a horrible record, but they weren't the same team. Of those four losses, the one I like least — by far — is the most recent. There is no shame in not winning a conference tournament, but the Wildcats lost to UCLA in a game they had no business dropping, and they played like they weren't too bothered by what happened. If they were sharp and angry they would have been impossible to beat, but they just coasted. This is not the coasting time of year.
While I have plenty of concerns, the biggest asset of this team is their defensive capability. They are so long and athletic that they can be brutally efficient on defense if they choose to be. There is also no coach in the country better than Sean Miller at making in-game defensive adjustments. I don't trust that we will see it when it matters, but if this team chooses to focus and commit then teams are really going to struggle to score against them.
Arizona's draw sees them face challenges in waves. Their opener shouldn't be tough. But then they face a brutal game against Gonzaga or Oklahoma State. Things let up next with San Diego State or Oklahoma likely. But then Wisconsin or Oregon will be very tough. Not an easy draw, but it could be worse — just ask Wichita State.
Virginia Cavaliers
Any team that wins a major conference in the regular season and the conference tournament deserves respect. This team is just getting too much by making the top line. I don't like the ACC at all this year. This is a team that got crushed by Tennessee. They lost at Green Bay. They got manhandled at home by Wisconsin. They lost to VCU. They are inflated by their conference, and just aren't tough enough or deep enough to be a legitimate threat here.
Memphis is a very tough second game for the Cavs. Survive that and they are likely to run into a Michigan State team that is suddenly very healthy and extremely dangerous. Virginia will not win three games.
Doc's Sports has had a winning tradition for more than four decades. Don't believe us? Try us out for free, and we are convinced you will be a believer. Get $60 worth of free sports picks – members' picks just like our paying clients get – here.
Read more articles by Trevor Whenham