2014 March Madness Predictions for Vulnerable High Seeds
by Trevor Whenham - 3/18/2014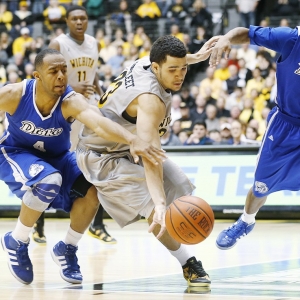 Teams earn high seeds because of their work over an entire season. In some cases, what they are capable of at this moment isn't the same as what earned them that seeding. That could make things difficult for them in the opening weekend of the tournament — especially if they are up against a tough opponent. Here are six March Madness predictions for vulnerable high seeds for 2014 March Madness:
Wichita State Shockers: Wow. Just wow. I can't remember a No. 1 seed that was given less respect than these Shockers are. Their path is absolutely brutal. The first round is a gimme, but then they likely face John Calipari and a Kentucky squad rounding into form in the second round. Win that and they likely run into Louisville, the defending champs and one of the best teams in the country right now. From there it will likely be Duke or Michigan awaiting them. That's three just horrifying games in a row — and that's just to get to the Final Four. For a team that has faced no adversity and no really impressive competition all year, this is a huge test, and they are incredibly vulnerable.
Syracuse Orange: This is a team coming into the tournament with five losses in their last seven. They would be vulnerable no matter who they are playing. Western Michigan is pesky and dangerous — more than capable of a first-round shocker. Ohio State is a very tough matchup for the Orange, and they will provide a big test if they make it to their second game. Then they likely await the winner of a Kansas-New Mexico game that promises to be a gem. Syracuse is going to lose before the second weekend. Likely before that.
Duke Blue Devils: The Blue Devils come in off a loss to a Virginia team I don't respect that much, so I am a bit skeptical. They open with a game against Mercer — a classic giant killer. They shoot the lights out, score a lot, and play fast. Then it's likely a UMass team that is dangerous and seasoned from playing in a relentless league. Win that and it's likely a rematch with Michigan in what will not be a defensive classic. That game certainly won't be as easy for Duke as their first meeting was this year. Duke has looked more fragile than they should this year, and they have plenty of opportunities to shatter here.
Virginia Cavaliers: I notice a trend — this is the third straight ACC team I have talked about. Not a coincidence. I think Virginia has no business being a No. 1, and that's not because I am a Michigan fan. They have too many eyebrow-raising losses to be this elite. They are in for a very rough ride. Memphis is the second round is a very tough No. 8. Then it is likely Michigan State. The Spartans are finally healthy, and they are just brutal — physical, relentless and huge. I will be very surprised if the Cavaliers win three games.
Arizona Wildcats: I really hated Arizona's loss to UCLA in the Pac-12 Championship Game. They got manhandled and didn't look nearly concerned enough about it. They have been a very different team over their last 12 than they were for the first two thirds of the season, and I just don't trust them. No matter what, their second game is going to be rough. Gonzaga is good as always, and Oklahoma State is far more talented than their record and is playing good ball right now. There are tougher paths for teams after that, though Wisconsin would be a very tough matchup in the Elite Eight.
Creighton Bluejays: Doug McDermott is just way too much fun to watch, and I never want his career to end. The Bluejays face immense pressure because of the high seed and the looming end of the McDermott era, though, and the road is tough. Louisiana-Lafayette has two very good players in Elfrid Payton and Shawn Long. They can score, and could make things interesting. Then comes Baylor — though Nebraska could potentially upset the Bears and set up an epic battle for state bragging rights in Nebraska. Baylor is healthy again, very athletic, and extremely dangerous as a No. 6. Win that and Creighton likely gets Wisconsin — another just brutal matchup, but in an entirely different way. I'd love McDermott to go out with a deep run, but it's not going to happen.
Get free picks from any of Doc's Sports Advisory Board of expert handicappers – and with no obligation or credit card. You can use these free picks for any sport, and you will never deal with a salesman. Click here for your free Doc's Sports picks.
Read more articles by Trevor Whenham