MLB Handicapping: Pitching Staffs to Watch in Spring Training
by Trevor Whenham - 2/19/2014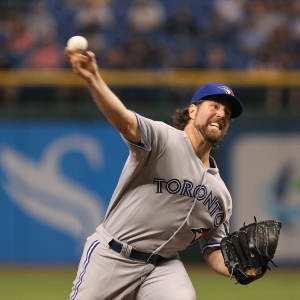 When it comes to records for teams or statistics for individual players, Spring Training really doesn't mean much. It's just a time to work out the kinks and get ready for when the season really matters.
Where the spring can be very useful for bettors, though, is in evaluating starting rotations. You don't need to worry about what kind of stats they are posting. Instead, pay attention to things like whether they are healthy enough to be taking a regular workload from the start or if they are being eased in, what order pitchers are being used in, whether a pitcher appears confident and determined or hesitant, what battles emerge for spots on the bottom of the rotation, and so on.
Thanks to changes and uncertainty there are some rotations that you will want to pay more attention to than others this spring. Here are three that stand out as needing special attention:
New York Yankees: It doesn't take a genius to figure out the big storyline here. The Yankees won the crazy bidding war for Japanese superstar Masahiro Tanaka. He will be relied upon heavily in this rotation — a rotation that has let this team down the last couple of years. Is he up to the challenge? Can he deal with the hype, pressure and scrutiny? And to what extent is the betting public going to overreact to his heavily hyped presence? That's the biggest issue with this team, but far from the only one.
C.C. Sabathia has lost a lot of weight this offseason. Can he be the same old pitcher with a whole new body? Can Ivan Nova keep moving forward, or was last year a sign of an impending plateau? Can Hiroki Kuroda win more games (he was an underwhelming 11-13 last year)? Who will be the fifth starter, and can he be relied upon?
There are so many questions, and for a team facing a lot of changes this year the pitching will be more important than ever. We'll have to play close attention early on — especially to the top two starters.
Toronto Blue Jays: Last year the pitching for the Jays was supposed to lead the team all the way to the World Series. It obviously didn't turn out that way. Now the expectations are dramatically lower, and on paper the rotation isn't as good as it was supposed to be last year. If it can be solid, though, then this team has a chance to surprise — at least a little bit.
R.A. Dickey has already been named opening-day starter. He was pretty underwhelming last year, though, and he's 39. Can he find his Cy Young magic again, or is he on the decline? Brandon Morrow is very talented but even more injury prone. He is healthy now, but if he can't stay that way then this team is in some real trouble. Mark Buehrle needs to be better as well. Esmil Rogers needs to step up and play at a higher level than he has before. So does J.A. Happ.
A whole lot rests on this rotation, and we'll know early on if they have a chance of living up to their needed role.

Pittsburgh Pirates: Francisco Liriano is only 30 years old. That's not relevant to anything, really. I just mention it because it seems that he has been around for so long that I would have guessed he was at least 35. Beyond his agelessness, it will be crucial to watch him to see if he can maintain his newly-rediscovered excellence. He had his best year since emerging on the scene in 2006 by a wide margin. If he can maintain that then he will be a strong anchor for this rotation. If he struggles like he did for several years, though, then the team could be in trouble.
He's not the only question mark, though.
Gerrit Cole had a solid season last year as a highly-touted rookie, but can he take a step forward while facing bigger expectations and a bigger workload? Wandy Rodriguez missed significant time with injuries last year, and he's not getting any younger. He is penciled in as the third starter, though, so he needs to be strong. Charlie Morton and Jeff Locke are going to need to be solid out of the gate if this team wants to take another step forward as well.
The pitching for the Pirates started well and faded a bit down the stretch last year. This rotation has the potential to be solid, but the potential for disappointment is high as well. From the start of spring I'll be eagerly watching to see what the mindset is — and how healthy the key arms are.
Read more articles by Trevor Whenham