Pittsburgh Pirates Odds to Win 2014 World Series
by Alan Matthews - 3/13/2014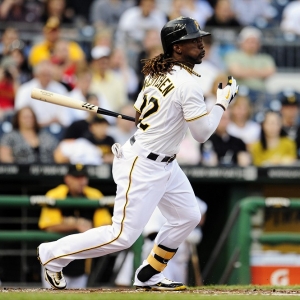 When did everyone start grading a team's offseason, no matter the sport? It probably traces to those college football recruiting rankings after National Signing Day or when Mel Kiper Jr. started grading the NFL Draft selections back when it used to be mostly ignored on ESPN. Regardless, you can find grades for every sport these days. I mention this because you rarely find any consistency among the experts when it comes to offseason Major League Baseball grades. I said "rarely," not "never". I have not found a single legitimate site that has given the Pittsburgh Pirates anything but an F. And I wholeheartedly agree.
I'm fairly shocked. The Pirates used to spend very little because they drew flies even in beautiful PNC Park. That's because the team flat-out stunk. That changed in a big way last season as the Pirates finished 94-68 for the first winning season since 1992, the last time they reached the postseason (Royals have longer playoff drought but the Pirates had the longest consecutive losing season streak in MLB). The Pirates started drawing big crowds, and the fans were electric in Pittsburgh's wild-card win over Cincinnati. Pittsburgh took a 2-1 lead in the NLDS against St. Louis before the Cardinals pitching shut the Pirates down in the final two games.
Still, baseball was back, and I'm sure Pittsburgh's season-ticket allotment took a huge jump for this season. Plus, every MLB team is awash in cash from new TV deals. So why on earth were the Pirates so quiet? I mean it, they did NOTHING in terms of significant additions while also losing pitcher A. J. Burnett, first baseman Garrett Jones and late-season additions Marlon Byrd and Justin Morneau. Do the Pirates have a good farm system? They do, but this looks like a team ready to take a major step back.
Pirates 2014 Projected Lineup
The Pirates have three guys in the lineup who might scare an opposing pitching staff: outfielders Starling Marte and Andrew McCutchen and third baseman Pedro Alvarez. That's pretty much it. Marte was limited to 135 games but emerged as a really nice force atop the lineup with a .280 average, 12 home runs and 41 steals.
McCutchen is a stud, and the Pirates made a brilliant decision in signing him to an extension a couple of years ago because he'd be worth nearly $200 million on the free market. He was the NL MVP in leading the team in average (.317), hits (185), on-base percentage (.404) and slugging (.508) while hitting 21 bombs with 84 RBIs. Very good numbers, but McCutchen won the award because voters were rewarding the entire franchise for finally making the playoffs, and he was the biggest offensive reason why. There really wasn't another stud contender on an NL playoff team. McCutchen's 2012 numbers were actually better when he finished third in the NL MVP. Alvarez will hit cleanup behind McCutchen, and he's most likely either going to strike out (186) or homer (36). His on-base percentage was just .296.
The rest of the lineup will be an easy out most nights. Pittsburgh might get the worst production in the majors at first base, and that's where you are supposed to be able to hit a power hitter even if he can't field. The Pirates ranked ninth in runs in the NL last year, the worst of the playoff teams. The 2014 lineup looks no better.
Pirates 2014 Projected Rotation & Closer
Pittsburgh largely won on its pitching staff in 2013 as it had an excellent 3.26 ERA that was No. 3 in the NL. The Pirates' 55 saves were No. 1. I see this group as worse too. Yes, Burnett faded late in the season, but he still won 10 games with a 3.30 ERA and struck out more than a batter an inning. Why didn't the Pirates give him a one-year qualifying offer? There is zero chance that Francisco Liriano (16-8, 3.02) matches his 2013 NL Comeback Player of the Year numbers. This guy was nearly out of baseball when the Pirates took a chance on him last winter.
Pittsburgh's "big" signing was Edinson Volquez. He used to be good and was part of a package Texas sent to Cincinnati back in the day for Josh Hamilton. Volquez had a combined 5.71 ERA with the Padres and Dodgers last year. He won 11 games in 2011 with San Diego but had a 4.14 ERA, and he was helped by pitching often in pitcher-friendly Petco Park. Charlie Morton should be solid enough. The Pirates are hoping Wandy Rodriguez can make it back from his serious injury and that Jeff Locke can pitch like he did in the first half of 2013, when he was an all-star, instead of the second, when he was one of the NL's worst starters. The only reason to be hopeful here is a full season of young phenom Gerrit Cole (10-7, 3.22). I won't be betting much on this team unless he's on the mound.
Closer Jason Grilli was excellent last year with 33 saves -- he missed a little over a month -- but that looks like an aberration considering Grilli had five career saves entering the season.
2014 Pittsburgh Pirates Odds to win World Series and General Futures Odds with 2013 Trends
Odds from Sportsbook.ag and Bovada . Pittsburgh is +500 to win the NL Central, +1400 to win the pennant and +3000 to win the World Series. The Pirates have an "over/under" wins total of 83.5 (both -115). They were 71-85-6 O/U last year and an excellent 91-71 on the runline. McCutchen has totals of 164.5 hits and 22.5 home runs. He is the 6/1 favorite to win NL MVP again. Alvarez is listed at 28.5 dingers and 14/1 to lead the majors. Liriano is at 11.5 wins with 25/1 odds to win the Cy Young. Cole has 11.5 wins and 25/1 Cy odds as well.
2014 Pittsburgh Pirates Picks and Predictions
The good news is that Pittsburgh could start strong as nine of its first 12 games are against either the Cubs (March 31 opener at PNC Park, 1 p.m. ET on ESPN) or Brewers, the NL Central's two worst teams a year ago. Forget the division or pennant odds as this isn't a playoff team in my book. I do believe Pittsburgh can manage 85-86 wins, so go over there. McCutchen simply doesn't have enough help around him to put up MVP numbers again, and it's hard enough to repeat. I would go over his and Alvarez's homers and McCutchen's hits. Maybe Liriano has recaptured his youth from when he was a stud with the Twins, but I don't think so. Under his wins but slightly over on Cole's.
Want to try a baseball handicapper for free? Doc's Sports is offering $60 worth of member's baseball picks absolutely free with no obligation. Sign up for winning baseball picks here.
Read more articles by Alan Matthews