Sweet 16 Bracket Picks for 2014 NCAA Tournament
by Trevor Whenham - 3/25/2014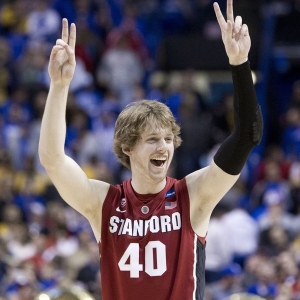 I don't know about you, but my bracket is shot. Not tragically - I still have all my Final Four teams in place. It's everything else that is ugly. Luckily, though, the shift to the Sweet 16 gives us a prime opportunity to start over again. Let's take these few days between games in the NCAA Tournament to recharge, regroup, and make some 2014 Sweet 16 bracket picks. Every game from here forward:
South
Florida over UCLA: I have been impressed by the Bruins, but they haven't been tested. Florida manhandled Pitt and won't meet their match here, either. The Bruins are outclassed, and they are outcoached too.
Stanford over Dayton: I take nothing away from Dayton, and they are brilliantly coached, but in Ohio State and Syracuse they played two very vulnerable teams. Stanford is overachieving but was very legitimate against Kansas.
Elite Eight: Florida over Stanford: The Gators are experienced and deep. The only team I liked the matchup of against them in the region was New Mexico, and that ended early. The Cardinal have been on a heck of a run, but it has to come to an end.
East
Michigan State over Virginia: I was more impressed with Virginia against Memphis than I expected to be by far. Michigan State's second half against Harvard was ugly. Still, the Spartans have a mix of scoring and raw power that is tough to match, and I don't believe in the ACC.
Iowa State over Connecticut: The loss of George Niang is brutal for the Cyclones. They showed incredible skill and heart against UNC, though, and have plenty of talent. UConn exploited a Villanova team I really didn't like and is in tough here.
Elite Eight: Michigan State over Iowa State: This will be a great game. I give Michigan State the slight edge, but this is their toughest game yet.
West
Arizona over San Diego State: I haven't been that impressed by the Aztecs despite their wins. Arizona was defensively stunning against Gonzaga and should be again here. Excellent matchup for them.
Baylor over Wisconsin: This is the toughest game of the round, and it's not close. Total coin flip. Two solid teams with holes that opponents have exploited at times. Should be very good. I went with Baylor only because they dominated Creighton so badly.
Elite Eight: Baylor over Arizona: I haven't trusted the Wildcats for the last month and have been looking for a place to beat them. I thought Oklahoma State would get it done, but they didn't get the chance. Either Baylor or Wisconsin has a good shot at it.
Midwest
Louisville over Kentucky: That Kentucky win over Wichita State was the best game I have seen in a long time. They are ridiculously talented, but I just don't have the consistency. Wichita State couldn't consistently enough exploit the lapses, but Pitino and company are going to be able to. I can't wait for this game.
Michigan over Tennessee: The Vols have been surprisingly sound, but they have also had a fortunate draw. Michigan's first half against Texas was the most ruthlessly-efficient offensive showing of the tournament, and John Beilein will decimate Tennessee's systems with this many days to get ready.
Elite Eight: Michigan over Louisville: I'll get grief from people who will say that this is a homer pick. It's not, though. Memphis showed that Louisville's relentless defense can be disrupted, and Michigan's multi-faceted attack is capable of doing so. Louisville won't beat Michigan in huge games two years in a row.
Final Four
Michigan State over Florida: Not to spoil things, but this is the de facto championship in my eyes. These teams should be ready for battle, and it will be a classic. Experience is rich on both sides, and the teams are tough and dangerous. I give the Spartans the nod mostly because they traveled a much tougher path during the season to get here, so they have dealt with more adversity.
Michigan over Baylor: I'd take the Wildcats over the Wolverines if that matchup materializes, but Michigan gets the edge here. Both teams are similar - efficient offenses and underwhelming defenses. Again, the biggest edge here is Beilein - with almost a week to prepare, the coaching edge Michigan has will be magnified.
Championship game: Michigan State over Michigan: There will be a whole lot of hate heading into this game. We saw this same matchup in the Big Ten Championship Game, though, and with the teams at full strength it was an ugly mismatch. Michigan was tired, but fully-rested they wouldn't have had the answer for the physicality and disruptiveness that the Spartans have on offer. With a short lead-in to this game, I just don't see how Michigan can do enough to close the gap.
Want free sports betting picks? Doc's Sports has you covered - get $60 worth of picks free from any of Doc's Sports expert handicappers. Click here for free picks (new clients only).
Read more articles by Trevor Whenham