Sweet 16 Wagering: Underdog Value on Betting Odds for NCAA Tournament
by Trevor Whenham - 3/26/2014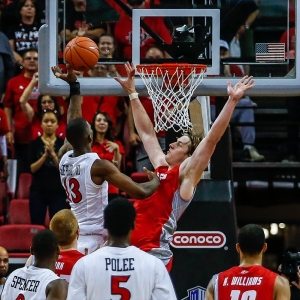 There are eight Sweet 16 games coming up on Thursday and Friday in the NCAA Tournament. That means that there are quite likely going to be eight underdogs to consider wagering on. Obviously, not all will be attractive, but some sure are. Here are three that really stand out ( odds are from Sportsbook.ag).
Before we get to that, though, let's take a quick look at how the dogs have been doing so far in the tournament. On the opening Thursday they were completely average - 7-7-2 ATS. Things were slightly better, and profitable, though not overwhelmingly so, on Friday when underdogs went 9-7 ATS. That means that underdogs went 16-14-2 ATS in the opening round - profitable, but just barely. On Saturday the favorites covered the first four games to take back that profit, and underdogs wound up just 3-5 ATS. That's the same mark as they posted on Sunday as well, so underdogs were just 6-10 ATS in the round of 32. Overall, then, underdogs have gone 22-24-2 ATS in the 48 games that have been played, so betting consistently on neither side has been profitable. In other words, the oddsmakers have done their job very well so far, and the sportsbooks likely aren't hating how things have turned out for them to this point.
Now, on to the three underdogs that look most interesting on Thursday and Friday:
Dayton (+3) vs. Stanford (Thursday, March 27, 7:20 p.m. ET): Might as well take a shot with an underdog in a matchup as unlikely as this one. Stanford gets a lot of credit for beating two tough teams in New Mexico and Kansas. The Jayhawks were shorthanded, though, so it's likely the public is giving them slightly more credit than they deserve there. Dayton has just two losses in their last 14 - both to St. Joe's. They have played well in two games so far in this tournament, Sure, both Ohio State and Syracuse were vulnerable, and the margins of victory were slim in both games, but in both cases Dayton was very feisty and found ways to win when they could easily have found excuses to lose. Coach Archie Miller has performed very well so far, and he is also inhumanly calm. That will serve his team well, and the squad is sure to be prepared. I don't give Stanford a significant edge in this contest, so there is some value in the underdog here.
San Diego State (+6.5) vs. Arizona (Thursday, March 27, approx. 8:15 p.m. ET): I like Arizona, and with both teams at full strength they would be in good shape here. There is some value in San Diego State, though, just because I don't completely trust the Wildcats at this point. They are 3-4 ATS in their last seven games, and they haven't been easy to trust in big games over that stretch. They came out flat at Oregon in their season finale and lost, though that is the least of the concerns since they had nothing to gain from a win. Far more concerning was when they lost to UCLA in the PAC-12 tournament finale in a game they had no business losing. They lacked focus, and they didn't seem nearly as interested in winning as they should have been. Then they came back against Weber State in their opening game of this tournament and failed to cover by 10.5 points - though they were never in danger of losing. San Diego State will be ready to play, and at very least they could keep this one close.
Kentucky (+5) vs. Louisville (Friday, March 28, approx. 9:50 p.m. ET): Kentucky has the most raw talent of any team in this tournament, and against Wichita State more than any time this season they showed it. It was an incredibly tough game, but they came through when it often looked like they wouldn't and when they were given plenty of excuses to quit. It was just the kind of performance that can give a young team a massive boost of confidence. They'll need it against Louisville. The Cardinals are by far the more polished team, but Kentucky can create some matchup issues. Kentucky beat the Cardinals by seven at the end of December. Louisville is better than they were then, and that game was in Lexington, but Kentucky played by far their all-around best game of the year last time out, and should be a much better team overall. This is the game of this round, and there is no reason Kentucky can't come out on top.
Get free picks from any of Doc's Sports Advisory Board of expert handicappers - and with no obligation or credit card. You can use these free picks for any sport, and you will never deal with a salesman. Click here for your free Doc's Sports picks.
Read more articles by Trevor Whenham